Christian Bale Confirms He Was Up For A Role In 'Solo: A Star Wars Story'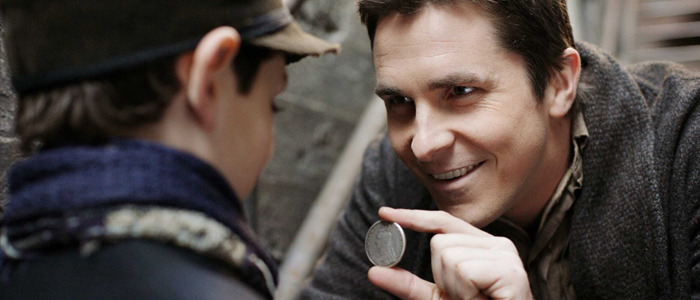 About a year ago, Lucasfilm was on the hunt for a veteran actor to play Han Solo's mentor in Solo: A Star Wars Story – and they nearly cast a former Batman to play the role. Christian Bale, who donned the cape and cowl three times in The Dark Knight trilogy, recently confirmed rumors that he was indeed in talks to head to a galaxy far, far away and star in the Han Solo spin-off film. Learn more about this piece of Christian Bale Star Wars trivia below, including whether or not Bale could still pop up in a different Star Wars movie altogether.
On a recent episode of the Happy Sad Confused podcast (via Collider), Bale confirmed that he was in talks with the movie's producers about potentially joining the cast:
"Yes, [it was] very tempting. I not only love the films, going back to my childhood, but also have a very long relationship with Kathleen Kennedy and Frank Marshall because they did Empire of the Sun many years back. There was discussion, [and] I hope there will be future discussions."
The role in question eventually went to Woody Harrelson, and while many fans thought he could be playing Garris Shrike, Han's mentor from the no-longer-canonical extended universe of novels, Harrelson has since clarified that his character's name is Beckett. And while Harrelson has played scoundrels before and should fit nicely into the Star Wars universe, my head is spinning about the alternate universe in which Bale ends up getting that part. He's such an intense actor – the way he loses and gains weight and transforms his body for roles has become the stuff of legends – and while the Star Wars franchise has had its fair share of intense moments, I'm having trouble picturing Bale's intensity opposite the rest of this film's (great) cast.
Bale doesn't say why he didn't end up getting the role (or whether it was offered to him), but my speculation is that original filmmakers Phil Lord and Chris Miller's freewheeling directorial style may have clashed with the way he generally prefers to work. Ironically, of course, those guys ended up being replaced by Ron Howard behind the camera, so if my speculation is accurate, there could have been a chance Bale might have thrived under Howard's more traditional workmanlike style. (Again, that's all just some educated guessing on my part.)
But Bale's final quote above lays out his hope that he'll find a Star Wars movie to fit into one day, and considering how top notch the casts are for those films, it may not be long until we see him bring his brand of intensity to that cinematic universe.