'Fifty Shades Freed' Trailer: Post-Wedding Life Isn't All Bliss For Mr. And Mrs. Grey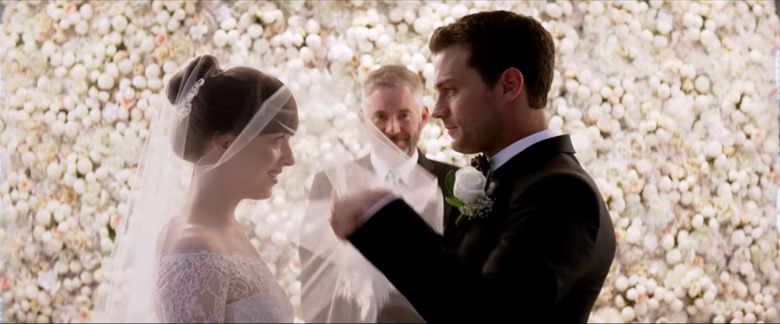 Mr. and Mrs. Grey will see you now, and it definitely is not for a threesome.
But speaking of threesomes, the Fifty Shades of Grey series has reached its final and third installment, wrapping up the kinky and borderline abusive tale of love in the time of BDSM. Fifty Shades Freed follows Christian Grey (Jamie Dornan) and Anastasia Steele (Dakota Johnson) after they pledge to love and honor each other in sickness and in health. But marital bliss is not in the cards for this ridiculously good-looking pair, who must deal with the threats of a lusty female architect and a psychotic former boss.
Fifty Shades Freed Trailer
After flashing through the highlights of Christan and Anastasia's torrid affair (ignoring the parts where he emotionally abuses her and she leaves and comes back to him, apparently), the Fifty Shades Freed trailer urges us, "Don't miss the climax." Which, I get it, it's a sex joke. Because this is essentially the softcore porn franchise that everyone has been waiting to come back to theaters. See? I can do it too! Boobs.
The Fifty Shades Freed trailer makes plenty use of its softcore legacy, introducing a vampy new threat to Christan and Ana's fledgling marriage in the form of the female architect helping them to build their new house — all while making eyes at Christian. Instead of inviting her into a threesome like any good sexually liberal couple would do, Ana asserts herself as Christian's wife, telling the seductress to call her "Mrs. Grey."
But it's not the architect who is the real threat here, but Ana's ex-boss Jack! He looks wild-eyed and greasy-haired as he makes threatening calls to Ana, setting off a chain of events that include a wild car chase and a fight in the club. And maybe at the end of this adventure, we'll finally find out what the actual meaning of the phrase "fifty shades freed" means.
Here is the official synopsis for Fifty Shades Freed:
Believing they have left behind shadowy figures from their past, newlyweds Christian and Ana fully embrace an inextricable connection and shared life of luxury. But just as she steps into her role as Mrs. Grey and he relaxes into an unfamiliar stability, new threats could jeopardize their happy ending before it even begins.
Fifty Shades Freed stars Marcia Gay Harden, Eric Johnson, Rita Ora, Luke Grimes, Victor Rasuk, Jennifer Ehle, Eloise Mumford, Max Martini, Callum Keith Rennie, Bruce Altman, Robinne Lee, Arielle Kebbel, and Brant Daugherty. It's directed by Fifty Shades Darker's James Foley, based on the novels by E.L. James.Fifty Shades Freed hits theaters on February 9, 2018.