'A Series Of Unfortunate Events' Season 2 Teaser Reveals A March Premiere Date, Olaf's New Looks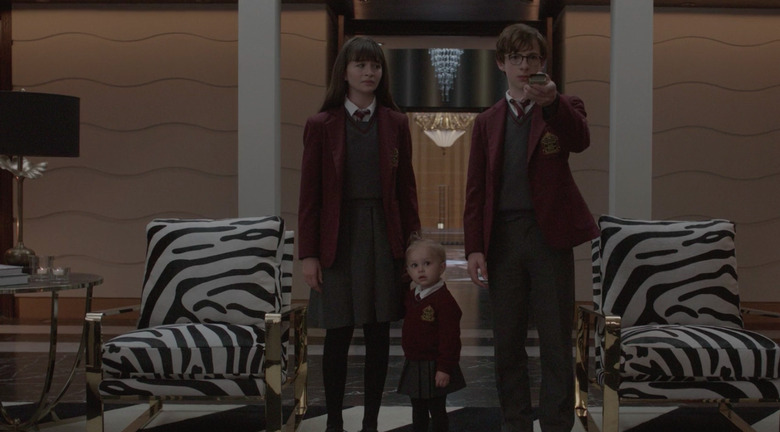 The most unfortunate thing about Netflix's A Series of Unfortunate Events adaptation is the painfully long hiatus that the series has had since its first season premiered in January 2017. But fret not, Baudelaire fans. The undaunted child genius heroes are back for season 2, more than year later.
A new teaser reveals the first footage from the second season, as well as a look at Count Olaf's increasingly colorful costumes. The children may be filled with dread at seeing Neil Patrick Harris' Olaf again, but that is the opposite reaction most of us will have to seeing this teaser.
A Series of Unfortunate Events Season 2 Teaser
Netflix released the teaser for A Series of Unfortunate Events season 2 around midnight, which featured Neil Patrick Harris donning Count Olaf's signature unibrow and unwieldy hairstyle to introduce the new footage, as well as announce the second season's premiere date of March 30, 2018.
"Now there may be some of you surprised that Netflix would choose this to be the first face you see in 2018," Harris says, smugly brandishing a large knife. "But those are the same people who wouldn't recognize handsome if it set your house on fire." He then goes on to tease the new footage and reveal that he is holding an even larger machete.
The second season follows the next five books in Lemony Snicket's (aka writer Daniel Handler) A Series of Unfortunate Events children's dark comedy series, The Austere Academy, The Ersatz Elevator, The Vile Village, The Hostile Hospital, and The Carnivorous Carnival. Not much of the plot can be discerned from the new footage (it's just the trio being chased by unruly mobs and villains, what's new?), but the new scenes seem to be very much in line with the hyper-stylized visual language that the first season developed and perfected.
A Series of Unfortunate Events was somewhat of a surprise hit for Netflix, taking a second go-around with the insanely popular series after the Jim Carrey 2004 film did modestly at the box office. Though Neil Patrick Harris chews as much of the scenery as Carrey did, the Netflix series has a greater grasp on the wry, pointed humor of the books, as well as the a greater investment in the perspective of the three children, played by Malina Weissman, Louis Hynes, and Presley Smith. Plus you can't go wrong with Patrick Warburton as your fourth wall-breaking narrator.
The extraordinary Baudelaire orphans face trials, tribulations and the evil Count Olaf in their fateful quest to unlock long-held family secrets.