Daniel Day-Lewis Made An Actual Dress From Scratch To Prepare For 'Phantom Thread'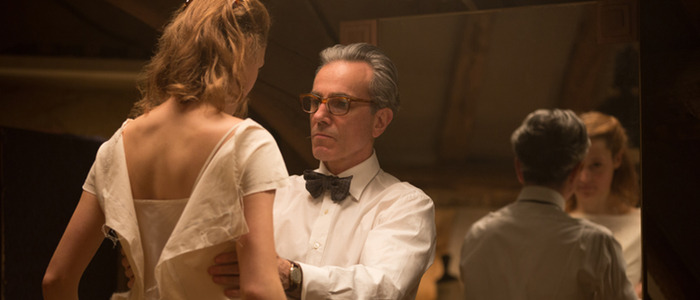 Daniel Day-Lewis is one of the most acclaimed actors in the history of film, and while he's become famous for his amazing and deeply rich performances, he's also become arguably just as famous for the lengths to which he'll go in order to achieve greatness. Since 1987, the actor has gone above and beyond traditional preparation techniques to get into character for his movie work, and he's done the same thing with Phantom Thread – which will be his last movie if the retirement he announced this year actually sticks.
It turns out that to play his couturier character Reynolds Woodcock in Paul Thomas Anderson's new period drama, Day-Lewis designed and crafted a Balenciaga dress from scratch. Because of course he did.
The 60-year-old actor spent months as an apprentice under Marc Happel, the head of the New York City Ballet's costume department, learning the trade of making couture clothing to bring authenticity to his role. But after the ballet season came to a close, Day-Lewis decided to take things to another level. In an interview with W Magazine, he explains that he made a Balenciaga sheath dress from scratch:
"The Balenciaga dress was very simple. Or at least it looked very simple until I had to figure out a way to make it and then realized, My God, this is incredibly complicated. There is nothing more beautiful in all the arts than something that appears simple. And if you try to do any goddamn thing in your life, you know how impossible it is to achieve that effortless simplicity."
Unable to use a physical dress as a training tool (apparently the original is in an archive in Paris), Day-Lewis instead sketched a design based on a photo of the real dress and used his wife, director Rebecca Miller, as the model for his version.
"Rebecca was very patient. The code that I had to crack was a very particular gusset in the armpit. You couldn't tell from the photos how the gusset was designed. Marc and I each worked on our version of the gusset and, through trial and error, ­figured it out."
That Day-Lewis went this far in his preparation is perhaps the least surprising news of the year. After all, this is a man who has learned Czech (The Unbearable Lightness of Being), studied under a butcher (Gangs of New York), spent time in a prison cell (In the Name of the Father), wore 1870s clothes around New York City for two months (The Age of Innocence), and learned to track animals from Native Americans (The Last of the Mohicans), all to more deeply inhabit his characters and bring authenticity to his performances. Jared Leto – who sent his Suicide Squad cast mates all manner of weird shit during that film's production when he played The Joker – could learn a thing or two from Day-Lewis's much more isolated preparation techniques. Here's hoping DDL's retirement is only a temporary one.