11 Million People Watched Netflix's 'Bright' In Its First Three Days Of Release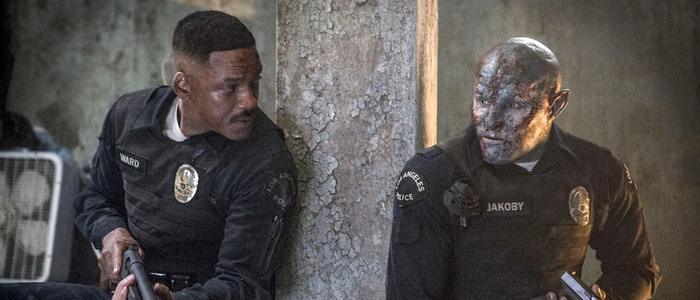 Netflix is notoriously protective of its membership's viewing numbers for specific shows and movies, unless the streaming service is bragging about binge statistics and dunking on a user or two for their viewing choices. So we don't know exactly how many people have watched Bright, David Ayer's new orc cop fantasy thriller starring Will Smith and Joel Edgerton, but a new report which cites Nielsen metrics says that eleven million Netflix subscribers decided to click "play" on the movie in only its first three days of release. I bet Netflix is feeling pretty good about its decision to make Bright 2 right about now.
Grab your magic elf wand and read more about the Bright ratings below.
Variety says that Bright, Netflix's buddy cop fantasy blockbuster, managed to pull in a total of more than 11 million views in its first three days of release. For comparison's sake, that's less than Netflix's Stranger Things 2 premiere (15.8 million views in the same time period), but far more than premiere of the second season of The Crown (nearly 3 million views).
Let's take the comparison out of the Netflix arena and into the larger realm of moviegoing for a second. Although nobody is paying for a movie ticket to Bright, 11 million views is very impressive. This past weekend domestically, Star Wars: The Last Jedi sold about 11 million tickets and Jumanji: Welcome to the Jungle sold about 6.15 million. Those are huge movies from major film studios, so the idea that Netflix can compete with that, at least on a sheer viewership level, is clearly a massive leap in the right direction for a company that first debuted its streaming video component only ten years ago. (And to compare Bright's 11 million three-day draw to one of the world's most popular properties right now, just over 12 million people tuned in to the Game of Thrones season 7 finale during its first airing.)
Variety's numbers come from Nielsen, the company that's been responsible for measuring TV viewership for the past 60+ years. That company has recently gotten into measuring views on streaming services, although Netflix has said Nielsen's numbers have been inaccurate in the past. But since Netflix refuses to allow anyone to know the "true" view counts for any show or movie on its service, Nielsen's estimates are all we have to go on right now.
Of course, none of this actually takes into account if Bright is any good. The film earned absolutely atrocious reviews in the days leading up to its release, and currently holds a 29% on Rotten Tomatoes. And remember, Adam Sandler's The Ridiculous 6 was touted as being the most-watched Netflix movie ever after its first month. Just because a lot of people watch something doesn't mean it's worthy of being watched (that's what's known in Hollywood as "The Transformers Rule").
While Netflix may be looking at its viewership numbers and feeling justified in making a sequel, they also might want to think about the best way to improve the quality of Bright 2 from a creative standpoint as well. Otherwise, the simple novelty of seeing Will Smith in an orc world might not be enough to get people to click "play" one more time.