'Gerald's Game' Director Wants To Make 'The Shining' Sequel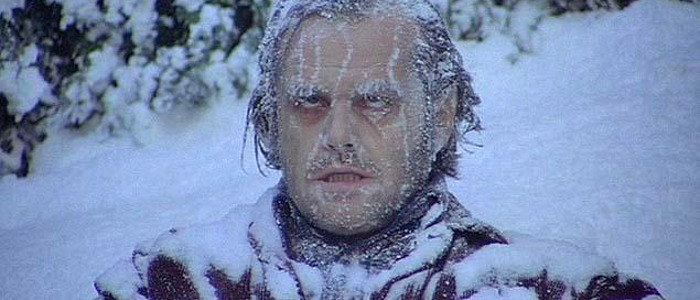 Mike Flanagan, who recently helmed the excellent Stephen King adaptation Gerald's Game for Netflix, has another King project he'd like to tackle: Doctor Sleep. Released in 2013, Doctor Sleep is a quasi-sequel to The Shining, which introduces audiences to an adult Danny Torrance, the boy who survived the Overlook Hotel. Would Flanagan be the right filmmaker to tackle The Shining sequel? Based on his past output, yes. Yes, he would.
In 2013, Stephen King released Doctor Sleep, a quasi-sequel to his hit novel The Shining. It wasn't very good. Still, The Shining brand is too strong to ignore, and it's only a matter of time before Hollywood turns Doctor Sleep into a movie. If the book must come to the big screen, there's one qualified director who wants to helm it: Mike Flanagan. Flanagan, one of the more exciting filmmakers working in the horror genre, recently directed the King adaptation Gerald's Game, and he has no intention of that being his only film to tackle the works of the master of horror. Speaking with the King-centric site Lilja's Library, Flanagan revealed that the two King adaptations he'd most be interested in making are Lisey's Story, about an author's widow, and the Shining sequel Doctor Sleep:
"[T]he ones I'd want to do the most are Doctor Sleep and Lisey's Story. In both cases, it's because I identify with the protagonists so much. Lisey's Story is a stunning piece of work, a beautiful exploration of marriage. And who wouldn't want to venture back into the world of Danny Torrance?"
Doctor Sleep is set decades after the events of The Shining. The book finds Danny Torrance, the psychic boy who spent one long, deadly winter in The Overlook Hotel, all grown-up and dealing with a whole new set of supernatural problems. While many of King's books contain connected characters and often take place in the same town, he rarely writes sequels – not counting his Dark Tower series and his Bill Hodges trilogy. When the concept of a Shining sequel was announced, fans (myself included) were very excited. And then the book hit shelves and proceeded to disappoint virtually everyone. The book has none of the spark that made The Shining special, and it's definitely one of King's weaker novels. Here's the official synopsis:
On highways across America, a tribe of people called the True Knot travel in search of sustenance. They look harmless—mostly old, lots of polyester, and married to their RVs. But as Dan Torrance knows, and spunky twelve-year-old Abra Stone learns, the True Knot are quasi-immortal, living off the steam that children with the shining produce when they are slowly tortured to death.
Haunted by the inhabitants of the Overlook Hotel, where he spent one horrific childhood year, Dan has been drifting for decades, desperate to shed his father's legacy of despair, alcoholism, and violence. Finally, he settles in a New Hampshire town, an AA community that sustains him, and a job at a nursing home where his remnant shining power provides the crucial final comfort to the dying. Aided by a prescient cat, he becomes "Doctor Sleep."
Then Dan meets the evanescent Abra Stone, and it is her spectacular gift, the brightest shining ever seen, that reignites Dan's own demons and summons him to a battle for Abra's soul and survival. This is an epic war between good and evil, glorious story that will thrill the millions of devoted readers of The Shining and satisfy anyone new to this icon in the Stephen King canon.
While Doctor Sleep isn't a very good book, Flanagan tackling a film adaptation could actually work out well. Gerald's Game wasn't one of King's best books either, but Flanagan found a way to make it work. Flanagan's career, in general, seems to be comprised of films that seem like bad ideas on paper, but always work out for the best. Case in point: his 2014 flick Oculus is about a haunted mirror – a concept that sounds really stupid. Yet Oculus is good! If Flanagan can jettison the bulk of the crap in Doctor Sleep, and turn it into a tighter, more engaging narrative, his Shining sequel might just turn out well.
Doctor Sleep isn't the only perspective Shining spin-off. In 2013, a prequel film, The Overlook Hotel, was announced, with One Hour Photo filmmaker Mark Romanek attached to direct. That project has languished in development hell for years, and who knows if we'll ever see it. As for Flanagan, his next project is a Netflix adaptation of Shirley Jackson's classic haunted house novel The Haunting of Hill House.