Now Stream This: A Hitchcockian Drama, A Creepy Post-Apocalyptic Horror Movie, And, Uh, 'Monster Trucks'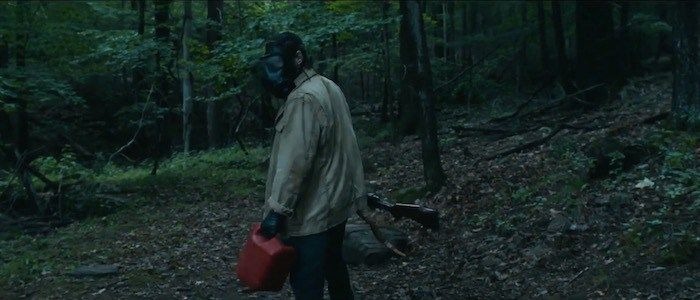 (Welcome to Now Stream This, a column dedicated to the best movies streaming on Netflix, Amazon, Hulu, and every other streaming service out there.) 
The end of the year is upon us. What better way to kick 2017 to the curb and usher in 2018 than by watching a whole bunch of movies? Blow off your dumb New Year's Eve party – who wants to be social? Instead, hunker down under some blankets as the icy, cold wind howls outside and take in the following films until the mess that was 2017 is finally over once and for all.
This latest edition of Now Stream This features a Vertigo-like mystery, an end-of-the-world fable, a hypnotic blend of documentary and narrative storytelling, puppets having sex, a grindhouse throwback, and more! Here are the best movies streaming right now! Let's get streaming, folks – and have a happy New Year.
Now Streaming on FilmStruck
Like Vertigo meets Sophie's Choice, Christian Petzold's unsettling character study Phoenix deals with identity, betrayal and survival. In the rubble of post-World War II Berlin, a woman (Nina Hoss) who has had her face reconstructed following a disfigurement sets out to try to find her missing husband. She eventually finds him, but her spouse doesn't recognize her with her brand new face. What follows is a nail-biting drama in which Hoss' character pretends to be someone else who is also pretending to be herself. It might sound confusing, but Phoenix isn't attempting to trick its audience with mind games. Rather, it's telling an achingly human story about badly damaged people.Hoss is phenomenal here, playing her character in a constant state of flux. Director Petzold films the ruins of Berlin almost as if shooting a fantasy landscape, creating a dreamy, hypnotic experience. Above all, the final few minutes of Phoenix are guaranteed to leave you speechless.For fans of: Vertigo, Sophie's Choice, the song "Speak Low."
Now Streaming on Amazon Prime Video
Trey Edward Shults followed-up his cinematic panic attack Krisha with the extremely bleak post-apocalyptic horror show It Comes at Night. Full of existential dread and almost unbearable tension, It Comes at Night is a portrait of two families who have somehow survived a population-destroying plague. The families come together under the same roof, but learning to live and trust each other proves to be exceedingly difficult.Some audiences had a problem with how It Comes at Night was marketed, with trailers that made the movie look supernatural (all the supernatural-tinged stuff actually happens during dream sequences). But while zombies and monsters may not really appear in the film, there is non-stop horror here – the type of horror that seeps under your skin and makes your blood run cold.For fans of: The Witch, Krisha, abundant dread.
Now Streaming on Netflix
Part documentary, part mystery, and entirely original, Errol Morris' Wormwood deals with one man's obsession to find out the truth about his father's death. That won't be easy, however, since almost everyone who knows the truth is now dead, and some of the events involve top secret involvement from the CIA.Eric Olson wants to know what really happened to his father, Frank Olson, a biochemist with CIA ties. In 1953, Frank died after a fall from a window on the thirteenth-floor hotel room at the Hotel Statler in New York. But was it suicide, or was Frank pushed? Morris explores multiple possible answers, and stages them with lengthy dramatic reenactments featuring actors like Peter Sarsgaard, Tim Blake Nelson and Molly Parker. The end result is a saga unlike anything you've ever really seen before.For fans of: The Thin Blue Line, Rashomon, Making a Murderer, unsolvable mysteries.
4. Brawl in Cell Block 99
Streaming on Amazon Prime Video on 12/31/17
One of the first scenes in Brawl in Cell Block 99 involves Vince Vaughn tearing apart a car with his bare hands. Things only get more brutal, and ridiculous, from there. Bone Tomahawk filmmaker S. Craig Zahler helms this gloriously gritty grindhouse throwback, which lands Vaughn in a hellscape of a prison where he has to fight not just for his life, but also the life of his pregnant wife (Jennifer Carpenter), who has recently been kidnapped by sleazy bad guy Udo Kier.At 2 hours and 12 minutes, Brawl in Cell Block 99 is overlong – it takes more than an hour to actually get to the whole "brawl" portion of the film. Length issues aside, though, this is a well-made slice of brutality that will please fans of fake blood and gore. It's also a nice reminder that Vaughn, who hasn't done much worthwhile work in a while, can be pretty damn good when given the right material. Brawl drops onto Amazon on 12/31, making it the perfect movie to watch at a New Year's Eve party and make everyone around you uncomfortable. For fans of: Bone Tomahawk, The Raid 2, extreme close-ups of Vince Vaughn's skull.
Now Streaming on Shudder
Crooked, perpetually rumpled cop Akikazu (Kôji Yakusho) is tasked by his ex-wife with finding their missing daughter (Nana Komatsu), but the more Akikazu discovers, the more he begins to realize his daughter may be less of an innocent teen and more of a reprehensible monster.The World of Kanako is like a beautiful trip into hell, brimming with gorgeous cinematography that more often than not finds itself bathed in torrents of blood. Folks, this movie is nasty, but it's nasty with style. Make no mistake: this is the opposite of a feel-good movie, so I'd recommend skipping it if you're not in the right headspace. But if you're looking for something dark, brutal and operatic as the final days of the hell year that was 2017 winds down, look no further than The World of Kanako.For fans of: I Saw the Devil, Thirst, stylish misery.
Now Streaming on Netflix
If you're in the mood for a documentary that makes you want to shout in disbelief at your TV, look no further than Voyeur – a weird, creepy, funny expose of two very different men. One is acclaimed writer Gay Talese, who is a wizard with the printed word but apparently not so great at fact checking. The other is Gerald Foos, an unapologetically disturbing individual who bought a motel with the strict intent to use it to spy on his customers. Foos installed dummy vents above all the rooms, then, would hide out in an attic crawl space above the motel, peeping down at his guests.This behavior was strange enough on its own, but even stranger was Foos' urge to spill the beans about what he did. That's where Talese comes in – Foos reached out to the prolific writer with the hopes that Talese would write a story about him. The story blossomed into a book – and then things got even weirder, when it began to be revealed that a lot of details in Foos' story just weren't adding up. The end result is a fascinating documentary filled with moments that will make you cringe and wonder just how the hell any of this happened.For fans of: Body Double, Peeping Tom, Gay Talese's impeccable suits.
Now Streaming on FilmStruck
The late Abbas Kiarostami helmed this 2010 drama, a film that plays by its own rules as it draws you deeper into its journey. A writer (William Shimell) on a book tour in Tuscany meets a French woman (Juliette Binoche), and the two embark on a countryside drive.Are they strangers, or have they actually known each other their whole lives? Part of the fun of Certified Copy is trying to figure out just what's going on between these two characters: are they playing some elaborate mind game, or has the audience instead been sucked into some sort of alternative reality? There are no easy answers, and it almost doesn't matter.What does matter is that this is a profound, dreamy film that you can't help but get caught up in. It's almost as if Kiarostami somehow condensed all three of Richard Linklater's Before... films into one neat narrative.For fans of: The Before... Trilogy, Three Colors: Blue, a dream within a dream.
Now Streaming on Hulu
If you've ever thought, "I'm in the mood to watch stop-motion puppets engage in cunnilingus!", here's a movie for you: Anomalisa. This strange, sad, unclassifiable animated movie from Duke Johnson and Charlie Kaufman features the voice of David Thewlis as an author who ends up in a brief affair with a lonely woman (voiced by Jennifer Jason Leigh).There's a lot more going on here, but I don't really want to give it away. I will tell you, however, that the film is one of the best of the last decade – a melancholy and distinct journey through shame, neurosis and the mundane side-effects of life. Also, as previously mentioned, there's some puppet sex.For fans of: Synecdoche, New York, Adaptation, the soothing voice of Tom Noonan.
9. We Always Find Ourselves in the Sea
Now Streaming On Shudder
If you're looking for something quick and creepy, check out this 22 minute short ghost story now streaming on Shudder, from writer-director Sean Hogan. Christmas may be technically over, but the holiday season is still lingering on like an unquiet spirit, which makes this Christmas-themed creeper an ideal watch.A lonely, drunken man (Billy Clarke) finds his quiet Christmas season by the sea interrupted when his long-lost daughter (Jamie Birkett) turns up unexpectedly. What follows is a slow-burn yet quickly resolved story that packs enough of an unsettling punch to have a lasting effect. And best of all: at 22 minutes, We Always Find Ourselves in the Sea never overstays its welcome.For fans of: The Innocents, The Changeling, jump-scare-free ghost stories.
Now Streaming on Hulu and Amazon Prime Video
Yes, I really am recommending Monster Trucks. That's right, the dumb-looking movie about a Lovecraftian squid-monster who learns how to power a truck. Look, is Monster Trucks high-art? Absolutely not. But it's also never boring, and there's a weird charm to the whole thing that makes it a bit of a must-see. Also, the monster – a constantly grinning blob named Creech – is adorable.Lucas Till plays the world's oldest high school boy, who finds himself caught up in an E.T.-style adventure when he befriends a monster that a group of shady businessmen want to destroy. Along the way, Till teams up with a bookworm, played by Jane Levy. Barry Pepper, Rob Lowe, Thomas Lennon, and Mindhunter breakout Holt McCallany all show up as well. As does Amy Ryan, who has exactly two scenes, one of which is completely silent as she stands by a mailbox and waves. I hope she got paid a lot.Monster Trucks won't be your favorite movie, but it's going to entertain you, whether you want to admit it or not. So give it a chance! You might be surprised. Long live Creech.For fans of: E.T., The Iron Giant, microwave hot wings.