IMDb Top 10 Of 2017 Includes 'It' And 'Justice League'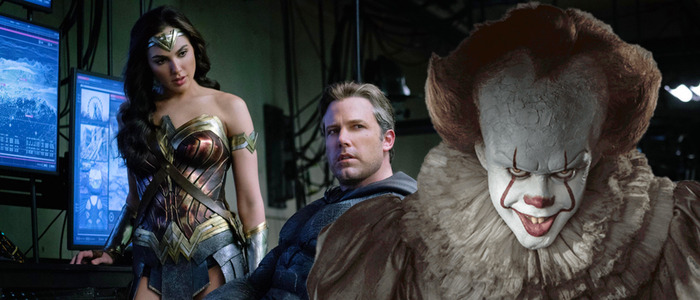 The end is nigh – the end of 2017, that is. As is the case every year, top 10 movie lists are popping up everywhere. The Internet Movie Database – IMDb – has their own top 10 list as well, and it's a doozy. While other best-of lists tend to lean towards more independent and critically acclaimed fare, the IMDb list is loaded with blockbusters, and a few surprises. Read on for the IMDb Top 10 of 2017 list.
What was your favorite movie of the year? Everyone has a different pick, and that's what makes movie lists interesting. No one wants to see the same list over and over again. If you're looking for a very different top 10 movies of 2017 list, look no further than the IMDb's Top 10. It's safe to say that a bulk of the films that make up the IMDb list won't be on too many other best-of lists – and that's fine! There's something for everyone here, and a few surprises. While Blade Runner 2049 may have ended up a box office disappointment, it actually found itself on this list. A lot of Alien fans seemed unhappy with Ridley Scott's Alien: Covenant, but that, too, made the cut. And while almost everyone seemed to pan Justice League, and its release resulted in the weakest box office for a DCEU film yet, that superhero flick from Zack Snyder and Joss Whedon is on the list as well. Here's the full thing.
1. IT
2. Wonder Woman
3. Beauty and the Beast
4. Logan
5. Guardians of the Galaxy Vol. 2
6. Justice League
7. Split
8. Alien: Covenant
9. Thor: Ragnarok
10. Blade Runner 2049
I'm not going to say I agree with everything on this list, but I will say I love that It ended up at number 1. That Stephen King adaptation from Andy Muschietti isn't my own personal number 1 film of the year, but it is definitely one of my favorite films of 2017. The bulk of the list consists of superhero films, which just seems to confirm that the superhero genre shows no signs of ever going away. One very surprising omission here: Get Out. I thought for sure that would end up on this list, but apparently not. Star Wars: The Last Jedi isn't here either, but this list was compiled very close to that film's December 15, 2017 release date, which likely explains why it didn't make the cut.
IMDb also put together a list of the Top 10 Most Anticipated Movies of 2018, which, unsurprisingly also has plenty of superhero flicks front and center, including Black Panther, Avengers: Infinity War and Untitled Deadpool Sequel. The gender-swapped reboot of Ocean's 8 also made the list, and so did Solo: A Star Wars Story. The biggest surprise on this list is Tomb Raider – are people really excited for that? I would think not, but apparently people are really interested in seeing Alicia Vikander running around covered in dirt. Here's the full Most Anticipated list.
1. Avengers: Infinity War
2. Black Panther
3. Untitled Deadpool Sequel
4. Jurassic World: Fallen Kingdom
5. Tomb Raider
6. Pacific Rim Uprising
7. The Predator
8. Ocean's Eight
9. M:I 6 – Mission Impossible
10. Solo: A Star Wars Story
Did any of your favorite movies make the IMDb Top 10 list? Let us know.