Disney XD Has Re-Dubbed Louis C.K.'s 'Gravity Falls' Character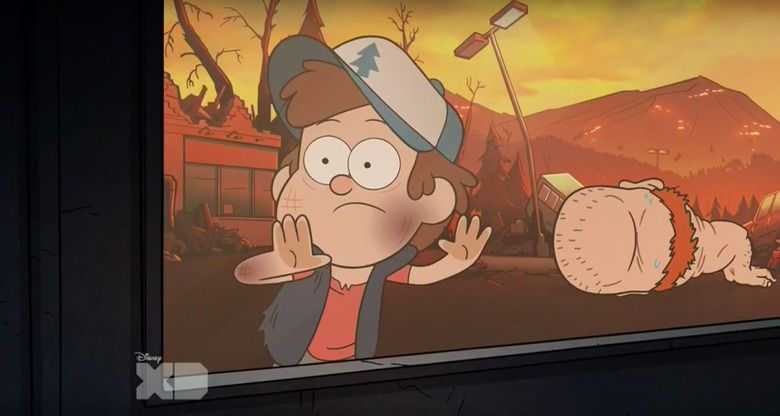 It's unfortunate enough to play a character named the Horrifying Sweaty One-Armed Monstrosity, but even more so when the voice actor of said character is under intense scrutiny for sexual harassment.
Louis C.K., who is currently facing allegations of a history of sexual misconduct, has been scrubbed from Disney XD's reruns of Gravity Falls, where he played a minor character in 2015 and 2016 episodes of the show. The Disney channel has re-dubbed his voice in the three episodes where is character appeared. And no, before you ask, it's not with Christopher Plummer.
Disney XD has dubbed over Louis C.K.'s role of the Horrifying Sweaty One-Armed Monstrosity with series creator and executive producer Alex Hirsch, according to The Hollywood Reporter. C.K. voiced the character in the 2015 episode "Weirdmageddon: Part 1," and its 2016 follow-up, "Weirdmageddon: Part 3."
A Disney Channel spokesperson confirmed the re-dubbing to THR on Friday.
"The role was rerecorded approximately one month ago and new versions of three episodes are now on the Disney XD schedule around the world. Series creator and executive producer Alex Hirsch is now credited as playing the character."
C.K.'s character, the Horrifying Sweaty One-Armed Monstrosity, was a giant disembodied head with an arm growing out of it. Both these characteristics were regrettable, considering the allegations levied against C.K. The comedian was accused of masturbating in front of women without their consent multiple times. And with the implications of the "One-Armed" name and the character's tendency to urge people to climb into his mouth, it's no wonder that Disney wanted to distance itself from the issue.
You can see the new dub with Hirsch's voice here...
...compared to the original clip with C.K.'s voice.
The erasure of C.K.'s voice follows Ridley Scott's historic move to replace Kevin Spacey, who had been accused of sexual assault, with Christopher Plummer in his J. Paul Getty movie All the Money in the World — weeks before its release. Spacey is also being written out of the Netflix political drama House of Cards, while Chris Brown's name was edited out of the third season episode of  30 Rock titled "Goodbye, My Friend."
However, I wonder how far Hollywood will go to shut out C.K.'s name from the series and projects he's worked on. He's been involved in a variety of projects in front of and behind-the-scenes, and acclaimed series like Pamela Adlon's Better Things have to navigate whether to also erase C.K.'s role in the bringing the show to life. Regardless, it's only a good thing that Hollywood is taking decisive action against C.K. and others accused of sexual misconduct.