'The Post' And Beyond: 12 Great Newsroom Movies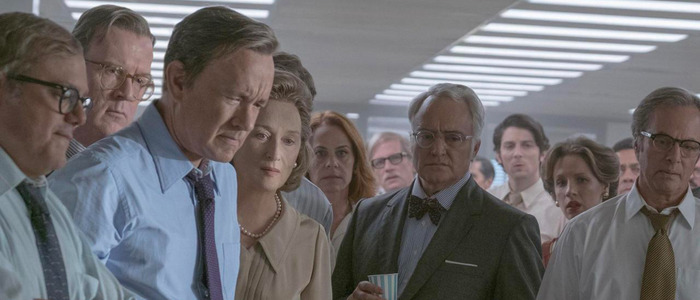 In honor of Steven Spielberg's new newspaper drama The Post, we've combed through the archives, pounded the pavement, dusted off the typewriter and put together a list of some of the best newsroom movies fit to print. It's a list comprised of both crusading, truth-seeking journalists and career opportunists willing to bend the truth as long as it makes for a great story. The connective tissue holding these films together is the ever-present newsroom, where typewriters sing and the truth lives or dies when a story goes to the presses.
The Post is in select theaters now and you should absolutely see it it. It's a vital, important film – a tribute to and much-needed defense of the First Amendment and a free press. Is some of its messaging occasionally on-the-nose? Yes, but these are times, and this is a topic, that calls for bluntness rather than subtlety. Beyond the important messaging of Steven Spielberg's film, The Post is another dip into one of my favorite sub-genres: the newspaper movie – those films about obsessive reporters working long hours around creaky typewriters and word processors, itching to break a big story. 
Perhaps I'm just overly nostalgic for a time gone by, or perhaps I just really like to see big dramatic scenes where people shout, "Stop the press!" All I know is, when a film is set within a newsroom, I can't help but pay attention. In honor of the release of The Post, I've put together a list of some of the very best newsroom movies. Since The Post's newsroom is that of a newspaper, only films set within the newspaper world are included here, but there are a ton of non-print newsroom films worth seeking out as well – particularly Broadcast News. There are also films about the printed word which don't really bother to set foot in a newsroom – It Happened One Night and The Sweet Smell of Success are two stellar examples. The lack of heavy newsroom moments kept them off this list.   
So let's dive into the world of clacking typewriter keys, ever-wringing phones, drop ceilings, and rumbling printing presses. For the sake of simplicity, I've arranged the the films in alphabetical order.
Absence of Malice
The late, great Sydney Pollack helmed this 1981 newspaper drama, starring Sally Field as a Miami Standard reporter who gets caught up in a leaked story that incriminates a liquor wholesaler, played by Paul Newman, for murder. Newman's character has an airtight alibi, and things only get more complicated from there.
Here's the thing: if you're looking for a film that heralds investigative reporting, Absence of Malice isn't it. Field's reporter character is dangerously out of her depth, and while well-meaning, she makes a ton of huge blunders that would call into question a real journalists credibility almost instantly. But if you can get over that, you'll find a well-crafted potboiler that's very entertaining. Field's character may not be great at her job, but Field's performance is a treat, and Newman is predictably great as well. And despite all its journalistic sins, Absence of Malice still has that crackling feel of a good newspaper movie.
Ace in the Hole
There are two kinds of movie journalists: crusaders for the truth, and ruthless bloodsuckers who will do anything for a story. Kirk Douglas in Billy Wilder's masterpiece Ace in the Hole falls into the latter category. Douglas plays a hard-nosed New York City newspaper man who gets chased out of NYC for his bad habits. He ends up in a dead-end New Mexico town, working for a dead-end local newspaper, desperate for a killer story to help him get back on top.
The answer to Douglas' journalist prayers comes when a local man gets trapped in a cave collapse. Rescuing the man would be fairly simple, but Douglas manages to manipulate nearly everyone in the town to keep the man trapped so he can turn the whole ordeal into a better story. Douglas' unbeatable performance is full of tight-jawed, wise-cracking malevolence as he manipulates one event after another, always assuming everything is under his control – until it's clear it's not.
Ace in the Hole is clearly not a glowing endorsement of journalism, but it's so goddamn good that it doesn't matter. Besides, the film clearly is sympathetic towards Douglas' rule-breaking journalist. If only he had standards, none of this would've happened.
All the President's Men
The best journalism film ever made, director Alan J. Pakula and screenwriter William Goldman turn Carl Bernstein and Bob Woodward's real-life investigation into the Watergate burglary leading all the way up to President Richard Nixon into a slow-burn thriller, full of dark, inky shadows courtesy of cinematographer Gordon Willis.
All the President's Men is filled with moments that seem almost quaint now – the various journalists in the film seem utterly shocked that members of the president's administrations would be so blatantly corrupt; and when it comes time to dig into a story, they have to comb through phone books for names. The events of All the President's Man would play out entirely differently had they happened in a modern age – something we're learning in real-time.
All the President's Men takes on the appearance of a great mystery, with Robert Redford and Dustin Hoffman's Woodward and Bernstein playing the parts of detectives. But the film is also a damn fine newspaper movie, where the pounding typewriter keys sound like gunshots, and someone is always pecking away in the background, cigarette burning. In the end, All the President's Men is a testament to the power of good journalism – when done right, with determination and a commitment to nailing down the truth, no matter what the costs, good journalism can bring down the most powerful person in the country.
Citizen Kane
Citizen Kane has so much going on in it that if you're not overly familiar with the film you might even forget that the newspaper business plays an huge role in the proceedings. But Kane's newspaper angle is not about crusading journalists; rather, it's about the power the printed word can have – and how easy it can be to manipulate that power for ill gotten gains.
Director Orson Welles was, of course, making a thinly-veiled portrait of American newspaper magnate William Randolph Hearst, but Citizen Kane's unsettling message of using the press for ill rather than good could easily reflect the empire of FOX tycoon Rupert Murdoch.
So powerful is Charles Foster Kane's newspaper manipulation that he uses it to crush enemies, boost his mistress, and even start a war. "I don't know how to run a newspaper," Kane says "I just try everything I can think of."
The Front Page
Here's another newspaper story from Billy Wilder. Wilder's 1974 film adapts Ben Hecht and Charles MacArthur's play, and focuses on Chicago Examiner reporter Hildebrand "Hildy" Johnson, played by Jack Lemmon.
Lemmon's character has just quit his job to get married, but gets drawn back to his old beat when a convict escapes death row. The convict is innocent, but a case of yellow journalism from a pack of manipulative tabloid journalists has swayed sentiment against him. Also involved: Lemmon's unsympathetic editor, played by Walter Matthau, who will do whatever it takes to keep Lemmon on the job.
The bulk of the reporters on display in The Front Page are ruthless and have no trouble bending the truth to make a story sound better, but Lemmon's Hildy is out to do the right thing. The Front Page is so popular it's been adapted several times, including an earlier film in 1931, and another movie which will pop up on this list very soon. Next, in fact.
His Girl Friday
His Girl Friday covers almost the same plotline as The Front Page, because it's yet another adaptation of Ben Hecht and Charles MacArthur's play. But director Howard Hawks and writer Charles Lederer put an interesting new spin on the material: the character of Hildy is a woman here, played by Rosalind Russell, and her editor (Cary Grant) is her ex-husband.
The Wilder/Lemmon/Matthau take on the material is good, but His Girl Friday is great. The film crackles, bustling with life as characters spit out rapid-fire dialogue faster than typewriter keys can keep up.
Hawks changed the game by trying something other films of the era avoided: overlapping dialogue. Most movies of the time, and before, have actors patiently waiting to deliver their lines, but in His Girl Friday, they banter and try to out-talk each other, which makes everything seem a lot more energetic and lot more realistic.
The Hudsucker Proxy 
The Coen Brothers found themselves working on a big studio picture with 1994's The Hudsucker Proxy, and things didn't turn out so well. I don't mean quality-wise – The Hudsucker Proxy is great. The the film had trouble finding an audience, and was a box office bomb. No matter – it's an absolutely delight. The film finds Tim Robbins playing a sweet-natured but not exactly bright mail room clerk who finds himself named head of Hudsucker Industries in a scheme by the board of directors to buy controlling interest of the company.
Enter Amy Archer, Pulitzer Prize-winning journalist. Amy assumes a fake identity to gain access to Robbins' character and figure out what's going on a Hudsucker Industries. Through it all, a romance blossoms. Hudsucker isn't really interested in journalism, but I felt like I'd be remiss if I left it off the list. Amy Archer is played to perfection by Jennifer Jason Leigh, who is channeling Rosalind Russell's His Girl Friday performance but also bringing her own manic spin to it all. Leigh's rapid-fire dialogue delivery is an absolutely delight, and the scenes where she putters around the newsroom with fellow reporter Bruce Campbell are among the film's best.
The Paper
People like to call Ron Howard a workman director, but Howard has made a handful of legitimately wonderful movies. One such film is 1994's The Paper, which has a killer cast that includes Michael Keaton, Glenn Close, Marisa Tomei, Randy Quaid and Robert Duvall.
Keaton plays the editor of a New York City rag who can't get enough of his job. Unfortunately, budget cutbacks and marital problems are getting in the way. Things get even more complicated when reporters at Keaton's paper uncover a police cover-up which could either turn into a career-making story or end their careers forever.
The Paper is a bit over-stuffed, and it happily dabbles in cliches. Yet it's a whiplash inducing journey through the world of high-stakes, low-pay journalism, and it's one of the few movies on this list that actually features a scene where a character gets to yell "Stop the presses!"
The Post
The film that inspired this list! While some may wish Steven Spielberg would go back to making straight-up popcorn films, I'd argue that Spielberg's 21st-century output is among the most interesting of his career. The Post is another civics lesson film from the directory, forming a third entry in the lose trilogy that also includes Lincoln and Bridge of Spies.
Spielberg has assembled an all-star cast, but put Tom Hanks and Meryl Streep front and center in the true story of the Washington Post's battle to publish the Pentagon Papers. The Post may be dabbling in the past, but it's very much a film about today, with Spielberg striving to defend a free press that frequently finds itself criticized against the current presidential administration.
As I said in my review, "Near the end of The Post, a quote from Supreme Court Justice Hugo Black is repeated by Carrie Coon's Meg Greenfield. "The press was to serve the governed," she quotes, "not the governors." That 46-year-old quote rings out across time, and serves as a rallying cry for today. The Post isn't precisely the best film of the year, but it is the most important."
Spotlight
Tom McCarthy's Spotlight is one of the best journalism films because it's devoted to actually showing its reporters doing their jobs. More often than not, films take shortcuts and have their reporters simply typing away at a typewriter while not doing any actual digging. Spotlight is the opposite: it has scene after scene featuring its reporter characters chasing leads, pounding the pavement and knocking on doors.
Michael Keaton, Rachel McAdams, Brian d'arcy James and Mark Ruffalo play members of the Boston Globe Spotlight team, who blew the lid off the massive cover-up of sex abuse within the Catholic Church. There's a lot going on here – the film is first and foremost about how the church took great pains to protect pedophiles within its ranks.
But the attention to journalistic detail on display in Spotlight is top notch. Case in point: when the reporters turn in their story, editor Marty Baron (a cool, collected Liev Schreiber) instantly begins pouring over it with a red pen at hand. When someone asks him what he keeps circling in red, Schreiber mutters, "Adjectives."
State of Play
I feel like this surprisingly effective 2009 thriller from Kevin Macdonald slipped through the cracks, and it deserves to be rediscovered. Adapted from a British television series of the same name, State of Play follows scruffy, sleepy-looking journalist Russell Crowe as he digs into the death of a congressman's (Ben Affleck) mistress. Here's the twist: the journalist and the congressman are old friends, and the journalist possibly had a relationship with the congressman's wife, played Robin Wright in what feels like a test-run for her House of Cards role.
State of Play is more interested in its thriller elements than it is the journalism side of things, but there's still plenty of newsroom drama here. Most of it comes as the result of rookie reporter Rachel McAdams, who is a different breed of journalist than Crowe's character. State of Play hit theaters right as internet-based journalism was beginning to become the mainstream and push print out the door, and a lot of the tension here results in Crowe's tried and true methods clashing with McAdams' blogging-based news breaks.
Zodiac
David Fincher's Zodiac is the All the President's Men of serial killer movies. While Zodiac is, of course, a chronicle of the crimes of the never-captured Zodiac Killer, it's also one hell of a newsroom movie, filled with scene after scene of characters huddled around typewriters or gathered together in editorial meetings, trying to make sense of a serial killer's letters.
Ironically enough, it's not a journalist who attempts to crack the case, but rather the San Francisco Chronicle's cartoonist, played by Jake Gyllenhaal, who does the most digging. The journalism side of things is handled by Robert Downey Jr., playing a hard-drinking, hard-smoking crime reporter who always has his notepad at the ready.
More than just a portrait of obsession and a cracking-good serial killer yarn, Zodiac is a film that highlights both the highs and lows of journalism, from the thrill of thinking you're onto a big lead to the drudgery of pouring over piles of mind-numbing documents in a sometimes futile search for confirmation.