Alt-Right Group Takes Credit For 'The Last Jedi' Rotten Tomatoes Backlash [Updated]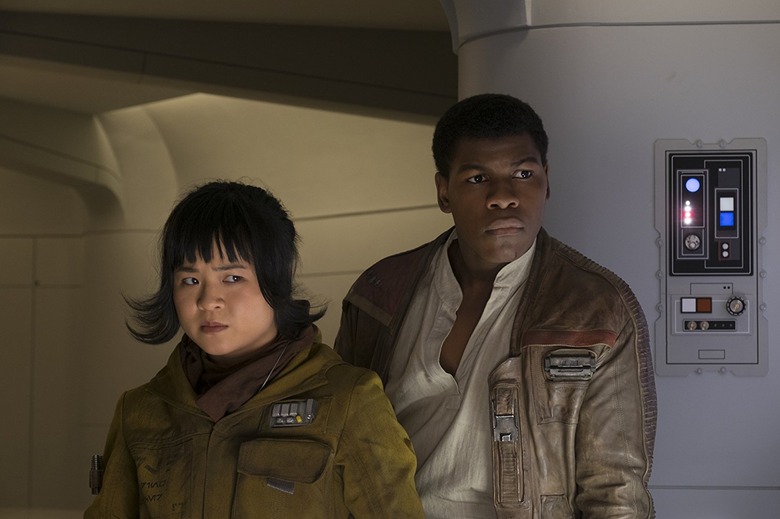 Update: Via Variety, Rotten Tomatoes says that bots were not responsible for skewing the Last Jedi score:
For 'Star Wars: The Last Jedi,' we have seen an uptick in people posting written user reviews, as fans are very passionate about this movie and the franchise. [...] The authenticity of our critic and user scores is very important to Rotten Tomatoes and as a course of regular business, we have a team of security, network, social and database experts who closely monitor our platforms.
Our original story continues below.
***
Star Wars: The Last Jedi has managed to stir up every corner of the Star Wars fandom, with opinions starkly divided on whether it's the best Star Wars movie ever, or the worst.
But now it seems that a portion of the fandom lashing out against Rian Johnson's film has been heavily manipulated. An alt-right group is claiming responsibility for manipulating the Star Wars: The Last Jedi Rotten Tomatoes audience score.
Star Wars: The Last Jedi has the distinction of boasting the largest critic-to-fan difference on Rotten Tomatoes, with critics giving the film a 92% certified fresh rating, while audiences gave it a measly 54% as of Thursday. There were some rumors going around claiming that this low score was manipulated, but there was no confirmation on whether this was true. But now ,the moderator of an alt-right Facebook group called Down With Disney's Treatment of Franchises and its Fanboys, has admitted to The Huffington Post that it used bots to flood the website with negative reviews for The Last Jedi.
The moderator, who didn't provide his name, claimed that he did so to protest Star Wars "introducing more female characters into the franchise's universe" and because characters like Poe Dameron (Oscar Isaac) and Luke Skywalker (Mark Hamill) are in danger of being "turned gay." But it seems like he was ready to hate Last Jedi from the outset "because [it] erases everything the [Extended Universe] ever did."
He continued to spout off every gross and poisonous thing typical of an alt-right basement dweller, including a jab at Paul Feig's all-female reboot of Ghostbusters and an proud admittance that he voted for Donald Trump. I'm surprised he didn't bring up Gamergate:
"Regarding female heroes: Did you not see everything that came out of Ghostbusters? That is why. I'm sick and tired of men being portrayed as idiots. There was a time we ruled society and I want to see that again. That is why I voted for Donald Trump."
Oh, and he also thinks that men should be reinstated as rulers of "society."
If that doesn't prove to you that this moderator and his alt-right group don't have a reasonable approach to their criticism of Last Jedi, then I don't know what to tell you. Unfortunately, this alt-right group isn't some awful exception to the outcry surrounding Last Jedi. Racist attacks against Kelly-Marie Tran have been popping up on her character Rose Tico's Wookipedia page, while Rian Johnson has been humbly dealing with attacks on his character and talent. There's something at issue with the Star Wars fandom at large, which I dove into earlier this week in my piece breaking down the backlash. Maybe the alt-right is part of it, or its simply taking advantage of it, but fandom has devolved to the point that it's hurting the creators and the fans themselves.
Meanwhile, where does Rotten Tomatoes stand in all of this? The review aggregator website has been at the center of many debates regarding its influence on the box office, but it's becoming increasingly clear that Rotten Tomatoes has become a cultural institution in the movie landscape. Its influence on both the discussion and reception of a movie has become of utmost importance, and it seems they're taking some action in response to this revelation.
In response to the Huffington Post piece, a Rotten Tomatoes representative said they are taking the claim "very seriously" and have a team of "security, network, social, database experts who monitor all of our platforms and they haven't seen any unusual activity."
But this could be a sign that Rotten Tomatoes needs to take new measures altogether to prevent its system being gamed, either by dissenting critics or by alt-right bots.