'Twin Peaks: The Return' To Screen At MoMA, Reigniting Futile TV Vs. Film Argument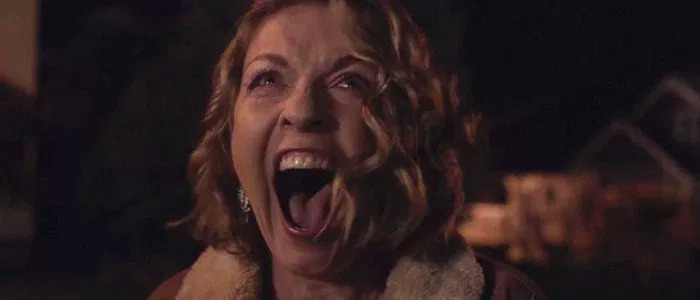 If you have yet to witness David Lynch's stunning, unclassifiable Twin Peaks: The Return, here's some good news: New York City's Museum of Modern Art is going to screen the full 18 hours of the limited event series for free. It's part of a series on "the year's finest films," a classification that will likely reignite the never-resolved TV vs. Film argument that's surrounded the revival. More news on the Twin Peaks MoMA screening is below.
Is Twin Peaks: The Return a movie or a TV show? The obvious answer seems to be TV, but not so fast! Some publications, like Sight & Sound and Cahiers Du Cinema, have dared to include Twin Peaks on their Best Movies of 2017 lists, and even David Lynch himself has likened the project to that of a film. The go-to argument against this is that since Twin Peaks: The Return didn't play in a movie theater, it can't be considered a film. Now the folks at MoMA have decided to complicate things further by screening all 18 hours of Twin Peaks: The Return on the big screen, thus ensuring this futile TV vs. Film argument will never die.
According to Vulture, the Museum of Modern Art will screen "Part 1" through "Part 4" of Twin Peaks: The Revival on January 5; "Part 5" through "Part 11" on January 6; and "Part 12" through "Part 18" on January 7. Best of all: the screenings will be free. All it will cost you is time, and also good dreams, because after you see some of these episodes you're going to be plagued with nightmares.
I personally don't have a dog in the TV vs. Film battle. I think I'd lean more towards the TV side, but if you want to go ahead and call Twin Peaks: The Return a film, then by all means, go right ahead. I do think watching Twin Peaks: The Return in a theater would be pretty damn cool, though – many of Lynch's visuals for the show practically scream to be seen on a big screen.
No matter where you fall on the TV vs. Film argument, the bottom line is that Twin Peaks: The Return was one of 2017's most incredible pieces of narrative storytelling. Rather to adhere to fan service and pick up where the original Twin Peaks TV series left off, David Lynch crafted a strange, haunting, funny, terrifying experience that defied almost all classifications and expectations. If you truly have managed to avoid it until now and are able to attend the MoMA screenings, I'd strongly recommend you take advantage of this free opportunity.