'Dark' Season 2 Officially Ordered By Netflix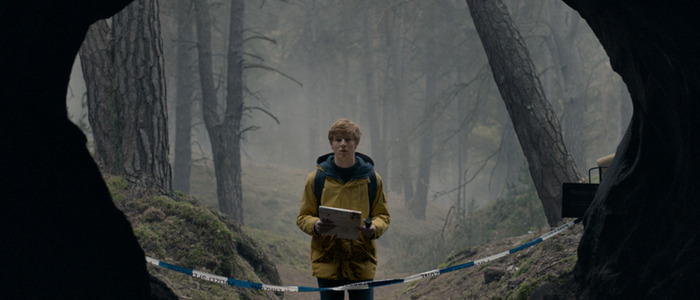 Dark, the eerie, stylish time-travel mystery show from Germany, just got the go-ahead for season 2 on Netflix. The series was marketed as a kind of German Stranger Things, and while it certainly shares some connections with that other Netflix hit, Dark is a bit more cerebral and a lot less nostalgic. Overall, it's a creep-tastic show and if you haven't checked it out yet, you should stream it on Netflix ASAP. Here's what we know about Dark season 2.
Netflix is clearly very happy with their German import, Dark. The spooky series, which features storylines involving missing children, dead birds, and time travel, is coming back. In a press release, Kelly Luegenbiehl, Vice President of International Originals for Netflix, said, "When we first heard about Dark, we realized very early on that we hadn't seen anything like this show before – in Germany or anywhere else in the world. Dark is a testament that great storytelling transcends geography. We're excited that our members around the globe are captivated by the mysterious world of Winden, and will now be able to continue to see how the story unfolds."
The marketing for Dark, with its imagery of bike-riding children placed in peril as they discovery a mystery associated with their town, leaned hard on the Stranger Things connections, but the series is very different than that nostalgic hit. That's not to say one is better than the other – both shows bring their own unique brand of storytelling to the table. As I said in my review:
[O]nce you get beyond the initial shock of the Stranger Things similarities, you'll find Dark is a much more somber, more expressionistic show. While it does deal with events in the 1980s, it's not tinged with nostalgia. Nor is there a sense of Spielbergian adventure at play. Instead, Dark is comprised of ticking clocks, shadowy rooms and long, cold stares. It gets under your skin almost immediately, bringing a chill with it.
Regarding the Dark season 2 news, showrunners Baran bo Odar and Jantje Friese said, "We are overwhelmed by the response to Dark and are thrilled that our story has been a success with a global audience. Viewers have been captivated by the secrets of our protagonists and have taken delight in unravelling the various puzzles that the story presents. To know that we will now embark on our next journey is, for us showrunners, a dream come true. And our fans can be sure that we have plenty of surprises in store for the second season of Dark."
Here's the official synopsis for the show:
DARK is set in a German town in present day where the disappearance of two young children exposes the double lives and fractured relationships among four families. In ten, hour-long episodes, the story takes on a supernatural twist that ties back to the same town in 1986.
There's no word on when Dark season 2 might arrive, but for now, you can stream Dark season 1 on Netflix. Check it out if you haven't yet – I think you'll be pleasantly surprised.