'The Shape Of Water' Has Been Unjustly Snubbed For The Best Make-Up Oscar Shortlist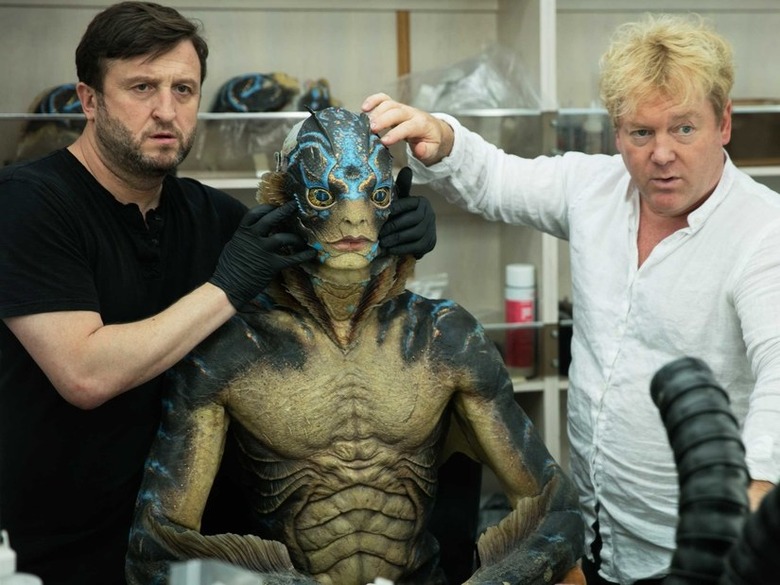 The Shape of Water is a dark, dreamy fairy tale, a stunning allegory about the oppressed minority, and a love letter to cinema, but none of it would work without its star Doug Jones, tucked away underneath layers of elaborate latex. And Jones couldn't do what he does best without the help of some of the best creature-feature makeup in recent memory.
It's too bad that the Oscars don't think so. In fact, it's downright infuriating. Ahead of the 2018 Academy Awards nominations, the shortlist for Best Make-up and Hairstyling has been released — and The Shape of Water is nowhere to be seen. Instead, we have another David Ayer movie getting a nomination for make-up.
Here are the list of movies that are contenders for the make-up and hairstyling Oscar nomination:
Bright
Darkest Hour
Ghost in the Shell
Guardians of the Galaxy, Vol. 2
I, Tonya
Victoria & Abdul
Wonder
Period pieces always get a requisite nod and it is impressive just how much Gary Oldman looks like Winston Churchill in Darkest Hour. I, Tonya is a bit out of place, but maybe it takes a lot of make-up to make Margot Robbie look anything other than gorgeous. Ghost in the Shell is so forgettable and CG-heavy that it's a wonder it got nominated at all. And then there's Bright. By all means, the orc and elven make-up look impressive, but is it better than the effects in The Shape of Water? Trivia: this is the second time a David Ayer film has received an Oscar nomination in this category in two years — Suicide Squad actually won this award for some reason.
Meanwhile, the category that seems like a given for any of Guillermo del Toro's richly designed and lavish films, has snubbed The Shape of Water.
del Toro and his creature sculpting team Shane Mahan and Mike Hill, as well as artists David Grasso and David Meng, designed The Shape of Water's star Amphibian Man strictly with Doug Jones in mind, a consummate costume actor who has appeared in many of del Toro's recent films. The movie relies on the audience believing that Sally Hawkins' Elisa could fall in love with a silent, gilled creature — and that the audience would fall in love with him, too. The heavy lifting goes to Doug Jones' mimicry and body language (which del Toro described as "part Silver Surfer, part matador"), but also to the make-up. The masculine body proportions, the wide, vulnerable eyes, those hips...it's a piece of art.
At least Shape of Water has garnered enough critical acclaim and awards buzz that it's a shoo-in for categories from which a genre film like this would usually be shut out. But this snub remains baffling.