'Pitch Perfect 3' Review: A Desperate And Unnecessary Sequel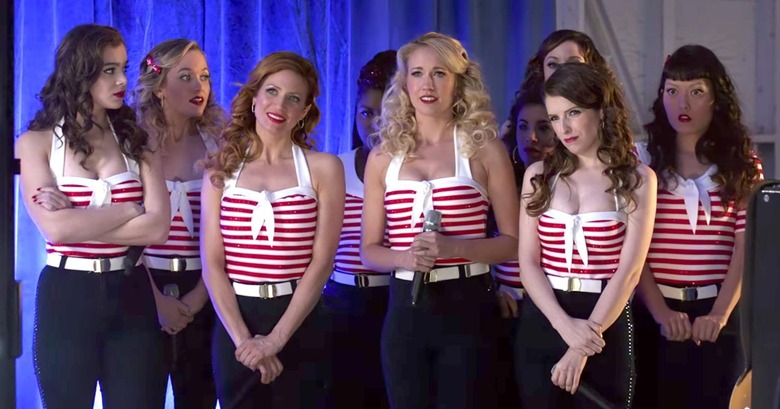 Pitch Perfect 3 cannot shake the stench of desperation from start to finish. Here is a film that has no good creative reason to exist, made by people who are painfully aware of that fact. Though this third entry in the unexpected franchise brings together most of the key players who made the 2012 original mostly delightful, there is a tired, frantic sense to these proceedings. Once, Pitch Perfect wanted to be a playful, upbeat modern musical. Pitch Perfect 3 can't help but struggle to achieve even that basic ambition. This movie is being marketed as the final chapter, which still might be one too many.
Rare is the in medias res opening to a movie that serves it well. Rarer still is the kind of in medias res opening that begins Pitch Perfect 3, basically suggesting that a caricature of the characters and world that worked so well in the original film is all that's left. Here, the reunited Barden Bellas, led by Beca Mitchell (Anna Kendrick), are on a yacht in the south of France, performing an a capella rendition of Britney Spears' "Toxic." That is, until their performance is literally crashed by the garrulous Fat Amy (Rebel Wilson), who shoots a fire extinguisher at a group of heavies holding the young women hostage on said yacht. The Bellas escape, with Beca and Fat Amy diving to safety just as the yacht seems to explode. Yes, this is somehow the best place for Pitch Perfect 3 to start, with what may be its most inexplicable scene. Of course, the sequence where one of the Bellas sets DJ Khaled's Spanish hotel suite on fire and inadvertently lets a hive of bees loose on his guests comes awfully close.
Somewhere in the mix of this nonsense is the basic plot, so contrived that you can almost hear the gears grinding behind the scenes to get these characters in the same place so they can sing again. All but one of the Bellas are out of college and largely displeased with their lives: Beca works as a record producer but can't stand the arrogant talent; Fat Amy has an unsuccessful one-woman show; Chloe (Brittany Snow) is struggling to stomach her way through veterinarian school; and so on. After the group reunites, Aubrey (Anna Camp) says she can get the Bellas into a European USO tour, because her dad is in the Army and "basically took out Osama bin Laden." That's what counts as edgy humor here. It doesn't get better.
A lot of Pitch Perfect 3 is a too-self-aware rehash of what came before in the original and the weaker 2015 sequel. (That second film has its problems, but is a lot better than this.) Beca once again is unsure if she should pursue a solo musical career, or if she's better off with her old college friends. The Bellas once again seem out of their depth when they face off against the other bands on the tour, including an all-female rock band, a rapper, and a folk/country band, all of whom scorn a group that just covers other people's music. The obnoxious, Best in Show-style announcers played by John Michael Higgins and producer Elizabeth Banks once again appear to throw in their snide commentary, even as the film is clearly unable to explain why they would still be part of this series.
In Pitch Perfect 2, Anna Kendrick's subplot felt as if it was transported from an entirely different movie. Here, that honor falls to Rebel Wilson, whose Fat Amy is the center of a baffling, underdeveloped subplot featuring her long-lost father, played by John Lithgow. (If enough people see Pitch Perfect 3, then this film will have the dubious thrill of featuring the most widely-heard worst accent from an American actor since Dick Van Dyke in Mary Poppins.) All of this might be more tolerable if the singing sequences were stronger. The final song, led capably by Kendrick, is easily the film's best sequence, but it suffers from director Trish Sie's inability to hold a single shot of even a couple Bellas singing for more than a second. So many of the musical numbers are shot and edited in such a way to feel like Michael Bay was behind the camera. These numbers are the linchpin of the Pitch Perfect films, and yet they almost all fall flat.
This, in spite of the fact that the cast of Pitch Perfect 3 are largely charming on their own. (Snow has a straightforward subplot, as Chloe tries to romance the Bellas' attractive Army escort, and acquits herself admirably enough that you wish she had more to do.) There are brief flashes throughout of what made the first Pitch Perfect charming and fun. But this movie wants to mock the same tropes it indulges in, making for some hypocritically self-aware moments. At one point, one of the rival bands goes through a plot dump regarding the possibility of opening for DJ Khaled after the USO tour, and one of the Bellas dryly replies, "That was a lot of exposition." It's a funny line, but it's also pointing out an inherent flaw in the dialogue; if only screenwriters Kay Cannon and Mike White (yes, Mike White of School of Rock and Chuck and Buck) just wrote better expository dialogue. Pitch Perfect 3 is like that self-aware gag, but for 93 sluggish minutes. There are signs of life here, but for the most part, it's a good thing this is the final chapter.
/Film Rating: 3 out of 10