The Alamo Drafthouse Is Opening A Video Rental Store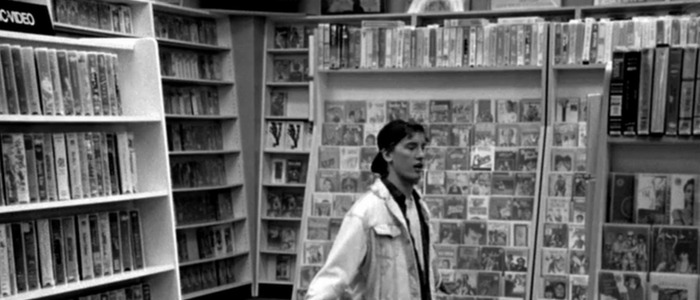 What's old is new again: Alamo Drafthouse is planning on opening a video rental store in 2018. The store, named Video Vortex, will open at Alamo's upcoming 11-screen location in Raleigh, N.C., giving film lovers the opportunity to browse row after row of film titles before finally deciding to just rent Titanic again.
If you miss the days of perusing the shelves at the video store, the Alamo Drafthouse wants to take you back to the glory days of video rental stores. Variety reports that Video Vortex will provide renters with DVDs, Blu-rays and a massive collection of rare VHS tapes, including titles that have never made their way onto DVD or Blu-ray. So if you've got a dusty old VCR laying around and live near Raleigh, time to bust that baby out. Once you rent a film from Video Vortex, you'll be able to return it the old fashioned way in person, or drop it into the mail.
If you're not an official old person like I am, you might not remember the days of hitting up Blockbuster, or Hollywood Video, or some smaller video rental chain, and browsing towering shelves of tapes in search of the perfect movie to watch. The video store mostly went the way of the dinosaurs when Netflix and other streaming services took over, robbing consumers of that somewhat sacred video store experience. Certain cities like Austin and New York have been able to hold onto niche movie rental stores in the digital age, but they're few and far between.
Per Variety, the idea for Video Vortex comes from "a long-running Alamo Drafthouse programming series that celebrates straight-to-video movies from the 1980s through the early 2000s." The series is curated by Joseph A. Ziemba, director of genre programming for Alamo Drafthouse, and Annie Choi, writer for the website Bleeding Skull. Of the new video store endeavor, Ziemba says:
"It gives me hope for humanity to see Video Vortex grow from a series at the Alamo to an actual video store...VHS is still the only way to see hundreds of forgotten genre movies. But in this era of rare tapes selling for insane amounts of money, Video Vortex will make them easily accessible for everyone in the Raleigh film community."
If you're in Raleigh and want to take advantage of the rare VHS tapes Video Vortex will feature, but don't currently own a VHS player, you're in luck: the store will also rent VCRs as well as providing equipment for RCA adapters free of charge. Video Vortex is expected to open in 2018.