Here's How 'All The Money In The World' Reshoots Erased Kevin Spacey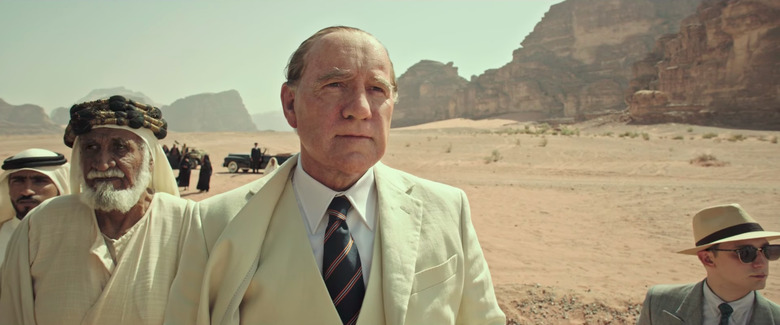 Ridley Scott defied all the odds and is ready to deliver All the Money in the World to theaters right on schedule (give or take a few days). A filmmaker delivering a film as expected normally isn't a huge deal, but All the Money in the World is a special case: with only weeks until release, Scott and company went back and reshot several scenes to replace disgraced actor Kevin Spacey with Christopher Plummer. It was a bold, unexpected plan that might just have paid off. Now, new details from Scott and Plummer have emerged about the All the Money in the World reshoots.
When news broke of sexual misconduct allegations against actor Kevin Spacey, Ridley Scott's All the Money in the World was suddenly steeped in unexpected controversy. Spacey had a small but pivotal role in Scott's film, which focuses on the real-life kidnapping of John Paul Getty III, and the refusal of his oil tycoon grandfather to pay the ransom. Scott had a decision to make: he could release All the Money as-is, and let Spacey's presence bring a certain stigma to the film; he could delay release; or, he could replace Spacey entirely with a new actor and still release the film on time. The third option seemed to be the least plausible, yet in a new profile in The New York Times, Scott confidently explains that it was an easy decision to make. ""You can sit there and let something kill you, or you can take action," the filmmaker says. "I took action."
Per the NYT piece, All the Money in the World producers and financiers at Sony and Imperative Entertainment held emergency meetings after the Spacey sexual misconduct allegations broke, trying to decide what to do with the film. Thomas E. Rothman, chairman of Sony Pictures Entertainment's Motion Picture Group, worried that delaying the release would hurt the film even more. Eventually, everyone agreed to release the film on its scheduled release date and brace themselves for a negative audience reaction.
Soon after, Dan Friedkin and Bradley Thomas, two of the film's producers, came to Rothman and revealed a new plan for the film that they had cooked up with director Ridley Scott: reshoot Spacey's scenes with a new actor and still maintain the planned release date. Rothman says that while he thought the idea was great in theory, he also told the producers: "I have supervised 450 movies over the course of my career. And what you are saying is impossible. There is not enough time."
Yet Scott made it happen. The filmmaker assembled crew and case members, including Mark Wahlberg and Michelle Williams, and set about a 9-day reshoot replacing Spacey with Christopher Plummer, an actor Scott says he originally considered for the role before Spacey landed the part. "There was no digital trickery required, either, contrary to the speculation," Scott says in the NYT story. "A little bit of good-morning makeup and some front lighting and he was ready to go. It was quite simple."
Speaking with The Hollywood Reporter, Plummer says he was about to go on vacation with his family when Scott offered him the gig. "I've always been a fan of Ridley and wanted to work with him," Plummer says in the THR story. "I thought, 'My God, here's an incredible chance.' We talked for a few minutes. He obviously has an extraordinary sense of humor, and that endeared him to me immediately. I told him, 'Listen, I have to go home and read the script,' which I did. I kind of knew I was going to do it even if I hated the script. I had a feeling. It was almost insane, so I thought. 'Great, let's try it!'"
Plummer goes on to say that his training in theater helped him memorize his lines in such a short period of time. Plummer also says despite the quick shoot, he never felt rushed, because "we created our own pace. And Ridley covered it so wonderfully with his cameras that nobody waited; we did it very quickly. Ridley is so quick in shoots — he only does one or two takes because he covers it so well with cameras."
Scott offered Plummer the opportunity to watch the scenes Spacey filmed, but Plummer declined:
It doesn't do an actor any good to watch someone else. When you take over a part in the theater, it's better that you don't go and see it first so you're not influenced in any way, the role comes from you. I saw some of the kidnapping stuff, which I thought was very well done, but that's all I saw. Bits and pieces that didn't involve J. Paul Getty at all. I hadn't seen the trailer [with Spacey] either.
Reviews for All the Money in the World are still embargoed, but there's a good chance Scott's gamble paid off: Plummer's performance was just nominated for a Golden Globe award. This whole endeavor is fascinating, and has turned All the Money in the World from a film I had very little interest in into one I feel as if I have to see now. Scott has a habit of releasing Blu-ray directors cuts on of his films that include very different versions of what hit theaters – Blade Runner, Kingdom of Heaven and The Counselor are the three biggest examples of this practice. But don't expect such a release for All the Money in the World. When the NYT asked if we can expect to ever see the original version of All the Money in the World with Spacey's scenes, Scott responded: "I doubt it."
All the Money in the World opens December 25, 2017.