'The Last Jedi' Has A Surprising 'Rogue One' Connection, Edgar Wright Cameo Revealed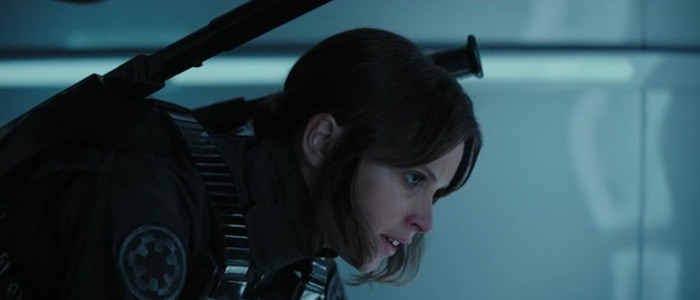 Star Wars: The Last Jedi is now playing in theaters everywhere and everyone has their own opinion on this surprising new chapter in the Star Wars saga. But let's take a break from debating whether or not the film is good (it is, by the way) and focus on something neutral and fun: easter eggs. Thanks to the wild world of the internet, a fan picked up on an easter egg from Rogue One: A Star Wars Story that ties directly into The Last Jedi. In addition to that, Baby Driver director Edgar Wright just revealed his cameo appearance in the new film. These Last Jedi easter eggs await you below. Beware of spoilers.
There are a lot of online opinions™ about Star Wars: The Last Jedi, some of them thoughtful (positive or negative), some of them bad, some of them wrong-headed. Some people have been slightly put-off by the film's addition of new, unexpected elements into an already established franchise. Personally speaking, these new things make the film all the more exciting, but I suppose I could understand why hardcore purists would cry foul.
That said, here's one "new" element that turns out to be not so new after all: in The Last Jedi, a plot point revolves around the evil members of the First Order somehow being able to track Resistance ships even when they jump to hyperspace and are traveling at lightspeed. This may seem like a brand new element in the franchise, but it turns out the seeds for this idea were planted back in Rogue One: A Star Wars story, as one eagle-eyed viewer on Twitter revealed.
Y'ALL pic.twitter.com/tWysfnOzbX

— Des (@kyleauxren) December 17, 2017
In the scene screencapped above, Jyn Erso is attempting to locate the Death Star plans, and comes across a record involving hyperspace tracking. Rogue One is set many years before The Last Jedi, which means the Empire has been dabbling with this tech for a while now. Of course, it's worth pointing out that Rogue One director Gareth Edwards probably consulted with The Last Jedi director Rian Johnson during the making of the film, and that Johnson suggested Edwards add this detail to better connect the films. Johnson even had a cameo appearance in Rogue One, and Edwards makes a cameo in The Last Jedi (he's sitting next to the soldier on Crait who tastes the salt).
Speaking of cameos, Baby Driver director Edgar Wright took to Twitter today to reveal his cameo appearance in The Last Jedi. The filmmaker revealed he played one of the Resistance soldiers, along with Attack the Block director Joe Cornish. Check it out.
If you are looking for my cameo in 'Star Wars: The Last Jedi' this is my grubby Resistance costume. With big brother Oscar, Joe Cornish & Leo Thompson. Shot this cameo on June 23rd, 2016. Thanks to @rianjohnson for making it happen. pic.twitter.com/WHpxu29Z6I

— edgarwright (@edgarwright) December 18, 2017
Wright and Cornish are just two more names to add to the ever-growing Last Jedi cameo list; a list that includes frequent Rian Johnson collaborator Joseph Gordon-Levitt, who plays an alien on the planet Canto Bight, Justin Theroux, who appears as a master code breaker, and Prince William and Prince Harry, who both play stormtroopers in the film.
Star Wars: The Last Jedi is now in theaters.