'Mortal Engines' Trailer: A Sci-Fi Dystopia And A 'Lord Of The Rings' Reunion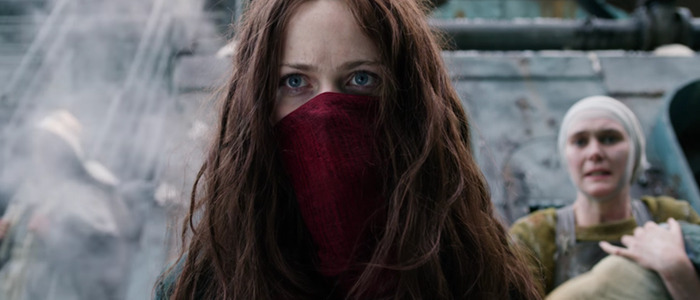 Ready for more YA dystopia? The Peter Jackson-produced Mortal Engines just dropped its eerie new teaser trailer online, featuring the city of London itself attached to giant Mad Max: Fury Road-style machinery. Christian Rivers helms this slice of post-apocalyptic extravaganza, with a script by Peter Jackson, Fran Walsh, Philippa Boyens. Watch the Mortal Engines trailer is below.
Just when you thought Young Adult dystopian adaptations were on the way out, Lord of the Rings filmmaker Peter Jackson ushers in the big screen adaptation of Mortal Engines. Adapted from the book of the same name by Philip Reeve, Mortal Engines is set thousands of years in the future after nuclear war has destroyed most of society as we know it. With almost no resources remaining, cities are built to become mobile – scavenging the wasteland and doing battle with each other. It's like a pirate movie, with mobile cities serving as the pirate ships. The surprisingly spooky first Mortal Engines trailer gives us a glimpse of the mayhem to come.
Mortal Engines trailer
This trailer looks surprisingly promising, even though it does once again use the tired trailer trope of a slowed-down song to convey creepiness. But I won't lie: I'm kind of burned-out on dystopian YA adaptations, and was kind of hoping that Maze Runner: Whatever It's Called would be the last of this sub-genre for a while. But the concept of Mortal Engines, along with the visuals on display in this teaser, suggest that maybe, just maybe, Jackson and company have put together something interesting. Here's the official synopsis:
Thousands of years after civilization was destroyed by a cataclysmic event, humankind has adapted and a new way of living has evolved. Gigantic moving cities now roam the Earth, ruthlessly preying upon smaller traction towns. Tom Natsworthy (Robert Sheehan)—who hails from a Lower Tier of the great traction city of London—finds himself fighting for his own survival after he encounters the dangerous fugitive Hester Shaw (Hera Hilmar). Two opposites, whose paths should never have crossed, forge an unlikely alliance that is destined to change the course of the future.
Mortal Engines is a big reunion for the makers of Lord of the Rings – writers Peter Jackson, Fran Walsh and Philippa Boyens all had a big hand in creating that trilogy (and the Hobbit films, but we're just going to ignore them, okay?), and Mortal Engines director Christian Rivers, making his directorial debut here, served as a visual effects supervisor on the Rings series. And then there's actor Hugo Weaving (not seen in this trailer), once again showing up for a Jackson production. Hopefully, they'll all be able to transfer the magic they captured in the Lord of the Rings films over to this.Mortal Engines opens December 14, 2018.