'Bright' Clip: Will Smith And Orc Joel Edgerton Are In A Car Chase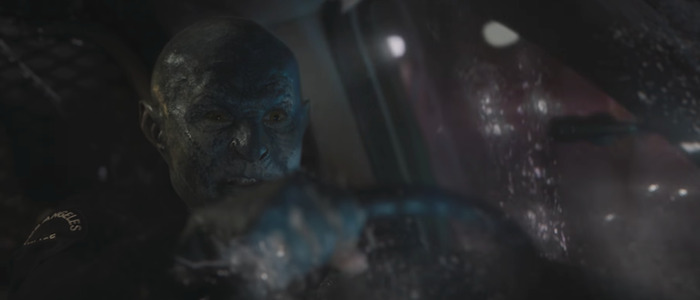 Bright! It's definitely a real movie from the director of Suicide Squad and the writer of Victor Frankenstein! Will Smith and Joel Edgerton are mismatched cops in a world of magic. Smith is the tough, no-nonsense human cop, and Edgerton is his Orc partner. Can these two cops from opposite worlds learn to get along? Maybe this new Bright clip will answer that question.
It feels as if advertising for Bright has been running for over five years, but the release date of Netflix's latest original movie is almost here. Suicide Squad director David Ayer helms this fantasy/action/comedy that stars Will Smith as a human cop who gets a new partner: an Orc, played by Joel Edgerton. This mismatched pair will have to learn to get along while also dealing with various magical (and criminal) threats. A brand new Bright clip drops us into the midst of a car chase, where Smith and Edgerton's characters smash and shoot their way through dark city streets.
Bright clip
The thing that stands out the most here is how Edgerton's dialogue – "Butterfingers!" he says at one point; "They don't teach that at the academy!" he says later – is slightly muffled by the false monster teeth he's wearing. Maybe they should've over-dubbed that with some ADR? Eh, who cares! Bright! Here's the official synopsis.
Set in an alternate present-day where humans, orcs, elves, and fairies have been co-existing since the beginning of time. Bright is genre-bending action movie that follows two cops from very different backgrounds. Ward (Will Smith) and Jakoby (Joel Edgerton), embark on a routine patrol night and encounter a darkness that will ultimately alter the future and their world as they know it.
After Suicide Squad, I can't say I'm very excited for another David Ayer movie. Not helping matters is the fact that the script for Bright comes courtesy of Max Landis, who is hit or miss (and often more miss than hit). Hopefully Bright will turn out to be a pleasant surprise and subvert expectations. I like both Smith and Edgerton as actors, so maybe they'll be able to bring enough charm to this film to keep it above water. In addition to Smith and Edgerton, Bright also stars Noomi Rapace (The Girl with the Dragon Tattoo), Lucy Fry (11.22.63), Edgar Ramirez (Zero Dark Thirty), Margaret Cho (Drop Dead Diva), and Ike Barinholtz (Suicide Squad).
Bright arrives on Netflix December 22, 2017, just in time for you to force your family to watch it on Christmas.