'Star Wars: The Last Jedi' Box Office: Second Biggest Thursday Ever, Could Score $100 Million Opening Day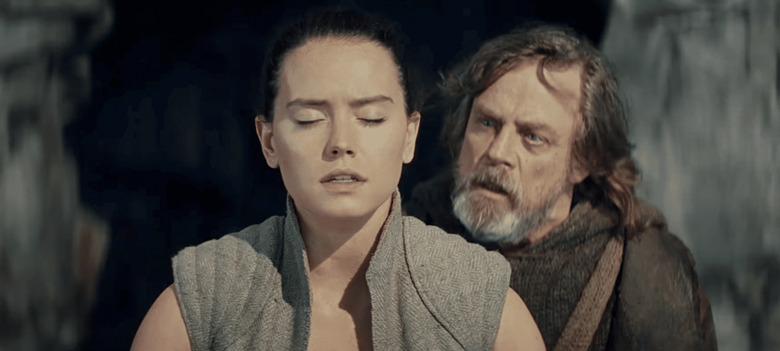 The Force is definitely strong with Star Wars: The Last Jedi. Aside from being a creative success with wildly positive reviews, it's also well on its way to becoming a box office juggernaut, pulling in $45 million domestically in Thursday night preview screenings. That's still not quite at the level of 2015's Star Wars: The Force Awakens, which reinvigorated the franchise after a decade-long slumber, but analysts are predicting that The Last Jedi could earn as much as $100 million on its opening day alone.
Deadline reports that The Last Jedi's $45 million in preview earnings is the second highest preview gross of all time, behind only The Force Awakens (which currently holds the record with $57 million in that department). For even more comparison, $45 million is 55% ahead of last year's Rogue One: A Star Wars Story, which only pulled in $29 million in domestic previews.
But enough preview talk: what could the film earn in its first full day at the nationwide box office? Analysts are predicting that it could score between $95-100 million, which could very well translate into an opening weekend that reaches $210 million domestically. That would still put it behind The Force Awakens (which holds the weekend record with $247 million), but it might be enough to best the second and third place holders, Jurassic World ($208 million) and The Avengers ($207 million).
Just for comparison's sake, Justice League – a movie that reportedly cost $300 million and certainly one that Warner Bros. needed to be a massive hit – didn't even crack $100 million over its entire opening weekend. Look, I realize that nothing is going to come close to Star Wars, which is back at the height of its powers right now. But I just wanted to pass that along so you could have some context of the size hit we're talking about here.
And while the Star Wars brand is a draw on its own, it's still cool to see a great filmmaker like Rian Johnson at the helm of a movie that's performing this well. His previous movie, 2012's sci-fi film Looper, only earned $20 million in its opening weekend on its way to a $66 million domestic total for its whole theatrical run. This movie is going to launch him into a whole new stratosphere, and as a fan of his work before he headed into a galaxy far, far away, I hope we get to see more Rian Johnson original projects in-between his newly-announced Star Wars trilogy.
Earlier this week, analysts were predicting that The Last Jedi could finish its opening weekend with as much as $425 million worldwide. We won't know how accurate that is until Monday, but we'll keep you updated with more Star Wars The Last Jedi box office analysis in the coming days.