Video: A Closer Look At The Incredicoaster, A Ride Based On 'The Incredibles'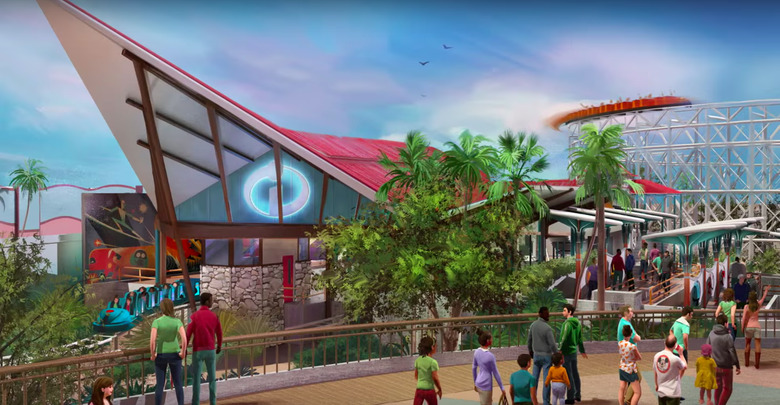 A roller coaster attraction based on The Incredibles called The Incredicoaster was announced as part of Disneyland Resort's Disney California Adventure theme park's Pixar Pier a few months ago, with a planned premiere date in the summer of 2018, but a new video can give you a sneak peek at what the ride will be like.
At D23 this year, Disney Parks and Resorts announced that Paradise Pier at the Disney California Adventure theme park would be transformed into "Pixar Pier." The pier would be populated by rides and attractions modeled after Pixar's most beloved films — including the Incredicoaster, which would be transformed from the old California Screamin' rollercoaster. No more details were released when the Pixar Pier was announced in November, but a new video gives an inside look at how Disney Imagineers are building this — dare I say — incredible ride.
Incredicoaster First Look
The ride will combine character figures, lighting and special effects to bring to life a story created exclusively for the ride by the Pixar Imagineers, according to the Disney Parks Blog.
Creative director Tracy Noce described how they fashioned images and sculptures inside the light-locked tubes that riders will race through — including one depicting Elastigirl reaching all the way through the tube to reach Jack-Jack. "It has a really fun and compelling story," Noce said. "Trying to tell a story on a roller coaster can be really difficult. So what we're doing is creating a story that can be read really quickly."
The story follows the Incredibles kids, who are put under the supervision of Edna Mode by Mr. Incredible and Elastigirl. But Edna Mode turns out to be a terrible babysitter, resulting in the chaos that ensues throughout the ride.
It's a new story that's crafted in conjunction with the upcoming Incredibles 2, which is set to be released in theaters around the time that Pixar Pier opens. Pixar Pier producer Jeff Shaver-Moskowitz described the unique process of working with the creative team of The Incredibles to create the roller coaster's story, which will take place around the time of the sequel. "[We're] working with Brad Bird...the whole team of Incredibles 2 to bring this whole story to life so that we open with this new story of the Incredibles characters that everyone knows and love," Shaver Moskowitz said.
Pixar Pier is set to open at Disneyland, California in summer 2018.
Here's the synopsis for The Incredibles 2, out June 15, 2018:
Elastigirl springs into action to save the day, while Mr. Incredible faces his greatest challenge yet — taking care of the problems of his three children.