'The Polka King' Trailer: Netflix Film Stars Jack Black As A Dancing Con Man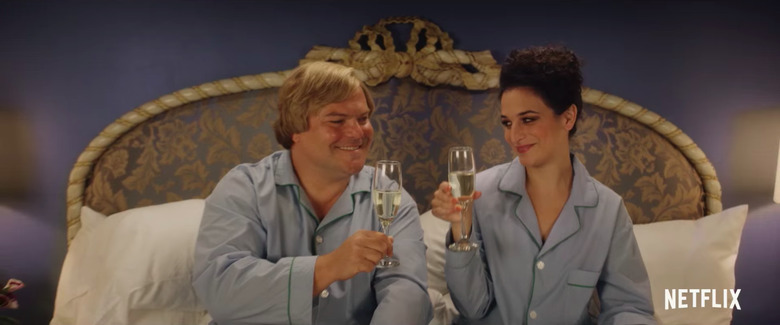 Life truly can be stranger than fiction. In The Polka King, based on a true story, Jack Black plays Jan Lewan, a real-life polka dancer who fell from grace after he conned an entire town with a Ponzi scheme.
The Polka King, a black comedy that Netflix bought after it premiered at the Sundance Film Festival in January, has released a first trailer, and it lives up to its wacky premise. There's Jack Black in a blonde wig and a Polish accent, Jenny Slate rightfully crowned as a beauty queen, and a lot of dancing.
The Polka King Trailer
Who knew that, in the 1980s, there was an enthusiastic polka community that practically worshipped the antics of dancer Jan Lewan, a charming Polish immigrant who stole the hearts and money of elderly polka fans in a small Pennyslvania community?
Once you get over the fantastic premise of The Polka King — and come to realize that no, this is not Jack Black's dance version follow-up to Nacho Libre — this movie looks like charming and disarming black comedy and it will soon hit Netflix. It follows a blonde Black as Jan Lewan, who rides the wave of the avid polka community, embarking on a European tour before launching the Ponzi-like investment scheme that would be his downfall. It's a classic story of American hubris, only with Black putting on a heavy Polish accent while bribing judges of local beauty contests so his wife (Jenny Slate) can win.
The Polka King offers a wacky, fast-paced trailer for the film directed by directed and written by Maya Forbes and Wally Wolodarsky. The story is based on the documentary film The Man Who Would Be Polka King from directors John Mikulak and Joshua Von Brown, which follows the real Jan Lewan and his financial con that became the "biggest scandal in polka history."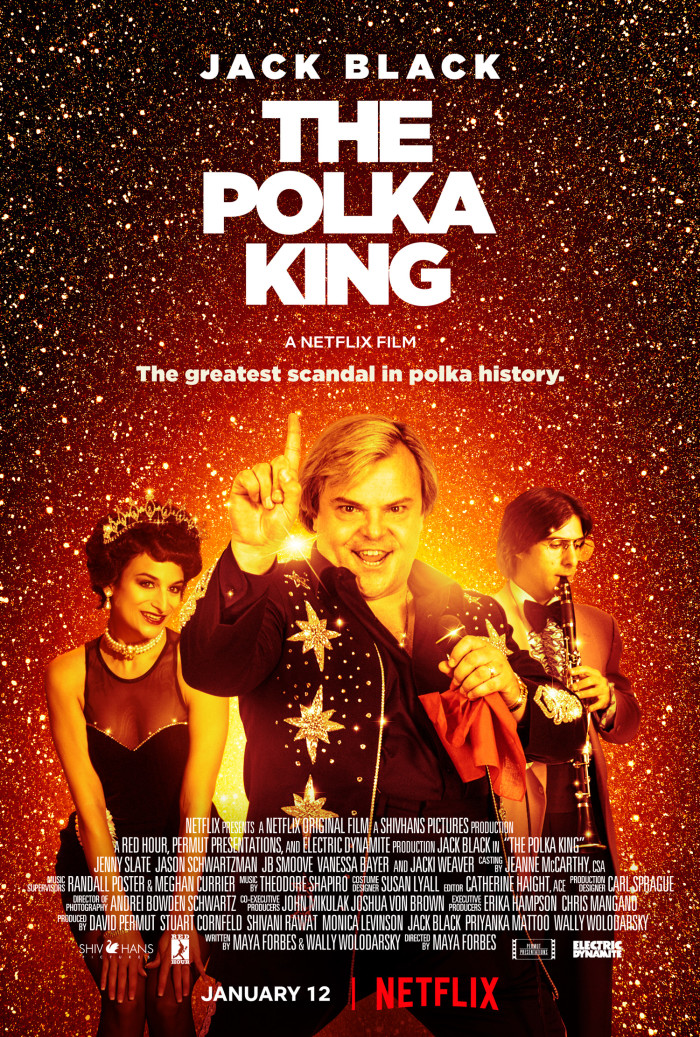 Here is the synopsis for The Polka King:
In The Polka King, Jack Black stars as Jan Lewan, a Polish immigrant who became the "King of Pennsylvania Polka." A believer in the American Dream, Jan worked hard and dreamed bigger, but with big dreams come big mistakes. Based on a true story, the film, co-written and directed by Maya Forbes and Wally Wolodarsky, mixes comedy and tragedy showing the world's only known Polka Ponzi scheme. The Polka King co-stars Jenny Slate, Jason Schwartzman, Jacki Weaver, J.B. Smoove and Willie Garson.
The Polka King will be released on Netflix on January 12, 2018.