'The Commuter' Trailer: Liam Neeson Wants To Stop This Train, Now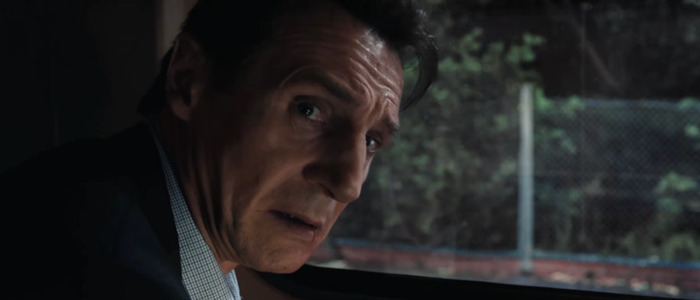 Here's a nice distraction from current events: a final trailer for The Commuter. Liam Neeson, action star, is back once again with lurid, style-overload director Jaume Collet-Serra for a whole new ridiculous thriller. This final trailer is loaded with some shaggy CGI, a quick shot of Sam Neill with a mustache, and explosions. But the real draw here is Neeson, who continues to age like a fine wine while also punching people in the face. Watch The Commuter trailer below.
If you were to go back in time a decade and claim that Liam Neeson would eventually turn into an action movie star, people would laugh at you. Then they'd probably ask why you used time travel for such a trivial task. For a while, Neeson played quiet, bookish types or conflicted, dramatic characters. But the success of Taken flipped Neeson's career upside down and turned him into everyone's favorite action movie dad. The Commuter is yet another opportunity for Neeson to flex his action movie chops, and it re-teams him with his Unknown, Non-Stop and Run All Night director Jaume Collet-Serra. The final Commuter trailer just arrived today ahead of the film's impending release, and it's a doozy.
The Commuter Trailer
I'm not going to say this movie looks good, but I will say it looks watchable. I'm a fan of a lot of Collet-Serra's work: I'm one of the few people who actually digs his House of Wax remake, I think Orphan is a great little horror movie, and The Shallows is a very entertaining piece of sharksploitation. Helping matters here is the supporting cast, which includes the very underrated Vera Farmiga along with Sam Neill, Patrick Wilson and Jonathan Banks.
This trailer is...silly? I guess that's the word I'd use here. There's a shot of Neeson (I think?) jumping off the back of the train that is so clearly CGI that it looks like something out of Sam Raimi's first Spider-Man film. But that's okay. I'm fairly certain no one going into the theater to see The Commuter is expecting high art. They just want to watch Liam Neeson frown and punch people, and they're apparently going to get a lot of that. Here's the official synopsis:
In this action-packed thriller, Liam Neeson plays an insurance salesman, Michael, on his daily commute home, which quickly becomes anything but routine. After being contacted by a mysterious stranger, Michael is forced to uncover the identity of a hidden passenger on his train before the last stop. As he works against the clock to solve the puzzle, he realizes a deadly plan is unfolding and is unwittingly caught up in a criminal conspiracy. One that carries life and death stakes, for himself and his fellow passengers.
The Commuter comes barreling into theaters January 12, 2018.