'48 Hours' Remake Coming From 'Good Time' Directors The Safdie Brothers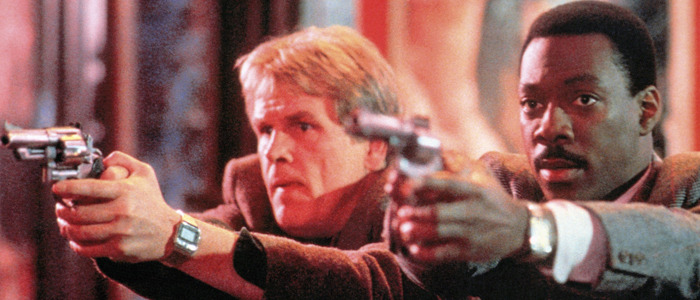 Walter Hill's 1982 action comedy 48 Hrs. is getting the remake treatment, and filmmaker brothers Benny and Josh Safdie – the directing duo behind this year's critically-acclaimed indie thriller Good Time – have the unenviable task of bringing the remake to life. The original film is considered a modern classic, with memorable performances from stars Eddie Murphy and Nick Nolte, and that movie is partially responsible for popularizing the buddy cop genre as we know it today. So...no pressure or anything.
The moment I read about this news, I have to admit that I involuntarily cringed – and not because of the notion of Hollywood remaking another '80s classic. I didn't grow up with 48 Hrs. in my action movie rotation, but having watched it for the first time a few years ago, my primary memory of it is as an ugly, down-and-dirty movie with some racially-charged moments that absolutely would not go over well in today's culture. (There's one bar scene in particular that's the equivalent of brazenly sprinting through a cultural minefield.) The film centers on a white cop (Nolte) and a black convict (Murphy) who are forced to team up for two days to find a pair of killers.
The notion of two white guys writing this remake gave me pause, so I was pleased to read in The Hollywood Reporter that comedian Jerrod Carmichael will be co-writing the script alongside Josh Safdie and his Good Time co-writer Ronald Bronstein. Hiring Carmichael – a popular stand-up comedian and rising star who created, wrote, and starred in a semi-autobiographical sitcom on NBC called The Carmichael Show – is a smart decision because he's known for pushing the envelope when it comes to discussions of being black in America. Not only that, but hiring him allows a black voice to be essential in the creation of a movie with a black protagonist.
Good Time is on my list of things to catch up on by the end of this year, but from everything I've read about it (and from speaking with people who have seen it), that movie has a unsettling, intense sensibility that may seem like a unique fit for what many remember as a classic buddy comedy. But ultimately, I think their raw approach will work nicely for this story, which is way grittier that this trailer makes it out to be:
Do you think the Safdie brothers can deliver a solid 48 Hours remake? Sound off below.