'Annihilation' Director Alex Garland Opens Up About Creative Clashes Behind The Scenes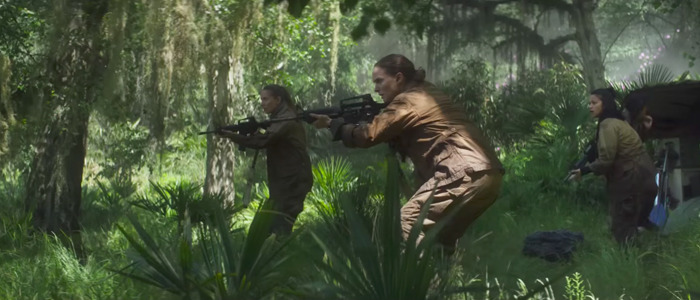 Annihilation, the upcoming film from Ex Machina director Alex Garland, is one of my most anticipated movies of 2018 – but audiences came close to not seeing it in its intended form. We recently learned about some behind the scenes disagreements that nearly resulted in the movie being recut and reshaped in post-production in order to appeal to a broader audience, but it sounds like Garland's vision has remained largely intact in the final product.
Now, the Annihilation director has commented on those creative clashes, explaining his intentions were clear from the start and expressing disappointment that these clashes would happen at all so late in the process.
Annihilation is a sci-fi film based on the first entry in author Jeff VanderMeer's Southern Reach Trilogy – Annihilation, Authority, and Acceptance – and it has an amazing cast that includes Natalie Portman, Tessa Thompson, Oscar Issac, Jennifer Jason Leigh, and Gina Rodriguez. The story follows an expedition of scientists as they enter a mysterious region known as "Area X," where the normal laws of nature don't apply. You can check out the most recent trailer right here.
Last week, we wrote about how producer David Ellison, the head of Skydance Pictures, saw a poor test score from an early screening of Annihilation and worried that the movie might be "too intellectual" and "too complicated" for average audiences. Ellison pressured Garland to change the ending of the movie and reshape Portman's character to make her more sympathetic, but mega-producer Scott Rudin (The Social Network) supported Garland's original vision; ultimately, Garland and Rudin won the battle and the movie was able to stay as-is. (Although Paramount, skittish about the film's box office prospects, sold off the international distribution rights to Netflix, who will release the movie overseas 17 days after it debuts stateside.)
Now, in a new interview with Indiewire, Garland has addressed the head-butting that went on behind the scenes:
"I completely ignore that aspect of it. The way I approach these things is with transparency. I never bullshit fucking anybody about what my intension is. I say, 'Here is the script, the script is not a pretend script, it's the actual script. Here are some visuals, too.' The way I see it from that point is that if they agree to make the film, then it becomes like a contract. Importantly, that contract is not open to being broken later. There's a creative agreement. If people do have a problem, and that's find if they do, but the time to express that is early, not late."
It's hard to disagree with him on that point, especially if he showed someone the finished script before entering into a deal to make the movie together. I haven't seen the finished film, so Ellison could very well be correct about the movie not being as financially viable as he originally hoped; still, I'm almost always going to fall on the side of an argument that results in audiences getting to see a filmmaker's intended vision for something rather than a sanded-down version of a story that they feel is compromised. How many films do we now view as classics that failed to perform well at the box office upon their initial release? I truly hope American audiences turn out to see this movie in theaters to support smart science fiction, but even if it tanks at the box office, at least we'll get to see what Garland had in mind all along.
Annihilation arrives in theaters on February 23, 2018.