First Look At Disney Parks' Millennium Falcon Theme Park Ride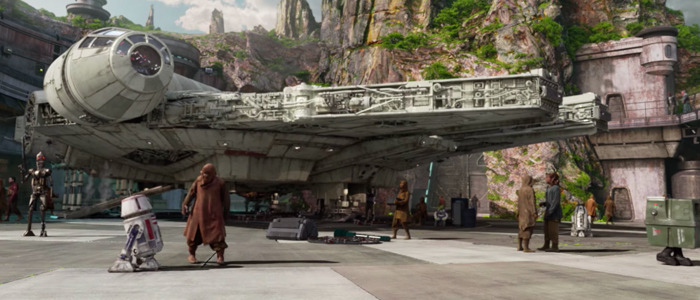 Star Wars: Galaxy's Edge is set to open at Walt Disney World and Disneyland in 2019, taking visitors to a remote outpost on a planet called Batuu. When it opens, one of the main attractions will be a Millennium Falcon flight simulator. We learned some details about the experience during this year's D23 expo back in July, but we haven't seen any images of it aside from concept art. Now the first official photo has debuted, giving us our first real look inside the Millennium Falcon theme park ride.
The Disney Parks official Twitter page revealed the image this morning (via InsideTheMagic).
"We're home." #starwars #galaxysedge – Learn more this Saturday at Star Wars: Galactic Nights at Disney's Hollywood Studios. pic.twitter.com/wGe1rUzpwH

— Disney Parks (@DisneyParks) December 13, 2017
Any Star Wars fan worth their salt will instantly recognize precisely where that location is inside the Falcon itself (it's the corridor leading into the cockpit), but it's still a bit unclear from this photo exactly where this will fall in the layout of the ride experience at Galaxy's Edge. Early concept art (and just plain common sense) indicates that guests will be inside the ship's cockpit during the flight simulator, so what we're looking at here is almost certainly part of the loading queue that leads directly to that area.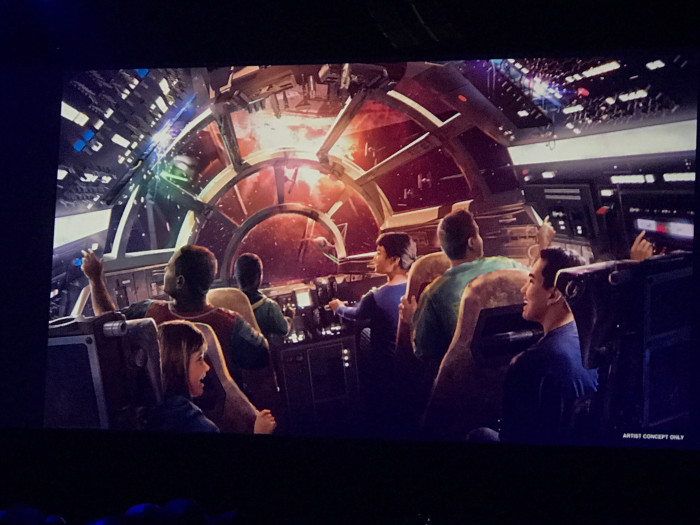 We know that the flight simulator won't be a passive ride where you just sit and watch things fly by on a screen in front of you as your chair bounces around – it's an interactive experience, where you and your small flight team each have a different job operating the Falcon as it navigates through space. Since the new park is based on interactivity (even extending to immersive hotel experiences), your performance on the ride will follow you for the rest of your stay. The "hottest flight crews" can earn extra credits, but if you beat up the ship during your ride, a bounty hunter might come after you in the nearby cantina.
The tweet also teases that we'll find out more about the ride (and maybe see some more photos?) this Saturday during Star Wars: Galactic Nights at Disney's Hollywood Studios, so stay tuned for more updates once they've been announced.
In the meantime, you can read about the third planned ride that didn't make the cut, a Force Awakens connection in the form of a Star Destroyer, and many more details about Star Wars: Galaxy's Edge right here. You can also watch this fly-through video of a model of the new land, and make sure to check out Peter Sciretta's photo gallery from D23 right here.