Astronauts Will Get To Watch 'Star Wars: The Last Jedi' In Space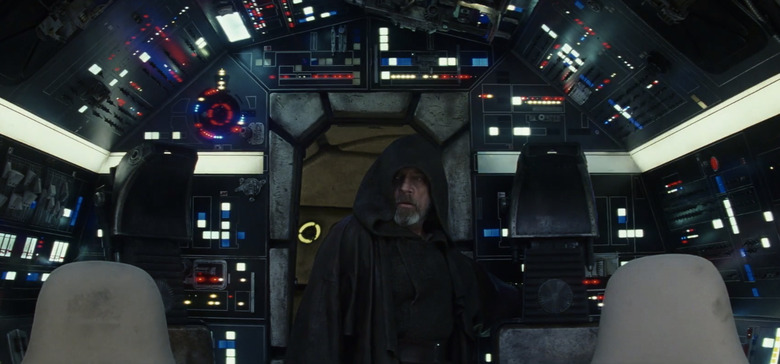 In a few days, Star Wars: The Last Jedi is set to conquer the Earth. And where else can it go next but the stars?
Rian Johnson's entry into the sci-fi saga will live up to its name by traveling far, far away — 220 miles into space, to be exact. The astronauts on the International Space Station will receive a special screening of Star Wars: The Last Jedi to coincide with the film's release this week.
NASA spokesman Daniel Huot confirmed that the ISS crew will watch Star Wars: The Last Jedi in orbit, according to The Washington Post. There are no details on when the screening will be, but it will likely be sometime around the movie's December 15 theatrical release.
It's not unusual for the ISS to have movie screenings while in orbit. The crew receive digital movies and DVDs alongside replenishments of supplies and care packages, and will often watch movies on a laptop or a standard projector. The ISS has apparently accumulated a huge collection of movies, with a library featuring classics like The Godfather and Beverly Hills Cop according to a list Gizmodo obtained through a FOIA request. But it appears that most of their movie nights are space-themed — Gravity and Star Trek seem to be big hits — a mold which Star Wars: The Last Jedi fits perfectly.
#Movie night in micro #Gravity aboard #ISS on our new HD projector which we use for conferences, tech software, etc.. pic.twitter.com/Mhb03U3alz

— Scott Kelly (@StationCDRKelly) April 25, 2015
But this may be the first time that the astronauts are receiving a special screener at the same time that the movie is hitting theaters. With critical and word-of-mouth buzz building up Star Wars: The Last Jedi as one of the most anticipated movies on Earth, there's no reason that it wouldn't be the most anticipated movie in space either. It's encouraging that NASA has been able to receive this screener from Disney — even if it is kind of just good publicity.
Star Wars: The Last Jedi is set to hit theaters on December 15, 2017.
Rey develops her newly discovered abilities with the guidance of Luke Skywalker, who is unsettled by the strength of her powers. Meanwhile, the Resistance prepares to do battle with the First Order.