Now Stream This: The Best Christmas Movies Streaming Right Now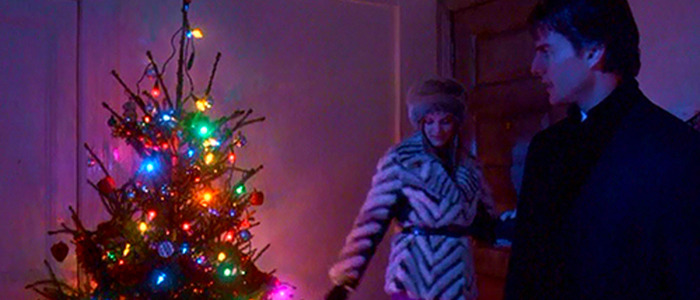 (Welcome to Now Stream This, a column dedicated to the best movies streaming on Netflix, Amazon, Hulu, and every other streaming service out there.) 
I don't want to alarm you, but I have some shocking news: it's currently the holiday season. Yes, I can't believe it either, but here we are. The utterly bonkers year that was 2017 is almost gone, but before it goes we'll have to muddle through the holiday season somehow. The holidays can be a stressful time for some people: there's the hassle of finding the perfect gift for loved ones, mixed with lousy weather, congested traffic and the existential dread of the looming new year. My advice? Relieve some of that stress with movies. After all, movies are the reason for the season (please don't correct me on this, I'm sure this is correct).
In the spirit of giving, I've compiled a list of Christmas movies for you to stream as we run out the clock on 2017. These aren't your traditional Christmas movies, though. The films compiled here are primarily what I'd like to call alternative Christmas movies. In other words, a lot of these are Christmas movies for people who don't like Christmas movies. But don't worry, I made sure to throw in one or two traditional tales of holiday cheer just in case.
Here are the best Christmas movies streaming right now! Let's get streaming.
Now Streaming on Netflix
Stanley Kubrick's final film is a psycho-sexual dream set (mostly) over the course of one long, weird evening close to Christmas. Eyes Wide Shut may not be a Christmas movie in the conventional sense, but the holiday is ever-present throughout the film, with a Christmas tree in the background of nearly every shot. Tom Cruise gives one his best performances playing a frustrated doctor who storms out on his wife (played by Cruise's real wife at the time, Nicole Kidman) after she confesses she had a sexual fantasy about another man. His ego (and manhood) wounded, Cruise decides to get back at his wife's (imagined) infidelity by having an affair or two of his own. He stalks the streets of New York, Christmas lights twinkling around every corner, and soon ends up at one killer Christmas party, full of masks, orgies and creepy music. Kubrick, notorious for not wanting to travel, shot the New York street scenes on backlots and with rear-projection, which only adds to the overall dream-like atmosphere of the film.For fans of: Crash (the car crash sex one, not the racism one), Birth, Last Year at Marienbad, Tom Cruise's really cool looking hair.
Now Streaming on FilmStruck
One of Billy Wilder's very best films (maybe even the best), this surprisingly dark romantic comedy has a Christmas (and New Years) backdrop built into its storyline. Jack Lemmon is a total pushover; a guy who allows his superiors at work to use his apartment for their various affairs. As these higher ups use Lemmon's pad to cheat on their wives, Lemmon camps out on the icy New York streets. Along the way, Lemmon finds himself falling for the office building elevator girl (an irresistible Shirley MacLaine). Unfortunately, MacLaine's character is in the midst of a serious affair with Lemmon's boss, played with the perfect amount of smug charm by Fred MacMurray. What follows is a funny, witty, and unexpectedly melancholy series of events. When people reflect on the films of the past and say "They don't make 'em like they used to," this is the type of movie they're talking about.
For fans of: Some Like It Hot, Mad Men, The Seven Year Itch, straining spaghetti with a tennis racket.
Now Streaming on Shudder
There are quite a few Christmas horror movies (too many, in fact), but the best of the bunch, without question, is Bob Clark's 1974 proto-slasher flick Black Christmas. There's something wonderfully ironic about the fact that Clark directed both this film and the immortal Christmas classic A Christmas Story – where are the 24-hour marathons of Black Christmas? While John Carpenter gets most of the credit for starting up the "holiday-themed horror movie trend" with Halloween in 1978, Black Christmas actually predates his film by a few years; a factoid that frequently gets overlooked. In this dark and twisted holiday nightmare, a house of sorority sisters, played by Olivia Hussey, Margot Kidder and more, find themselves terrorized around Christmastime by a prank caller prone to obscene messages. But this guy might have more than prank calls on his mind, and the young women find themselves in increasingly more danger. This is a slow-burn chiller, so don't expect an abundance of jump scares or gory kills. What Black Christmas does have, however, is a wealthy of atmosphere, which makes the whole thing extra effective. Side note: there was a Black Christmas remake made in 2006; avoid it at all costs, it's terrible.
For fans of: Halloween, Silent Night, Deadly Night, When A Stranger Calls, inebriated Margot Kidder.
Now Streaming on Netflix
Gremlins is Christmasy as hell. Even though people are constantly referring to this Joe Dante by way of Steven Spielberg monster movie as a "Christmas classic," it's sometimes easy to lose sight of how much of a Christmas vibe this flick throws off. From the opening credits alone, showing a lovely matte painting of a snowy town as Darlene Love's "Christmas (Baby Please Come Home)" blasts out, it's impossible to not get into the Christmas spirit when watching this movie. Which is remarkable, because Gremlins is nasty. This is a mean-spirited movie – especially for a Spielberg production. A suburban town is thrown into chaos as a cute, cuddly monster named Gizmo inadvertently leads to the spawning of gross, slimy, murderous gremlins. My personal favorite Christmas-themed detail here: the scene where Phoebe Cates recounts a ghoulish story about how her father died in a Santa Claus-related accident when she was a child.For fans of: The 'Burbs, Back to the Future, Krampus, disgusting chewing sounds.
5. The Muppet Christmas Carol
Now Streaming on HBO GO
I'm not entirely sure if The Muppet Christmas Carol is the best film adaptation of Charles Dickens' immortal classic A Christmas Carol, but I am sure that Michael Caine is the best on-screen Scrooge of all time. Caine decided to approach the part of literature's most famous miser totally straight; he acted as if the film he was in was completely normal, ignoring the fact that his co-stars were a group of puppets. The result is remarkable: Caine's performance here is downright award worthy, and I'm not kidding. You know the story by now, right? Greedy Scrooge finds himself visited by three (well, technically four in the book and five in this film) spirits on Christmas Eve. The spirits take Scrooge on a journey through his past, present and future, and teach him to be a better man. The twist here, of course, is that the supporting cast is made up of Jim Henson's famous Muppet characters – Kermit, Miss Piggy, etc. The best element of this telling (besides Caine's great performance) is the decision to have Gonzo play the part of Charles Dickens, who in turn narrates the story and helps brings Dickens' wit and charm to the narrative. On top of all that, the jokes are pretty damn funny. My favorite: at one point during the big opening song, Scrooge walks by a stand of vegetables that come to life and sing a chorus. Without missing a beat, the man selling the talking veggies turns directly to the camera and says of Scrooge, "Even the vegetables don't like him!" Bonus: the whole movie is loaded with catchy songs by Paul Williams.
For fans of: Pretty much every version of A Christmas Carol, The Muppets, Michael Caine going all-in on the idea of acting with puppets.
Now Streaming on Netflix
"The Hateful Eight isn't a Christmas movie, idiot," someone is saying right now. Maybe not on the surface, but Quentin Tarantino's extremely unpleasant yet ghoulishly funny chamber piece has all the trappings of being stuck with your family on Christmas Eve, dying to escape. There's snow a'plenty, and there is one unforgettable sequence scored to a piano rendition of "Silent Night." In other words: this is a Christmas movie. Hateful Eight strands a group of great actors –  Samuel L. Jackson, Kurt Russell, Jennifer Jason Leigh, Walton Goggins, Demián Bichir, Tim Roth, Michael Madsen, and Bruce Dern – in a snowy cabin, and then proceeds to brutally kill them off one by one. This film's race relation-based issues are understandably nasty and off-putting to many, but Hateful Eight feels even more depressingly relevant here at the tail end of 2017 than it did when it hit theaters Christmas of 2015.
For fans of: Django Unchained, The Thing, Clue, gallons and gallons of fake blood.
Now Streaming on Amazon Prime Video
No, not the recent flop starring Michael Fassbender. This charming animated classic from 1982 is a dialogue-free adaptation of a children's picture book by Raymond Briggs. The story concerns a boy who builds a snowman one winter's night. The snowman proceeds to come to life, and take the boy on a charming, whimsical adventure that results in a cameo appearance from Santa Claus himself. This short film is just utterly lovely, blessed with enchanting animation. There's more emotion in this brief, wordless film than most feature-length movies can muster. Best of all, it's only 27 minutes long.
For fans of: A Charlie Brown Christmas, calm, peaceful, very nice things that just make you feel warm inside.
Now Streaming on Hulu
This 2003 comedy from Ghost World director Terry Zwigoff is tailor-made to make you cringe, with Billy Bob Thornton going above and beyond to play the nastiest, crudest mall Santa in history. Thornton's Santa gig is just a front to pull off a heist, but somewhere along the way his black-as-coal soul erodes ever-so-slightly for him to do the right thing. Sort of. Bad Santa actually had a bit of a troubled production. The Coen Brothers were involved with uncredited rewrites on the script, and they voiced several objections to how the film was being handled. Also involved were the now-disgraced Bob and Harvey Weinstein, who went behind Zwigoff's back and had new scenes shot with a completely different director. The knowledge of these production woes make the final result a bit more remarkable, because there's no clear sign of the film being a mess the way other troubled, muddled productions often turn out to be. This is primarily due to the performance of Thornton, who carries the whole film on his slumped shoulders.
For fans of: National Lampoon's Christmas Vacation, Elf, Scrooged, lots o' cussin'.
9. Rare Exports: A Christmas Tale
Now Streaming on FilmStruck and Amazon Prime Video
If you ever wanted to see Santa Claus naked, here is your chance! This weird, wild Finnish dark comedy from director Jalmari Helander tells the tale of a young boy who thinks he's discovered the tomb of Santa Claus. But the Santa buried here is no benevolent, jolly toy man. Instead, he's an evil, murderous monster. When Santa gets captured, his elves come calling to free him. This movie is weird, and it's not going to be for everyone. But those who who can enjoy its strangeness will be rewarded with an entertaining, Amblin-esque horror-comedy full of some truly shocking moments. Just be warned: there's a lot of Santa nudity here (for some reason).
For fans of: Gremlins, Troll Hunter, Big Game, nude Santa (did I mention this movie has nude Santa? It does, and it's weeeeeird).
Now Streaming on Shudder
Full disclosure: I actually hate this movie! Why am I including it on this list then? Because I have several smart colleagues who swear up and down that this film is in fact very good, so I'm willing to admit that maybe I'm wrong here, and maybe you'll find something to love. To be clear: the set-up of Better Watch Out is clever enough: a love sick young boy decides to tell his teen babysitter that he has feelings for her on night near Christmas, before she moves away forever. Before he can express his love, however, a home invasion scenario begins to unfold. And that's all I can tell you, because there's a whopper of a twist in this film that's either going to make you nod in appreciation or throw your remote at the TV and say, "Oh, screw this." I was in the latter category. But you might think differently! I invite you to give this film a chance, and then come back and say, "Chris, you were right," or, "Chris, you were wrong and now I am judging you harshly." Happy Holidays!
For fans of: Don't Breathe, A Perfect Getaway, Home Alone, big mid-film twists.