'Star Wars: The Last Jedi' Earns A Positive Review From George Lucas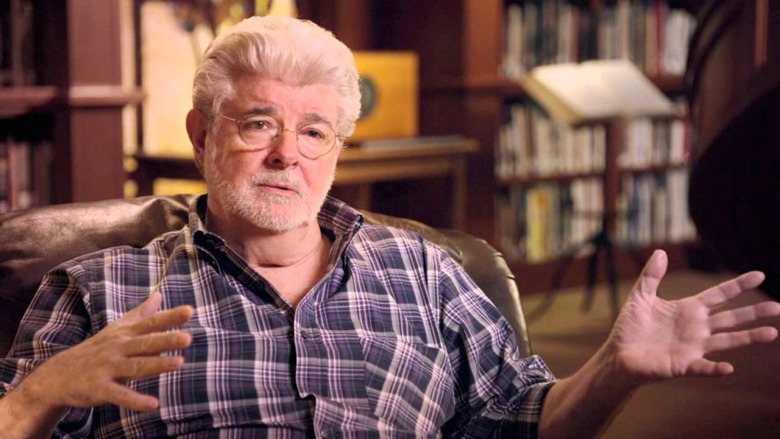 Star Wars: The Last Jedi now has the ringing endorsement of the franchise's creator, George Lucas. Though the director stepped away from the sci-fi series after Lucasfilm was acquired by Disney, Lucas is far from divorced from the series that has dominated so much of his life for the past 40 years.
Lucas saw The Last Jedi shortly after its Saturday night premiere and, like the hundreds of critics raving about Rian Johnson's film, he loved it.
Lucas was among those to see the latest Star Wars installment a bit early (because he's George Lucas!) and was highly impressed, a representative for the director told The Hollywood Reporter.
"[Lucas thought] it was beautifully made," Lucas spokesperson Connie Wethington said. "And in speaking with director Rian Johnson after viewing was complimentary."
Lucas has had a tumultuous relationship with Disney since he sold Lucasfilm to the company in 2012. The director, who created the galaxy far, far away with the first Star Wars film in 1977 and wrote and directed the prequel trilogy, was all but shut out of the creative process for the new Star Wars trilogy. We've heard his loyal friend Mark Hamill defend Lucas' vision for a new trilogy, which was scrapped by Disney in favor of what would eventually become J.J. Abrams' Star Wars: The Force Awakens. Lucas was miffed to say the least, going so far as to call Disney "white slavers," though he quickly retracted that statement.
But it appears that he's turned a new leaf, and at least acknowledged that Kathleen Kennedy and directors Abrams and Johnson aren't doing too bad of a job. The critics almost universally agree that Last Jedi is one of the best Star Wars movies in the franchise.
Star Wars: The Last Jedi stars Mark Hamill, Carrie Fisher, Adam Driver, Daisy Ridley, John Boyega, Oscar Isaac, Andy Serkis, Lupita Nyong'o, Domhnall Gleeson, Anthony Daniels, Gwendoline Christie, Kelly Marie Tran, Laura Dern, and Benicio del Toro.
Here is the official synopsis to Star Wars: The Last Jedi:
Rey develops her newly discovered abilities with the guidance of Luke Skywalker, who is unsettled by the strength of her powers. Meanwhile, the Resistance prepares to do battle with the First Order.
Star Wars: The Last Jedi hits theaters on December 15, 2017.