'Venom' Might Add Woody Harrelson To Its Already Impressive Cast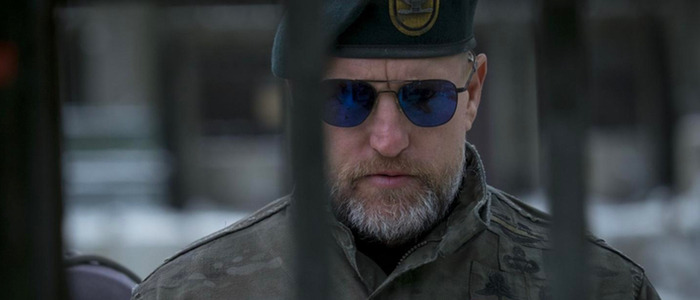 That Venom movie that we're still having a hard time accepting as real has already racked up a really impressive cast. And now it's close to adding another high profile name: Woody Harrelson is in talks to co-star. Rumor has it Harrelson will play some sort of henchman in the sort-of Spider-Man spin-off. Details about this latest addition to the Venom cast are below.
Columbia Pictures's Venom movie continues to come together nicely. Tom Hardy is in the lead, playing Spider-Man character Eddie Brock aka Venom, and the cast around him includes Jenny Slate, Michelle Williams, and maybe Riz Ahmed. Time to make room for another name: Woody Harrelson. Variety (and others) are reporting that the War for the Planet of the Apes co-star is in talks to join the superhero (or should that be supervillain?) spin-off. Details on just who Harrelson will play are currently not available, but rumor has it that he'll be playing a "henchman." Harrleson seems like too big an actor to play some nameless background goon, so if he is playing a henchman, I'd assume it's a very prominent henchman.
Then again, Harrelson could be making a brief appearance as a favor to a former director. Venom is being helmed by Zombieland's Ruben Fleischer, and perhaps Harrelson enjoyed working with Fleischer so much he's game to put in a quick appearance in a brief role. This is yet another big franchise for Harrelson to join, recently appearing in the latest Planet of the Apes film and having just finished shooting Solo: A Star Wars Story.
Details about this strange Venom film have been mostly vague, but we recently learned that the plot would be borrowing from the comic book runs Lethal Protector and Planet of the Symbiotes. Lethal Protector turned Venom from full-fledged bad guy into a bit of an anti-hero, and Planet of the Symbiotes involved an alien invasion storyline.
Venom, a drippy, fang-filled bruiser created in the late 1980s, is, of course, primarily known as a Spider-Man antagonist, and appeared on screen before in Sam Raimi's often maligned Spider-Man 3. In that film, the character was transformed from his traditional form of a muscle-bound jerk into a scrawny, smarmy dweeb played by Topher Grace. Venom casting Tom Hardy as its lead suggests the film will be moving far, far away from Raimi's interpretation. Still, this project remains rather strange. As far as we know, Spider-Man will not be appearing in the film, which begs the question: can Venom as a character work without Spider-Man? Everyone involved with this film sure as hell hopes so. No matter how Venom turns out, one thing is certain: it has a really cool cast.
Venom opens October 5, 2018.