Disney Acquires 20th Century Fox In Landmark Deal, Now Owns A Bunch Of Your Favorite Things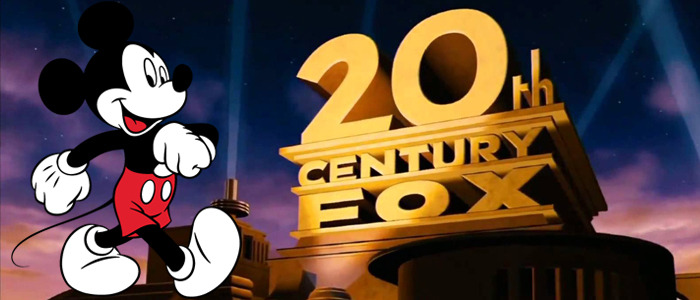 Disney and Fox have officially finalized the monumental deal that could alter the very landscape of the entertainment industry.
The Walt Disney Company announced that will acquire key entertainment assets from 21st Century Fox in a $52.4 billion deal. This includes the much-debated purchase of 20th Century Fox film studio and TV studio, as well as a few sports assets from 21st Century Fox. Find out all the details of the Disney Fox deal below.
The landmark deal, officially valued at $66.1 billion, was announced early Thursday morning, according to Deadline. In addition to the prolific 20th Century Fox film studio, Disney will also acquire the independent film company Fox Searchlight, the FX and National Geographic channels, and Fox's regional sports networks. Fox will retain Fox News, the Fox broadcast network, and Fox Sports 1, which will be consolidated into a new independent company. Beyond that, Disney will double its stakes in Hulu to 60% thanks to the acquisition of Fox. Disney will also gain a 39% stake in U.K. satellite television provider Sky. The deal allows Fox shareholders to have a stake in the new company, as well as shares of Disney.
Alongside the deal, Disney also announced that Disney CEO Bob Iger would remain in his position through 2021. In an interview on ABC's "Good Morning America," Iger said the deal will give Disney a "much larger international footprint" and enable it to "use cutting-edge technology and we know how important that is in this world."
The Disney-Fox deal appears to be larger than any previous Disney acquisition deal combined.
Re-upping this: it's not just Disney's biggest deal. It's bigger than all prior Disney deals, put together.

(via @SPGMarketIntel) $DISpic.twitter.com/ZoRj3ACk7C

— Carl Quintanilla (@carlquintanilla) December 14, 2017
20th Century Fox joins the roster of major entertainment companies that Disney has under its wing, including Pixar, Lucasfilm, and Marvel Studios, as well as TV networks ABC and ESPN. That's right — that means that the X-Men superhero properties can now officially join the Marvel Cinematic Universe, which was a major selling point for many fans who were closely watching the deal unfold over the past few weeks. There are still no details on whether The Fantastic Four are included in this deal, due to the property's complicated history with its movie rights. With the MCU reaching a major turning point soon with the upcoming Avengers 4, it offers a handy fresh start for new superhero franchises to be added to the cinematic universe.
However, the deal also expands Disney's influence over the entertainment industry significantly. With 20th Century Fox and major TV assets from Fox under its jurisdiction, Disney threatens to establish a very real monopoly over the entertainment industry. The deal all but eliminates one of six major studios competing with Disney, allowing Disney control of about one-third of the movie industry, as well as giving the company significant gains in other fields like streaming and digital media. The addition of 20th Century Fox's vast collection of films could strengthen the streaming service that Disney is planning to launch to compete with Netflix, which will already include Star Wars and Marvel properties.
There's no way of predicting how Disney will use its heightened influence. There have been troubling reports of the company strong-arming entertainment-related organizations or the press, but the intense scrutiny over this deal could motivate Disney to tread carefully. So while you giddily watch a new Wolverine meet the Avengers, be aware of the pros and cons of the Disney-Fox deal.