Patrick Stewart Is Down For That Quentin Tarantino 'Star Trek' Movie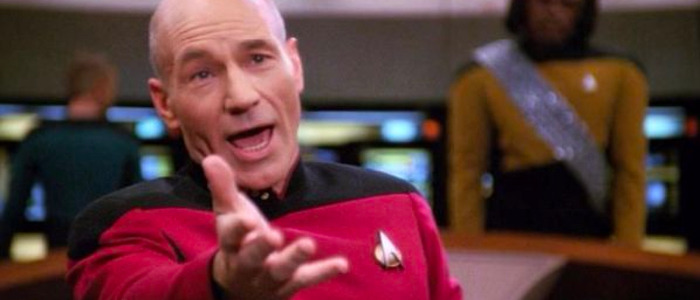 It's been a weird week for Star Trek. On Monday, news broke that Quentin Tarantino might be directing the next Star Trek film. Later in the week came word that not only is Tarantino still planning to direct, but he also insisted his Star Trek movie be rated R, and Paramount agreed. Now here's something new (sort of): Star Trek: The Next Generation star Patrick Stewart has expressed interest in appearing in the Quentin Tarantino Star Trek movie, or Tarantino Trek as I call it, should there be a part for him. Sure, why not? Let's make this happen.
Let's chalk this story up to "wishful thinking", but Star Trek: The Next Generation actor Patrick Stewart is down to clown in that R-rated Quentin Tarantino Star Trek movie. Stewart, who played Captain Jean-Luc Picard for seven seasons of The Next Generation, along with four films, told The Hollywood Reporter that he'd love to work with Tarantino:
"[O]ne of my dreams is to work with Tarantino. I admire his work so much, and to be in a Tarantino film would give me so much satisfaction. So, if he is going to direct something to do with Star Trek and there was the possibility of dear old Jean-Luc showing up again and doing that for Mr Tarantino, I would embrace it."
Stewart went on to say "The one thing that characterizes all of his movies is that frame by frame, it always challenges, always demands your attention, always demands a very kind of open and generous response to what he does," and added that he loves Tarantino's "sense of humor as a filmmaker."
Again, there is nothing official here. No one is saying that Tarantino's Star Trek movie is going to feature Jean-Luc Picard. But if Tarantino wants to find a way to work Picard into his film, Stewart is more than willing to beam aboard. At this point, we can't even begin to imagine what Tarantino's Trek is going to be about. All we know is that Tarantino pitched an idea to J.J. Abrams, and that Abrams loved it so much he convinced Paramount to assemble a writers room. That room included writers Mark L. Smith (The Revenant), Lindsey Beer (Godzilla vs. Kong), and Drew Pearce (Iron Man 3), with Smith emerging as the likely choice to pen the script.
The plan (as we understand it) is for Tarantino to go off and shoot his still-untitled Charles Manson movie, then jump into directing Star Trek as his tenth and final film. Between now and then, anything could change. But if the idea of Patrick Stewart appearing in an R-rated Quentin Tarantino Star Trek movie appeals to you, you can take solace in the fact that it appeals to Patrick Stewart as well.