'Big Little Lies' Season 2 Confirmed With Andrea Arnold Directing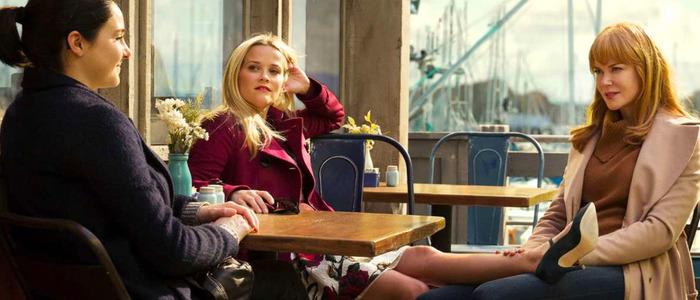 Good news for fans of excellent actresses sharing scenes and drinking wine together: Big Little Lies season 2 is on. HBO just gave the go-ahead to a second season to the limited run series, and confirmed stars Nicole Kidman and Reese Witherspoon will be returning. But wait, there's more: American Honey helmer Andrea Arnold will be directing.
The Emmy-winning Big Little Lies was originally planned as a limited series, but effusive praise from audiences and critics coupled with the cast's desire to work together again have lead HBO to greenlight a second season. Series creator David E. Kelley will be back, as will stars Nicole Kidman and Reese Witherspoon. There's no confirmation on the rest of the great cast – Laura Dern (who won an Emmy for her performance in the first season), Shailene Woodley, Zoë Kravitz, and Adam Scott – but a press release mentions that most of the cast will return, so expect to see those confirmations shortly.
"This is inspired by the overwhelming response by audiences around the world, conceived once again by Liane Moriarty, realized by David Kelley and now in the hands of visionary filmmaker Andrea Arnold," said Kidman, who plays retired lawyer Celeste Wright on the series. "What a journey this has been. I'm so grateful to have this opportunity to keep exploring these female characters and make this series with my friends."
"I'm thrilled to be bringing back this talented team of artists," added Witherspoon, who plays character Madeline Martha Mackenzie. "It gives us the opportunity to delve deeper into the lives of these intriguing and intricate Monterey families and bring more of their stories back to the audience who embraced and championed them. I'm beyond excited to be working with talented and acclaimed director Andrea Arnold who will be at the helm. Andrea's unique storytelling style will be a welcome addition to the filmmaking team."
The first season, adapted from the novel by Liane Moriarty, told a darkly comedic tale of murder set in the coastal town of Monterey, California. Pretty much everyone involved gave a killer performance, particularly Dern, and many glasses of wine were drank. Since the first season already covered the events of the novel, it's unclear what season 2 will focus on, but HBO says it will involve the "malignancy of lies, the durability of friendships, the fragility of marriage and, of course, the vicious ferocity of sound parenting. Relationship will fray, loyalties will erode...the potential for emotional and bodily injury shall loom." Sounds fun!
The addition of Andrea Arnold to the mix is an added bonus. Arnold, who directed Fish Tank and American Honey, is a fantastic filmmaker, and it'll be exciting to see what she does with the series. No date on the next season yet, but like season 1, it will be 7 episodes long.