That Polarizing 'Olaf's Frozen Adventure' Short Is Coming To TV Now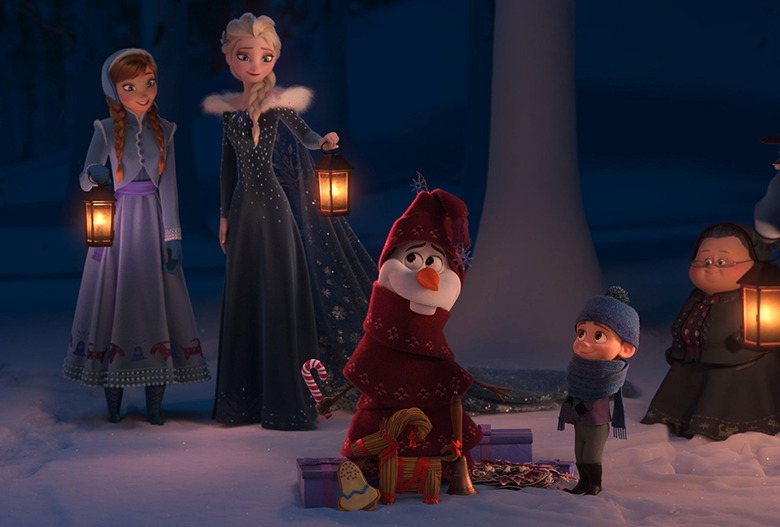 Looks like Disney doesn't intend to put Olaf's Frozen Adventure on ice.
The polarizing Frozen short received a cold reception when it aired in front of screenings of Pixar's sumptuous new film Coco, with many complaining of the short's 20-plus minute length and the lack of warning to audiences concerning its placement. Thankfully, two weeks after the short's run and the frustrated outcry surrounding it, Olaf's Frozen Adventure was pulled from theaters. But hell would freeze over before Disney lets go of anything related to their animated juggernaut Frozen. Annoyed parents can now be treated to all 21 minutes of the holiday special in the place where it was meant to premiere all along: TV.
Disney announced that Olaf's Frozen Adventure will premiere on ABC as past of Disney and ABC Television Group's "25 Days of Christmas" celebration on December 14. This follows news that the short was pulled from all theatrical screenings of Coco starting on December 8. The short was directed by Kevin Deters and Stevie Wermers-Skelton and is produced by Roy Conli, who said in a statement:
"We are thrilled to be part of ABC's '25 Days of Christmas' festivities. While making the film, our crew was so inspired by all of the great television holiday specials of the past. It's a dream come true for all of us."
To be fair, when Disney announced that the Frozen short was going to accompany Coco in theaters, it was announced as a limited run. But many speculated that the reason the short was pulled so quickly after Coco's premiere was because of the furious backlash against the short, which we called a holiday special that "should have stayed on the small screen where it belonged and not inconvenienced everyone who wanted to see Pixar's latest feature."
Because Olaf's Frozen Adventure was originally produced as a made-for-TV special, it's not-so-surprising that it would eventually make its way back to ABC. But I wonder if the brief Coco run might have zapped all the goodwill that fans have toward Frozen — or at least make them have a cooler reaction to the short. Coco did gangbusters at the box office (you could even say it kicked some ice — okay, I'll stop) so any Disney fans and their kids will have likely already seen all 21 minutes of the Frozen short already.
Olaf's Frozen Adventure will air on ABC on December 14, 2017 at 8 p.m. EST.
When the kingdom of Arendelle empties out for the holiday season, Anna and Elsa realize that they have no family traditions of their own. So Olaf sets out on a merry mission to bring home the very best traditions and save Christmas.