New 'Ready Player One' Images Released Ahead Of The Trailer On Sunday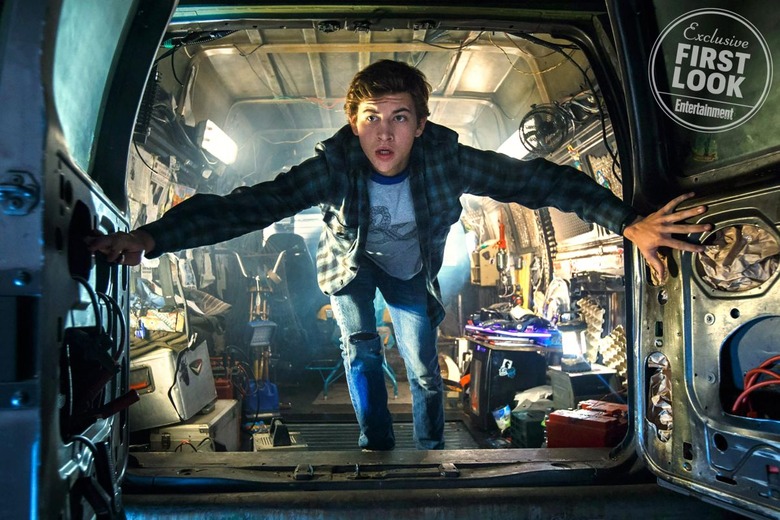 Are you ready for a new Ready Player One trailer? If not, you can prepare yourself with a few new images from Steven Spielberg's upcoming sci-fi movie.
Several new images from the virtual reality movie Ready Player One have been released in advance of the second trailer for the film, which arrives on Sunday. The trailer will likely provide tons of fodder for our ongoing '80s Easter eggs lists and for potential hot takes on whether '80s nostalgia culture has reached it saturation point. The new stills do look pretty cool though.
Entertainment Weekly debuted the new Ready Player One images as part of their rollout of 2018 movie first looks, and the stills help expand the futuristic world that we only got a glimpse of in the first trailer.
Set 30 years in the future, the film finds the majority of the population taking refuge in a virtual-reality system called OASIS. It provides a nostalgic paradise after the rest of the world that has fallen to overpopulation, pollution, corruption — specifically '80s nostalgia, thanks to the eccentric creator James Halliday's (Mark Rylance) childhood affinity for the decade. When Halliday dies, he leaves his massive fortune up for grabs to whoever can solve the elaborate scavenger hunt he has hidden within OASIS, which is where our story begins. Tye Sheridan plays the plucky protagonist who is one of millions who embark on the scavenger hunt, while Olivia Cooke is the expert OASIS player Artemis, his foe and friend.
The movie is based on the 2011 novel by Ernest Cline, which reads like a male fantasy made manifest as a video game. But it's not surprising that Spielberg, who was a defining director of the '80s, would be drawn to the story — it's quite flattering to his works. Spielberg told EW:
"There are so many more compelling reasons to escape into the OASIS than exist in real life. A lot of our movie is a comparative study: Which world would they rather spend their lives in — with all the distractions and complexities and perks of the digital world of the OASIS, or with the responsibilities of being a student or a parent living in real life? It's real life versus virtual life. Which is more compelling?"
Sure, virtual reality is a compelling, especially with its rise in popularity today. What potential does virtual reality have in entertainment? In our lifestyle? Perhaps Ready Player One is just one of our many futures. But the book upon which this story is adapted, while having an intriguing premise, is nothing less than a series of shallow '80s references told through the perspective of toxic male character made sympathetic by his "nerdy" outsider status. But hopefully, in Spielberg's hands, the story can be elevated to one worthy of a feature film adaptation, especially in the wake of his latest film, The Post.
Here is the official synopsis for Ready Player One:
In 2045, the planet is on the brink of chaos and collapse, but people find salvation in the OASIS, an expansive virtual reality universe created by James Halliday. When Halliday dies, he promises his immense fortune to the first person to discover a digital Easter egg that's hidden somewhere in the OASIS. When young Wade Watts joins the contest, he finds himself becoming an unlikely hero in a reality-bending treasure hunt through a fantastical world of mystery, discovery and danger.
Ready Player One is set to open in theaters on March 30, 2018.