'The Terror' Trailer: First Look At Ridley Scott's Historical Horror Show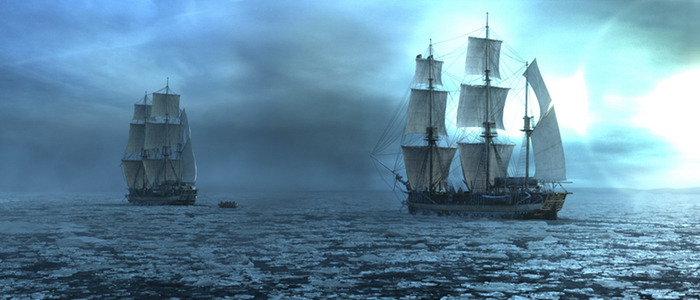 Dan Simmons' historical horror novel is jumping from page to screen with AMC's new series The Terror, from executive producer Ridley Scott. The series uses the true story of Captain Sir John Franklin's lost expedition in the late 1800s, and adds a supernatural twist. The first teaser trailer for the series has just arrived to give viewers a chill ahead of the show's March 2018 debut. Watch The Terror trailer below.
In 1845, two ships, HMS Erebus and HMS Terror, left England on an expedition under the command of Captain Sir John Franklin. The goal of the mission was to sail to the Arctic with hopes of traversing the last unexplored section of the Northwest Passage, but something went terribly wrong. The ships became trapped in the ice, and then promptly vanished. Rescue parties sent out for several years following the lost expedition were unable to locate them, and all the men aboard were eventually presumed dead. It wouldn't be until 2016 that the wreck of the HMS Terror was found. Author Dan Simmons took this true story and added a supernatural twist to it with his exhaustively researched 2007 tome The Terror. Now Simmons' book has been adapted into a new AMC series from executive producer Ridley Scott. The first teaser trailer for the The Terror gives us a quick glimpse of all the chilling horror to come.
The Terror trailer
This looks like it has a lot of promise, and Simmons' novel – while a bit overlong – is ripe with spooky, unsettling scenarios that would make great moments for the show. The book sort of reads like John Carpenter's The Thing crossed with Master and Commander: The Far Side of the World, and hopefully the transition from page to screen will go smoothly.
The ten-episode series features Jared Harris (The Crown, Mad Men) as Captain Francis Crozier, captain of the Terror; Tobias Menzies (Outlander) as Captain James Fitzjames, captain of the Erebus; Ciarán Hinds (Game of Thrones) as Sir John Franklin, leader of the expedition; Paul Ready (Cuffs) as Dr. Henry Goodsir, one of the four doctors who was part of the expedition; Adam Nagaitis (Suffragette) as Cornelius Hickey, a mate with an axe to grind; Nive Nielsen (The New World) as Lady Silence, a mysterious Inuit woman who encounters the ships trapped in the ice; Ian Hart (Neverland) as Thomas Blanky, an ice master; and Trystan Gravelle (Mr. Selfridge) as Henry Collins.
"The Terror captures a rare combination of fascinating history, complex and flawed characters, the inextinguishable human spirit and the horror and promise of an uncharted world," said executive producers and co-showrunners David Kajganich and Soo Hugh.
Along with the trailer, here are a few moody, atmospheric images from the series.
The Terror will have a two-hour series premiere on Monday, March 26, 2018 at 9 p.m.