Studio Movie Grill Owes MoviePass A Nice Thank You Card For Boosting Attendance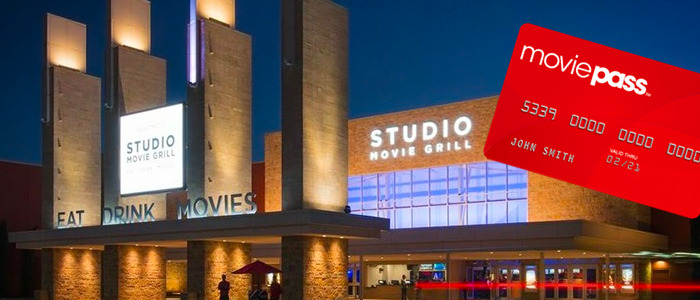 Studio Movie Grill, one of those fancy eat-in theaters where you can order a big plate of cheese fries as you watch Geostorm, owes the folks at MoviePass a very nice thank you letter, or perhaps an Edible Arrangement or two. Thanks to a partnership with MoviePass, Studio Movie Grill saw "record attendance attributed to the help of MoviePass, led by an increase in off-peak attendance as well as with smaller films." Studio Movie Grill directly attributes their increased attendance to the use of MoviePass, a confirmation that the subscription-based movie ticketing service is paying off for some folks. Find more details on the MoviePass Studio Movie Grill partnership below.
Some movie theater chains may not be huge fans of MoviePass, but Studio Movie Grill is certainly singing their praises. The Dallas-based theater chain that provides "first-run movies with full-service, in-theater dining" just announced an uptick in off-peak attendance, as well as with smaller films, which they attribute to their partnership with MoviePass – a partnership they struck about a year ago.
MoviePass made a big splash when they announced they would let users of the subscription-based movie ticketing service see one movie a day in theaters for only $10 a month. The deal got even sweeter recently when MoviePass announced a new $6.95 a month plan if you purchased an annual subscription. But there have been some problems: users have complained about a lack of timely response from customer service representatives, and others have even claimed cards they purchased weeks ago have still failed to arrive. On top of that, AMC Theaters, who are not fans of the service, keep trying to throw a wrench into the works with restrictions. But if MoviePass can't be BFFs with AMC, they can at least take solace that Studio Movie Grill is in their corner.
Brian Schultz, Founder/CEO, Studio Movie Grill, had the following kind words to say:
"MoviePass has enhanced our ability to open hearts and minds by providing a no risk vehicle for movie goers to sample movies they might not otherwise see. SMG was amazed to learn that in some cases, as with Lady Bird, MoviePass generated a double digit % of total attendance. We are in the business of creating the habit of movie going and we are excited to be an early adopter of MoviePass."
In other words, people are using MoviePass so often at Studio Movie Grill that even smaller indie films like Lady Bird have audiences packing the house. This news is something of a direct rebuttal to AMC Theaters, who turned up their noses and gave MoviePass a big thumbs down. Sorry, AMC, your loss.