Kathleen Kennedy Wants A Taika Waititi 'Star Wars' Movie (And Who Can Blame Her?)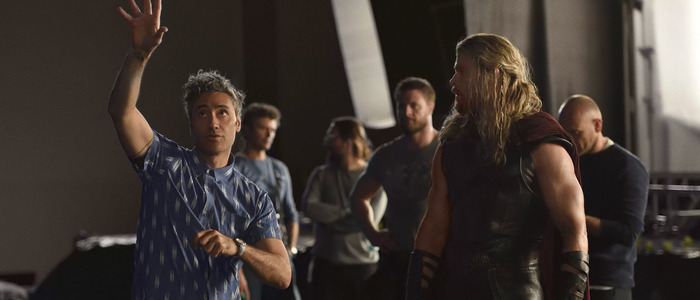 Taika Waititi has gone from indie filmmaker to blockbuster super-director with the success of Thor: Ragnarok, which means it's only a matter of time before he moves on to even bigger things. Like Star Wars, for example. Lucasfilm President Kathleen Kennedy recently confirmed that she'd be thrilled to have Waititi direct a Star Wars film, and Waititi has expressed a vague interest in the past. So don't be surprised if this becomes a done deal at some point.
After helming hilarious indie comedies like What We Do In the Shadows and Hunt for the Wilderpeople, Taika Waititi  graduated to big blockbuster filmmaking with Thor: Ragnarok. The film was a hit at the box office, and received some of the best MCU reviews to date, which can only mean that Waititi's career will continue onward and upward. The filmmaker has already been mentioned as a possible director for the live-action Akira, and now he can add the Star Wars franchise to his possible list of projects. Speaking with Newshub, Lucasfilm President Kathleen Kennedy said she would "love for [Waititi] to direct a Star Wars movie." Kennedy then added, "I think he has exactly the right sensibility. It was very exciting to see him step into the Marvel universe and do such an amazing job with Thor."
For his part, Waititi has expressed interest in his patented humorous way, telling Uproxx, "I'm not an idiot. Who would actually say no to Star Wars?" He also had this to say on Twitter:
Waititi is obviously referring to several tumultuous behind-the-scenes events of various recent Star Wars films, like the rumors that Gareth Edwards was essentially removed from Rogue One: A Star Wars Story so that Tony Gilroy could handle reshoots, the firing of Phil Lord and Chris Miller from Solo: A Star Wars Story, the firing of Fantastic Four director Josh Trank from another Star Wars Anthology film, and Colin Trevorrow departing Star Wars: Episode IX. The Star Wars films have a high turnover rate.
That said, Waititi is clearly a talented filmmaker, and he would no doubt bring the same sense of lighthearted humor he brought to Thor: Ragnarok to the Star Wars franchise. That said, it would be really, really, really cool if Kathleen Kennedy would start considering female filmmakers to helm one of the many future Star Wars movies in the works. There are many talented female directors out there who would probably leap at the chance to direct a film in this franchise. All Kathleen Kennedy has to do is offer them the chance.