'Ocean's 8' Star Sandra Bullock Reveals More Info On The Heist Flick Reboot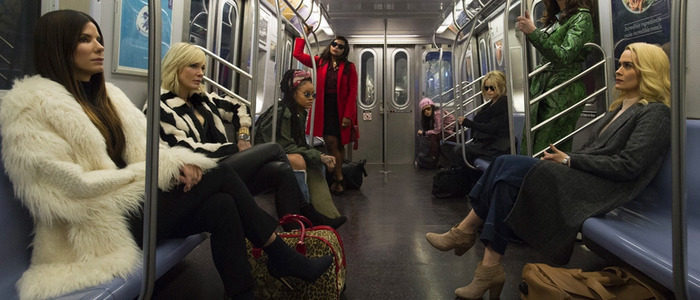 In 2018, Ocean's 8 will reboot the Ocean's 11 franchise with an all-female cast, and what a cast it is! Sandra Bullock, Cate Blanchett, Helena Bonham Carter, Anne Hathaway, Rihanna, Mindy Kailing, Sarah Paulson, and Awkwafina lead the film, with The Hunger Games' director Gary Ross calling the shots. Star Sandra Bullock revealed new Ocean's 8 details and talked a little about the inevitable online backlash surrounding a rebooted property with an female-centric cast.
One of my most anticipated movies of 2018 is Ocean's 8, which reboots Steven Soderbergh's Ocean's 11 franchise with a whole new female-driven cast. Sandra Bullock is the film's lead, playing the sister of George Clooney's Danny Ocean character. Like the previous Ocean's films, Ocean's 8 will focus on a team coming together to pull off a seemingly impossible heist. While director Gary Ross is nowhere as exciting as Soderbergh, the killer cast assembled for this movie is more than enough to get me excited. In a new interview with Entertainment Weekly, Bullock revealed some new details about the film. The actress began by talking about her character's connection to Clooney's:
"Yes, I am Danny Ocean's sister. I've been incarcerated for about five years and you find out why during the course of the film. I mean, that's sort of a tiny subplot. But that's, you know, but I'm definitely his sister and we definitely come from the same family and we're both very good at what we do in our own special way. So you can only imagine that once I get out, that's when the heist ensues."
It's interesting that rather than a straightforward reboot, Ocean's 8 is going to tie itself to Soderbergh's films. Original Ocean's 11 stars  Matt Damon and Carl Reiner are both expected to reprise their respective characters for cameo appearances. Elsewhere in the interview, Bullock also revealed some info regarding the specific characteristics of the various members of the team, saying, "Everyone has their specialty, yes. What's fun is that it's not their whole life. And they haven't been able to do what they're brilliant at because the industry, if you can call it the industry, the industry of crime hasn't really allowed them to excel and execute what they're good at."
Then the inevitable elephant in the room came up. You may recall that when Paul Feig's female-driven Ghostbusters reboot hit theaters last year, a very vocal backlash formed, scoffing at the notion of lady ghost hunters. It was nasty, and entirely uncalled for. But these are the nightmarish times we live in. EW asked Bullock if the Ocean's 8 cast was expecting the same sort of angry male backlash around their film, to which Bullock replied:
They did put [the Ghostbusters 2016 cast] through hell. And I'm still trying to figure out why. Forget what the final product was! There were four or five of the most talented comediennes in that film. Everyone should've just taken a breath and said, "let's see what happens."...We're not a reboot. We're just a this is what's happening in 2017. It's not even a passing of the torch. It's a parallel story of another family member that was raised in the same family Danny Ocean was and what happens when Debbie steps out of jail with all of these amazing, powerful women."
Bullock goes on to say that when and if misogynistic comments about Ocean's 8 pop up, "we've got some feisty women that will fight right back." I'm not sure if Ocean's 8 will face the same backlash as Ghostbusters, since the Ocean's franchise doesn't seem to have the same kind of fanbase as Ghostbusters had. Plus, it's worth remembering that Soderbergh's film was itself a remake to begin with: the original Ocean's 11 hit theaters in 1960, featuring the Rat Pack in the lead roles. Of course, these days it seems like people barely need much of an excuse to get angry online, so it's probably inevitable that Ocean's 8 will receive some sort of negative wave of comments. My advice: ignore them.
Ocean's 8 opens June 8, 2018. You can check out a new image from the film courtesy of EW below.