'Phantom Thread' Early Buzz: Daniel Day-Lewis Dazzles In Another Paul Thomas Anderson Masterpiece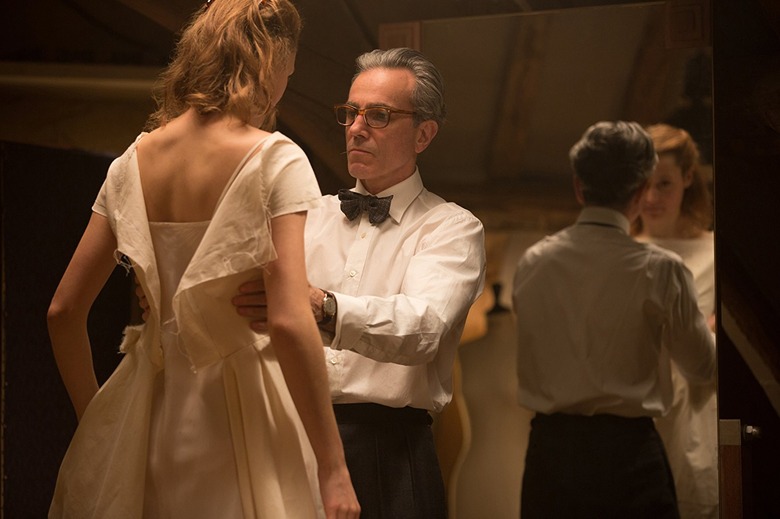 Anticipation has been high for Paul Thomas Anderson's Phantom Thread: It was a film shrouded in mystery for much of its production, without even a title announcement until two months before its limited release. Anderson is one of the most accomplished auteurs today, with not a bad movie to his name (though I'd argue that Inherent Vice is questionable). Not to mention the fact that the film reunited Anderson with his There Will Be Blood star Daniel Day-Lewis, the actor's final feature film performance before his highly publicized retirement.
But could Phantom Thread live up to the increasingly lofty expectations? Turns out that it can. The social media embargo for Phantom Thread has lifted, and critics are calling it another Paul Thomas Anderson masterpiece, a perverse, gothic love story, and a worthy vehicle for Day-Lewis' final performance. It's already made several critics' "Best of 2017" lists and received that same honor from the National Board Review.
Below, here are some of the early reactions to Phantom Thread.
Phantom Thread is a perverse look at the compromises of coupling as only told by PTA. Amazing performances, exquisite production design, fantastic score. But alas, not a film for my personal tastes but others will LOVE it.

— /Film (@slashfilm) December 6, 2017
For those of you excited about #PhantomThread – you have great reason to be. It shares tropes of Punch Drunk Love minus the chaotic Hoffman subplot. Often it feels like a subtle gothic love story & is a true pleasure to watch. pic.twitter.com/mfrrXj7sU0

— Jeff Goldsmith (@yogoldsmith) December 6, 2017
Wait, we can talk about Phantom Thread now? In short, it's 1950 Shades of Mauve and Vicky Krieps is a stunning find; like a young Meryl Streep. She's that good.

— Erik Anderson (@awards_watch) December 6, 2017
Phantom Thread makes an oddly perfect double feature with The Shape of Water. Not sure how much I'm allowed to say, but a strong cinema year seems to be ending even stronger.

— Eric Vespe (@EricVespe) December 6, 2017
I'm not embargoed so I can tell you I very much enjoyed a deep dive into the dark and kinky lake that is 'Phantom Thread'. PTA & DDL together again is a strange, joyous (and funny!) experience. One hopes that it's not the last from the two of them. pic.twitter.com/4RKqZplFJs

— edgarwright (@edgarwright) November 25, 2017
Filmmakers and critics on Twitter are calling Phantom Thread nothing short of a masterpiece, highlighting the performances of Day-Lewis and his breakout co-star Vicky Krieps. But far from being a stuffy period drama, there are veiled references to the film's "perverse" and "kinky" nature, which only makes it an all the more intriguing story — not to mention multiple references to its "gothic" romance but that's just my personal preference.
Several critics' best movies of 2017 lists also flesh out this dark, seedy twist to the drama — "perverse" is used no less than three times! Here are some snippets of their Phantom Thread reactions below:
Manohla Dargis, The New York Times:
Two lives — and two perversities — become one in this ravishingly beautiful, often unexpectedly funny film, which traces the relationship between an eminent couture designer (a magnificent Daniel Day-Lewis) and his younger, surprising muse (Vicky Krieps). It's a story about love and about work, and finally as much about its own creation as the romance onscreen.
Richard Lawson, Vanity Fair
Phantom Thread is, in the end, a perverse sort of romantic comedy, a wicked tribute to the compromises and lovable madnesses of couplehood, all staged with elegant restraint by Anderson and given lift by Jonny Greenwood's lush and alluring score.
David Ehrlich, IndieWire
The highlight of Paul Thomas Anderson's latest joint comes at the very end, and the movie isn't out yet, so we'll have to leave it as a tease for now: A meal goes wrong, and then maybe it doesn't. You'll know it when you see it. Needless to say, if this is truly the end for Daniel Day-Lewis, he's going out on a high note.
John Powers, Vogue
"If 'Mother!' is a deliriously biblical portrait of the artist as a godlike monster (for the record, I liked it), this new film by Paul Thomas Anderson offers a more graceful and far more complicated version of the same idea...Quiet, moody, and deeply perverse (I'll say no more), this fascinating movie reminds us that Anderson is the kind of alchemist-director who can turn somebody ordering breakfast into a classic scene."
Emily Yoshida, Vulture:
"Anderson can't help but bring agonizing humanity to his characters. Daniel Day-Lewis, in what he has said will be his final film role, doesn't disappear into London dressmaker Reynolds Woodcock so much as he builds him from the impeccably shined shoes on up. But Vicky Krieps's disarmingly earnest waitress Alma is the real heart of the film...it's almost unspeakably touching."
Phantom Thread also stars Lesley Manville and Camilla Rutherford. The film hits limited theaters on December 25, 2017.
Set in the glamour of 1950's post-war London, renowned dressmaker Reynolds Woodcock (Daniel Day-Lewis) and his sister Cyril (Lesley Manville) are at the center of British fashion, dressing royalty, movie stars, heiresses, socialites, debutants and dames with the distinct style of The House of Woodcock. Women come and go through Woodcock's life, providing the confirmed bachelor with inspiration and companionship, until he comes across a young, strong-willed woman, Alma (Vicky Krieps), who soon becomes a fixture in his life as his muse and lover. Once controlled and planned, he finds his carefully tailored life disrupted by love.