Video: Jordan Peele Responds To 'Get Out' Fan Theories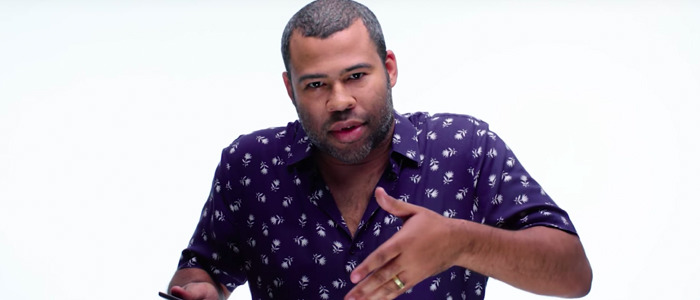 It's been obvious for years that comedian/actor/writer Jordan Peele was a talented guy. But I don't think even Peele himself could have expected his debut feature film, Get Out, was going to become one of the best and most talked-about movies of 2017.
In a new video, Peele answers fan questions about the movie and responds to some Get Out fan theories, including one that wonders whether the entire movie is the delusion of Rod the TSA agent. (Spoiler alert: it's not!)
In the video from Vanity Fair, Peele addresses a host of fan questions and theories, ranging from Rod's TSA fever dream to just what the heck is going on with Rose's bizarre habit of eating Fruit Loops and milk separately.
There's also some discussion of easter eggs, both real (when an airport announced refers to "Flight 237" over a loudspeaker, that's a reference to the haunted hotel room in Stanley Kubrick's horror classic The Shining) and imagined (a particularly creative Redditor thought the ukulele tune that Caleb Landry Jones' creepy character Jeremy plays was a slowed-down take on a Bach song, and had a whole slew of thoughts on what that might have been trying to say). Peele also pointed out that he lent his voice to one of the characters on television ("United Negro College Fund: a mind is a terrible thing to waste"), and he claimed he also "voiced" the dying deer. I'm honestly not sure if that part was a joke, or if he did that for real.
I've only seen the movie once, and one little detail I definitely didn't pick up on the first time was that three of the black characters – Logan/Andre, Georgina, and Walter – are seen after they've been operated on, and they all wear either hats or wigs to hide the scars or any other signs of that surgery from any prying eyes. Very cool.
For the reasoning behind how Get Out serves as a sequel to Being John Malkovich, or the significance and symbolism of the deer, you'll have to watch the full video. If nothing else, it's worth it for Peele's reaction to someone's theory about the double meaning behind the use of the term "black mold." Get Out is available on home video now, and is scooping up awards left and right on its way to (hopefully) an Oscar or two.