Quentin Tarantino Star Trek Movie In The Works, And We're Not Making This Up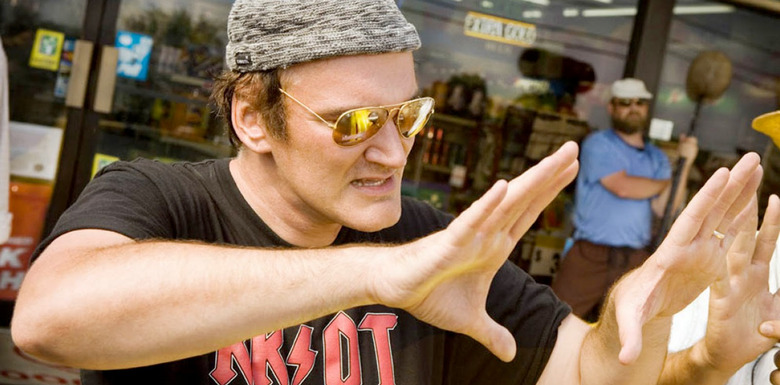 Here's a story that sounds so out-of-this-world that I almost thought it was a prank: Quentin Tarantino might be joining the Star Trek franchise. A new report indicates Tarantino pitched a concept for a new Trek film to Star Trek producer J.J. Abrams, and that Abrams is planning to assemble a writers room to make Tarantino's idea a reality. If it works out, Tarantino might direct the next Star Trek film himself. Again, we're not making this up. The Quentin Tarantino Star Trek news is below.
Deadline has a breaking story that claims that Quentin Tarantino, the acclaimed filmmaker behind Kill Bill, Pulp Fiction, The Hateful Eight and more, might be beaming aboard the Star Trek franchise. Per Deadline, Tarantino pitched an idea for a new Star Trek film to Star Trek reboot director and producer J.J. Abrams, and the idea was such a hit that Paramount is going to assemble a writers room to hash-out Tarantino's idea. Deadline says that if the idea works out, Tarantino might direct the film himself, with Abrams producing.
This sounds wild, and not exactly the type of thing you'd expect Tarantino to be attached to. Then again, the filmmaker has expressed interest in Star Trek in the past. The filmmaker once said he would be more interested directing a Star Trek film than Star Wars, and when later asked if he would be willing to tackle the Trek franchise, Tarantino said, "It would be worth having a meeting about." Tarantino fans will also recall that Kill Bill opens with the quote "Revenge is a dish best served cold," attributed to Star Trek II: The Wrath of Khan.
Still, all of that sounds like rumor and conjecture, but Tarantino was apparently very serious, to the point where his name is now being mentioned in connection with the franchise. J.J. Abrams rebooted the Star Trek films in 2009 with Star Trek, a blockbuster hit that breathed new life into the stagnant series. Star Trek was followed-up by the less-than-stellar Star Trek Into Darkness. At that point, Abrams left the franchise to go make Star Wars: The Force Awakens. Justin Lin took over to helm the third film, Star Trek Beyond. While audiences seemed to have a lot of fun with Beyond, it underperformed at the box office. Beyond grossed $158 million at the domestic box office, a massive drop from the previous films, both of which grossed north of $200 million. Its final total of $343 million worldwide was the lowest among the new franchise. This underperformance has seemingly sidelined the new Trek, with actors Zachary Quinto, who plays Spock, and Karl Urban, who plays Bones, both claiming they had no idea when, if ever, a new film would happen.
At one point, the idea for Star Trek 4 was going to center around time travel bringing Chris Pine's Kirk together with his deceased father, played by Thor star Chris Hemsworth. This latest news involving Tarantino's involvement seems to indicate plans for that film are dead unless Tarantino somehow worked them into this potential story. But that seems unlikely. In fact, it seems doubtful that Tarantino would even want to do a sequel to someone else's film. Could Paramount be rebooting the franchise again? Stranger things have happened.
Tarantino is currently putting together his next project, a still-untitled film revolving around the Manson Family murders, due out August 9, 2019. If rumors about Tarantino directing the next Star Trek are to be believed, look for it to hit theaters sometime after 2019.