Star Wars Bits: Laura Dern Hugs Chewbacca, Domhnall Gleeson Talks Hux's Motives, And 'The Last Jedi' Interviews Galore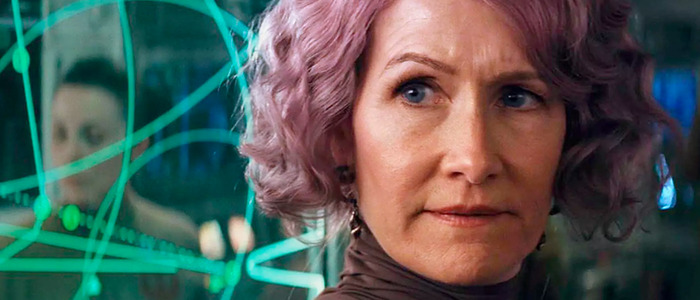 In this edition of Star Wars Bits:
Mark Hamill gets schooled by a 10-year-old on Ellen
Pre-Star Wars: The Last Jedi cast interviews reveal a shocking antipathy towards Porgs
New intel on the Resistance's "ski speeders"
Laura Dern meets Chewbacca and BB-8, revels in preciousness
Rancho Obi-Wan's grand theft saga has mercifully come to a close, as the man responsible for a series of thefts from Steve Sansweet's non-profit museum of Star Wars memorabilia has been granted his sentence. Here is Sansweet's statement on the verdict, courtesy of Team Jedi News:
AN UPDATE: As many of you know, Carl Cunningham pleaded guilty to felony grand theft earlier this year and admitted to stealing about $200,000 of Star Wars memorabilia from Rancho Obi-Wan. Today, in Sonoma County Superior Court he was sentenced to one year in jail and three years of probation. A restitution hearing will be held soon.
And remember, kids: smuggling IRL is not cool.
Following the loot crate controversy that left fans of Star Wars games cold, a leaked gameplay video shows that Battlefront II players may soon be able to customize characters. GameSpot has additional analysis on the situation, including a glorious mental image of Darth Vader in pink armor.
Mark Hamill made his first visit to The Ellen Show a memorable one: first, by losing spectacularly in a game of Star Wars trivia against 10-year-old superfan Britton Walker, and second, by supplying Ellen with some wonderful tidbits about Carrie Fisher in this interview.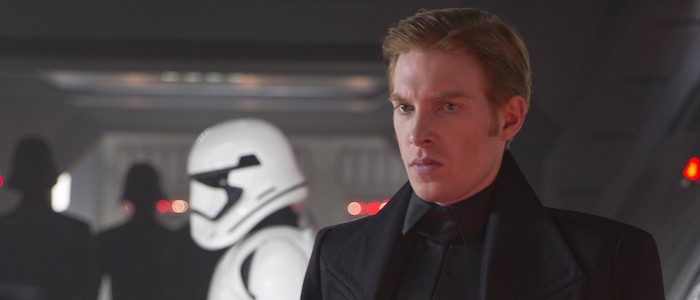 Empire published a juicy excerpt from the magazine's January issue featuring all things Star Wars and The Last Jedi. This quote above comes from Hux actor Domhnall Gleeson, whose character is clearly aiming to be more of a main player in the upcoming film:
Because of what happened in the first film, [General Hux has] been pushed to a place where his position is in real jeopardy, and people make really bad decisions when they get desperate. Hux and Kylo Ren are vying for power and for Snoke's attention. They're both contenders for the throne and Hux is hoping Ren explodes, so that he can take up the mantle. He knows it will be a battle otherwise, one he may very well lose.
Let the power struggle commence!
.@brianNpikachu @JoonasSuotamo Hi Joonas! #RianJohnson pic.twitter.com/XlM5NlFU4o

— Star Wars (@starwars) November 28, 2017
As reported by EW, Rian Johnson revealed in a recent Facebook live event that his wrap gift from Neal Scanlan, the head of the Star Wars creature shop, was a Porg. (The entire Q&A can be found here and here, on the Star Wars Facebook page.) However, in answer to a fan question, Johnson also tweeted rather cheekily that working with Porgs was "an absolute nightmare." Blasphemy! Might we expect Episode IX to be titled "Revenge of the Porgs"?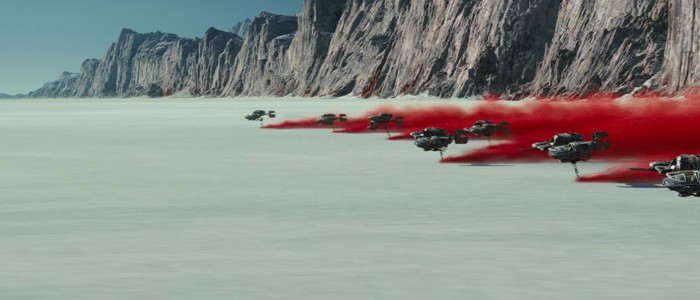 More tidbits from EW: Pablo Hidalgo of the Lucasfilm story group explained the philosophy behind the design of the Resistance's rickety old ski speeders, depicted above striding into battle against the First Order on Crait. "They are basically heaps of crap," Hidalgo told EW. "They are old and not meant to instill confidence. They are like a lot of things in the Resistance — weapons of last resort." Three cheers for the underdogs!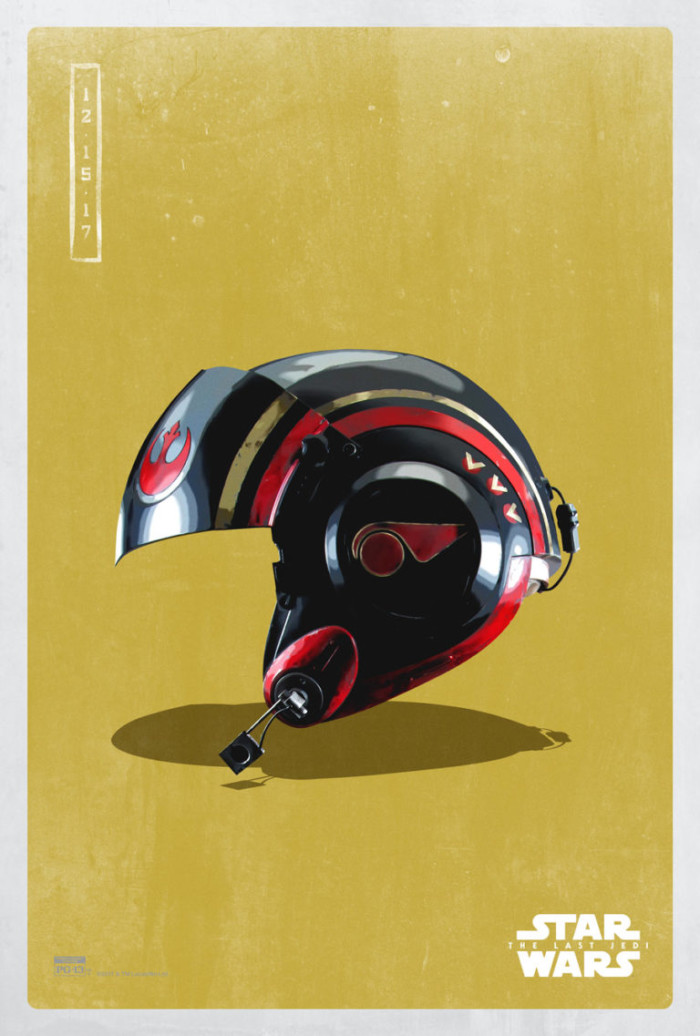 StarWars.com posted a complete collection of Pop Icon posters, featuring bold but minimalist designs of symbols that are important to The Last Jedi. Must... hide... wallet...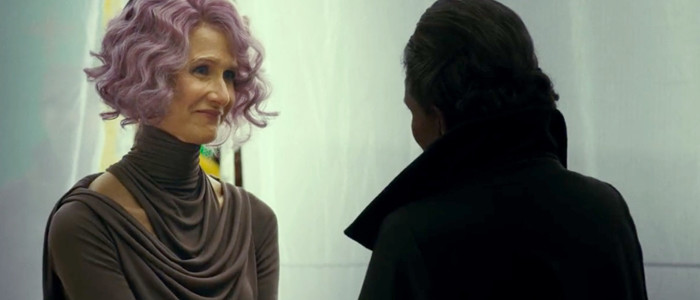 Laura Dern is all of us. On Jimmy Kimmel Live!, Dern related an anecdote that recalls her first meeting with Chewbacca on the set of The Last Jedi:
One day on set, Rian [Johnson] said, Hey Laura, somebody wants to say hi. And I remember turning around, and I was like, CHEWBACCA? And I started crying. I felt slightly embarrassed that I was weeping when he hugged me, but it was profound.
Here's hoping a certain Maz Kanata doesn't get jealous!
This cutie! pic.twitter.com/ub9GuO7iC3

— Laura Dern (@LauraDern) December 3, 2017
No, hold up, this video of Laura Dern meeting BB-8 trumps anything and everything I may have written before this. Where's our BB-8 and Amilyn Holdo spinoff?!
The recently released Chinese trailer for The Last Jedi is quite the stunner, featuring some clips from The Force Awakens and a couple of new bits from TLJ – including a herd of Fathiers storming what looks like a casino on Canto Bight. Run free, my pretties!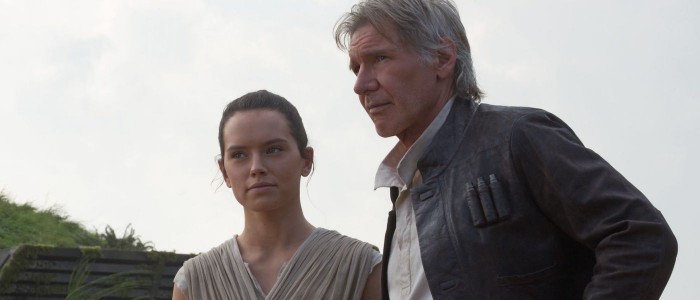 Spoiler alert: Han Solo dies in The Force Awakens. According to some pre-The Last Jedi interviews picked up by ScreenRant, however, Han's friends and family won't have much of a chance to mourn him in the upcoming film. "We're just keeping it moving, to be honest with you, man. It's true. The pressure's on, man. There's no time," John Boyega said. "In terms of Han, I'm sure we all feel sentimental – if someone were to sit Finn down, sit Rey down. But Rey's off training, she's got stuff to do. I've got a back injury, I've got stuff to do. I can't think about Han at the moment."
I'm assuming your stomach pain is from laughing at my "dad jokes"- If anyone could appreciate them it would be you, son. (Btw, I felt the same way, but I think it was the sushi I ordered at the bus station) PS: You're finntastic in #TheLastJedi 💚-mh https://t.co/phhs1CkjN7

— Mark Hamill (@MarkHamill) December 3, 2017
Space dad Mark Hamill and international treasure John Boyega are at it again, trolling each other on Twitter and giving us stomach pain from all of the laughter. For a complete roundup of their latest rollicking adventure, check out Mashable.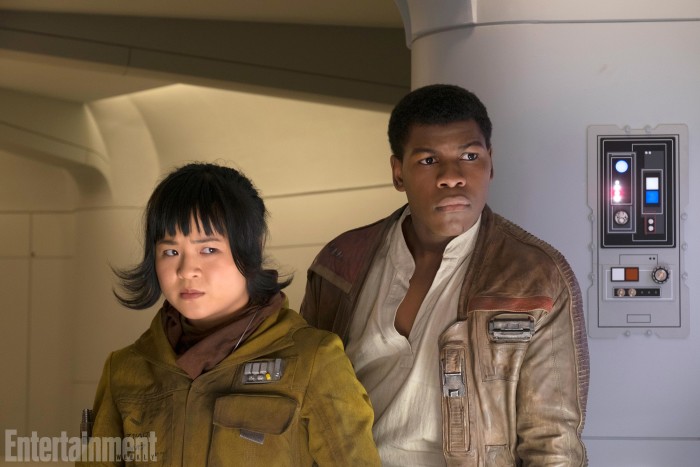 John Boyega's delightful interview with ScreenCrush demonstrates that he is as passionate a Star Wars fan as the rest of us. In the Q&A, Boyega talks about showing up on set just to watch Mark Hamill and Daisy Ridley train, and reveals what he asked Rian Johnson to change about his character coming out of The Force Awakens.
In the above interview with ScreenCrush, Boyega also shared his controversial hot take with regards to Porgs. On Jimmy Kimmel Live!, Boyega made his opinion known to Almighty Porg Creator Rian Johnson himself, as other members of the Last Jedi cast gasp in alarm. Fortunately for Porg Nation, Oscar Isaac is emphatically pro-Porg.
On the same episode of Jimmy Kimmel Live!, Mark Hamill and Daisy Ridley discuss the "literal cliffhanger" scene that bridges The Force Awakens with The Last Jedi, and Hamill goes into detail about Luke's edgy new facial hair.
In an interview with Collider, Rian Johnson divulged some details on what to expect when The Last Jedi eventually hits Blu-Ray and DVD –  a lot of deleted scenes. Johnson says that some of his favorite sequences had to be cut from the film to shave it down to its already lengthy two-and-a-half hour runtime. Are we going to get a three-hour director's cut at some point? Fans can only dream.
Collider also spoke with John Boyega, who is excited for the Obi-Wan Kenobi standalone film, but would also like to see a spin-off about Yoda's origins. Come on, Lucasfilm: Do or do not, there is no try!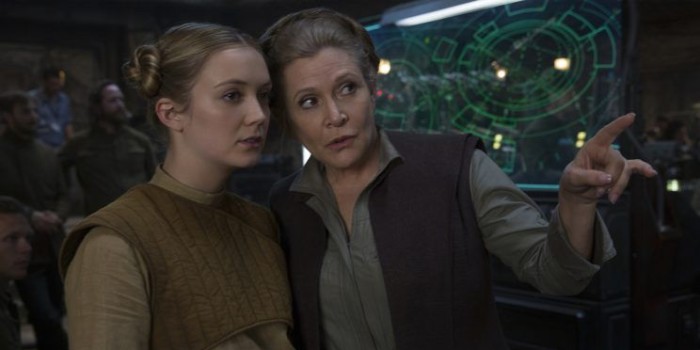 Vulture reported on the Los Angeles press conference for The Last Jedi, gathering quotes from female cast members on what Carrie Fisher and Leia Organa means to them. Captain Phasma actor Gwendoline Christie said of the iconic, self-rescuing princess: "What was really instrumental for me as someone who didn't feel like they fit in that homogenized view of what a woman was supposed to be is that there was inspiration there. You could be an individual and celebrate yourself and be successful without giving yourself over, without necessarily making some sort of terrible, huge compromise." To us, she'll always be royalty.