'The Last Jedi' Explores War In A Way No Other 'Star Wars' Movie Has, Says John Boyega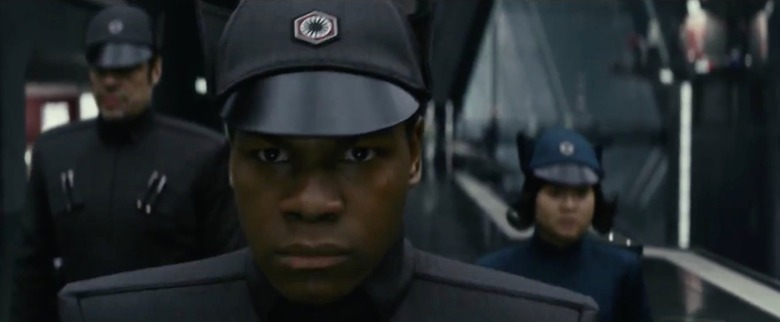 Yesterday, I attended the Hollywood junket for Star Wars: The Last Jedi. Look out for a bunch of additional coverage over the next two weeks, but for right now, let me share with you a cool bit from the press conference. Actor John Boyega said that Star Wars: The Last Jedi explores war in a way no other Star Wars movie has, and elsewhere in the press conference, the stars reflected on how their characters are dealing with the loss of Han Solo.
One of the questions from the press in attendance was how the death of Han Solo had affected the characters in this film. John Boyega, who plays Stormtrooper-turned-Resistance-fighter Finn, admitted that many of the characters in the movie don't have time to grieve as the war is getting intense:
"We're just keeping it moving to be honest with you, man. It's true. The pressure's on, man. There's no time. I think that's one thing unique to me about watching this movie was the commentary on war. There hasn't been a Star Wars movie yet that has explored war in the way The Last Jedi does. It's very messy; the categorizing of good and evil is all mixed together. In terms of Han, I'm sure we all feel sentimental if someone were to sit Finn down, sit Rey down. But Rey's off training, she's got stuff to do. I've got a back injury, I've got stuff to do. I can't think about Han at the moment."
It's interesting that Boyega thinks that The Last Jedi explores war in a way that no other Star Wars film has thus far. I wonder if he counts Rogue One: A Star Wars Story or is just talking about the core Skywalker saga films, because Rogue One certainly got into the grittiness of battle.
Oscar Isaac, who plays Resistance commander and X-Wing pilot Poe Dameron, also agreed that there is no time for the Resistance to mourn for Han Solo:
"This is reverberating, but he's right. It's a dire situation, it's critical to the Resistance, which is on its last legs. We're trying to survive. The First Order is right on top of us. It is like war – you just gotta keep moving to try and survive. So I think you feel the momentum of everything that happens in The Force Awakens just pushing and getting to a critical mass in this film."
As you know, The Last Jedi picks up right after the events of The Force Awakens, and even though the Starkiller Base was destroyed, The First Order is still a strong force that is not giving up. Of course, Daisy Ridley's Rey is now away from the Resistance. She is on Ahch-To, delivering an ancient lightsaber to Jedi Master Luke Skywalker. We've seen glimpses of Rey training on this planet in the trailers, and while her mission to become a Jedi might be at the forefront, Ridley says that Rey has been left emotionally scarred by the loss of Solo:
"I think it's the beauty of having storylines that are happening in tandem and affecting each other. Because I would say that where it leads very much affects me. Rey is a character who has been alone for a very long time. And she's really open to love and friendship, so Finn and BB-8 come along and it's like this amazing adventure. And then Han, without trying to, she seeks something from him because there's an intimacy, and there's a sort of figure or something she never dreamed of for her. Everything is new to her, so she's understanding things in a different way, and lucky for me, because I was trying to get to grips with everything going on, and Rey is trying to get to grips with everything going on. So for Rey there is some time. Everything is moving forward, but she has some time to ask questions and wonder what it means it is that led someone to do something like that. And also how that directly affects the world around her. And she's worried about being at home. So I'd say she's a bit more affected."
I don't think Ridley's answer is surprising. She has said that Han Solo functioned as a surrogate father figure to Rey, a character who was abandoned by her family at a young age. Some speculate that Han may have even been her father, but there isn't enough to prove that theory just yet. It makes sense that the loss of Han would hit her hard, even if she didn't spend too much time with him. Of course, Carrie Fisher is no longer with us and I would assume if she were up on stage for this panel, she would have shared how the loss of Han Solo plays into the storyline of General Leia in Episode 8.
We'll see it on the big screen when Star Wars: The Last Jedi hits theaters on December 15, 2017.