'Black Mirror' Season 4 Trailer: 'Metalhead' Involves A Killer Dog That May Be A Robot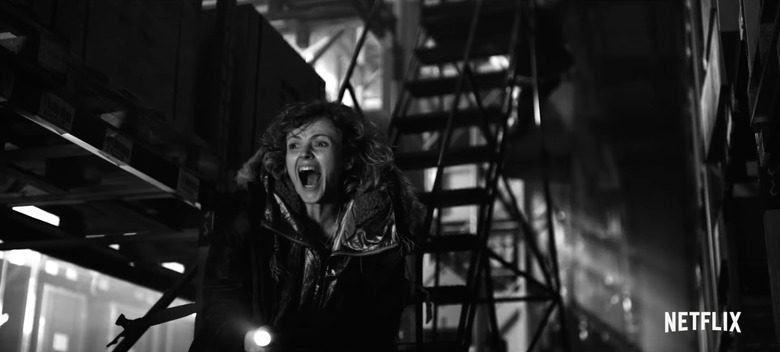 While recent Black Mirror trailers offer us a vision of a familiar near-future, the newest Black Mirror season 4 trailer is a stark departure from that. Shot entirely in black-and-white, "Metalhead" seems more akin to the grim dystopias of feature film fare like The Road, featuring nary a piece of modern-day technology except for, well, maybe robots.
Following a woman whose companions are mauled by a mysterious "dog" at a warehouse, "Metalhead" is a chase story set against the empty post-apocalyptic landscape of the Scottish moors.
Black Mirror Season 4 Trailer
The "Metalhead" trailer is narrated by the woman's frenzied report detailing how she and her companion were attacked by a dog at the warehouse. There's no indication that the episode is set in any near-future — the woman pulls out a pocket knife and walkie talkie, the cars are shabby and weather-beaten — except for one piece of dialogue from the woman's report: "I've lost it for now. But my guess is it's still operational."
Killer robot dogs from the future? That sounds like the premise of "Metalhead," directed by David Slade (30 Days of Night, episodes of Hannibal and American Gods). The episode seems worlds away from the anthology series' usual premise commenting  on our dangerous dependence upon technology. While robots certainly exist these days, there aren't any fears about creating animatronic killer dogs. Yet.
This is the fifth trailer for the six-episode fourth season that Netflix has rolled out, so maybe we'll finally learn the season's release date during the sixth and final trailer. The previous trailers highlighted the Jodie Foster-directed episode "Arkangel" and John Hillcoat-helmed "Crocodile, as well as "Black Museum" and "Hang the DJ."
Here's the Netflix synopsis for Black Mirror season 4:
Black Mirror is an anthology series that taps into our collective unease with the modern world, with each stand-alone episode a sharp, suspenseful tale exploring themes of contemporary techno-paranoia. Without questioning it, technology has transformed all aspects of our lives; in every home; on every desk; in every palm – a plasma screen; a monitor; a Smartphone – a Black Mirror reflecting our 21st Century existence back at us.
No release date has been announced for Black Mirror season 4.