Judge Orders Redbox To Stop Selling Disney Download Codes [Updated]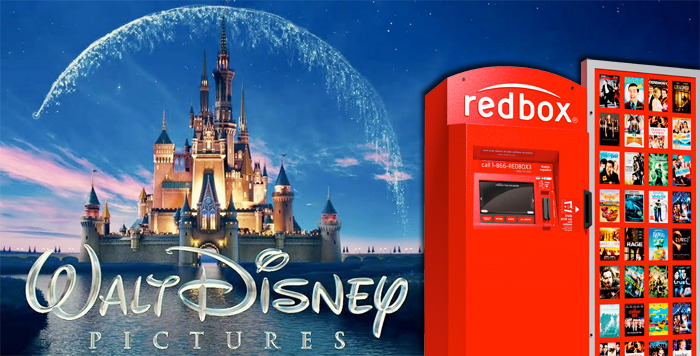 Update 8/28/18: A judge has ordered an injunction to block Redbox from selling digital download codes for Disney movies. Read on for our original article from December 2017, which has been updated with new information at the bottom.
The Walt Disney Company hasn't exactly been making the most level-headed decisions lately, but here's something I think they have a right to be a little miffed about. The company has filed a lawsuit to halt Redbox from selling digital download codes for Disney movies in its kiosks across the country. Does Redbox stand a chance of winning this? Find out more about Disney suing Redbox below.
According to The Wall Street Journal (via Variety), Disney has sued Redbox to stop the DVD rental company from selling digital download codes for its films. Redbox and Disney haven't had a distribution deal together since 2012, so Redbox has been buying Disney DVD and Blu-ray combo packs themselves and renting them out to customers. Those combo packs come with a digital download code, which Redbox has been separately packaging and selling to customers since October, when they launched a service offering those codes for sale in their kiosks.
The problem for Redbox is that the fine print on the combo packs includes the phrase, "Codes are not for sale or transfer," and that's exactly what they're doing. A Redbox spokesperson responded to the lawsuit by saying, "While we don't comment on pending litigation, we feel very confident in our pro-consumer position." Unless there's a loophole that I'm missing, I'm not quite sure how Redbox thinks they're going to win this one. The Disney legal department is pretty damn powerful, and they're not only asking Redbox to stop selling their movies, but "asking for damages of up to $150,000 per title sold by Redbox for 'willful infringement' (or monetary damages to be determined at trial), and also wants Redbox to fork over the money it has made from sales of its movies." Depending on how many Disney films Redbox has sold thus far, that could be a tremendous amount of money.
The timing here may not be completely coincidental. Last month, Disney Movies Anywhere added multiple other Hollywood studios to its home video app and rebranded as "Movies Anywhere," and of course Disney is also on the precipice of launching its own streaming service full of Disney, Marvel, Pixar, and Lucasfilm movies and brand new original content – including a live-action Star Wars TV series. This might be a situation in which Disney is looking to clear away some of its competition before they blast into the marketplace...but again, from the outside, it seems as if Redbox is blatantly breaking a copyright law, so they're probably right to go after them.
There's still a possibility that this gets settled out of court, but I almost hope it doesn't because I'd love to hear Redbox's reasoning for how they think they're justified in this case.
Update: Variety reports that after Disney's first attempt to block Redbox from selling these codes failed, the studio reworked the language for the release of Black Panther to be far more detailed, and that convinced the judge to issue an injunction.
"Because Redbox did not obtain an ownership right to any digital content when it purchased Combo Packs, Disney has adequately shown that it is likely to succeed on its claim that Redbox encouraged Redbox customers to infringe Disney's copyrights by redeeming Codes in violation of the license terms set forth on the redemption sites," he wrote.
According to Variety, "the injunction applies to any combo packs that use the language on the Black Panther DVDs", but it's unclear if the studio is going to be able to stop Redbox from selling Disney download codes for older movies that don't have that language in place.