'Tom Clancy's Jack Ryan' Trailer Has John Krasinski Ask "How Am I Doing?"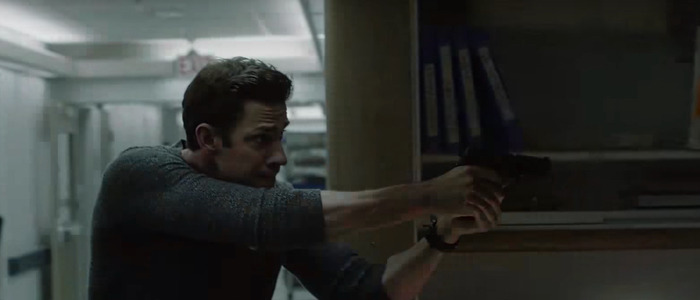 After several big screen reboots, Jack Ryan, the CIA analyst created by your grandpa's favorite author, Tom Clancy, is getting his own TV series. John Krasinski takes on the role for the Amazon series, and a new Tom Clancy's Jack Ryan trailer provides us with a quick look at Ryan in action. The series arrives on Amazon in 2018.
Ever since his big breakout role as the frequently perplexed Jim on The Office, John Krasinski has been trying to rebrand himself as an action hero. Krasinski was originally one of the actors up for the role of Captain America before Chris Evans landed the part, and later he got big and buff to appear in Michael Bay's box office dud 13 Hours: The Secret Soldiers of Benghazi. Now Krasinski is at it again, lending his talents to the role of CIA analyst Jack Ryan. You might have heard of Jack Ryan, since he's appeared in several thick paperbacks you can buy at an airport, and has appeared in multiple movies, being played by multiple actors. The Amazon original series Tom Clancy's Jack Ryan is the latest take on the character, and here's the trailer to prove it.
Tom Clancy's Jack Ryan Trailer
This trailer is quick and too the point, with Krasinski downplaying the character a bit, which might be the right approach. Jack Ryan was never really meant to be an action hero, even though that's what most of the film adaptations of the character turned him into. It's a bit fascinating how frequently producers have tried to make Jack Ryan a thing. The character never seems to truly take off in live-action, yet he keeps getting chances again and again.
Alec Baldwin played the character first in the drama The Hunt for Red October. Harrison Ford then took over for two movies, Patriot Games and Clear and Present Danger. After Ford came Ben Affleck, playing Ryan in The Sum of All Fears. Then Chris Pine had a go at the part in Jack Ryan: Shadow Recruit. Perhaps the character will work better in an episodic format when he comes to Amazon, and perhaps Krasinski is the actor who will finally nail the part.
Here's the official Tom Clancy's Jack Ryan synopsis:
When CIA analyst Jack Ryan stumbles upon a suspicious series of bank transfers his search for answers pulls him from the safety of his desk job and catapults him into a deadly game of cat and mouse throughout Europe and the Middle East, with a rising terrorist figurehead preparing for a massive attack against the US and her allies.
Tom Clancy's Jack Ryan arrives on Amazon in 2018.