New 'Star Wars: The Last Jedi' TV Spot: New Scenes Of Rey Training, Poe And BB-8 In Battle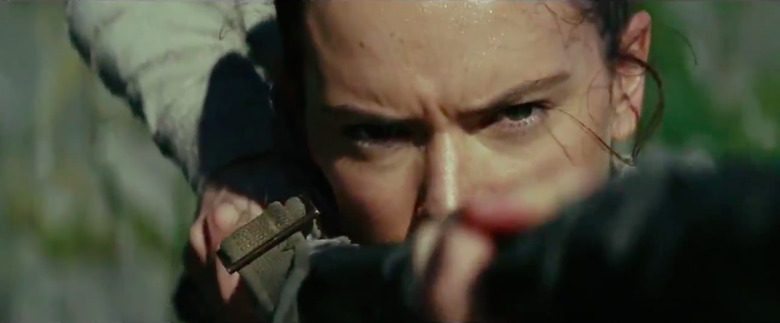 We're closing in on two weeks to Star Wars: The Last Jedi. So naturally that means we'll soon get a surge of TV spots and ads recycling the same footage we've been seeing for the past two months. But before that happens, we've been blessed with a new extended TV spot sprinkled with new footage of Rey training, as well as Poe and BB-8 in Poe's boosted X-Wing. Plus, who doesn't want to watch the Porg doing his little Porg cry over and over again? All of this and more in the new Star Wars The Last Jedi TV spot!
Watch the Star Wars The Last Jedi TV Spot
New @StarWars: #TheLastJedi spot, as introduced by @HamillHimself, on the #DisneyHolidayCelebration. Few new clips and some different music! pic.twitter.com/hhKkngBIAW

— Jeff D. Lowe (@JeffDLowe) December 1, 2017
The new extended TV spot premiered at Disney's Magical Holiday Celebration, the annual live show that kicks off the holiday season. One of the attendees for this year's Holiday Celebration was none other than Luke Skywalker — our coulda been blind samurai — himself. Mark Hamill introduced the new minute-long spot, which mostly featured footage we'd seen before: Rey training on Ahch-To with her staff before picking up Luke's lightsaber, Finn roaring into battle against Captain Phasma (who speaks!) and declaring "I won't let them win!" and that cute, cute Porg going "RAAHH."
But like Jeff Lowe says, there are a few new clips and music, most notably a new shot of Rey training, and an extended scene of Poe in his X-Wing with BB-8. "That's got a kick!" Poe whoops after BB-8 boosts the X-Wing, causing his head to adorably fall back, as they fly into battle.
Here is the official synopsis for Star Wars: The Last Jedi:
Rey develops her newly discovered abilities with the guidance of Luke Skywalker, who is unsettled by the strength of her powers. Meanwhile, the Resistance prepares to do battle with the First Order.
Star Wars: The Last Jedi is directed by Rian Johnson, with an all-star cast rounded out by Mark Hamill, Carrie Fisher, Adam Driver, Daisy Ridley, John Boyega, Oscar Isaac, Andy Serkis, Lupita Nyong'o, Domhnall Gleeson, Anthony Daniels, Gwendoline Christie, Kelly Marie Tran, Laura Dern, and Benicio del Toro.Star Wars: The Last Jedi flies into theaters on December 15, 2017.