Live-Action 'Pokémon' Movie 'Detective Pikachu' Casts Female Lead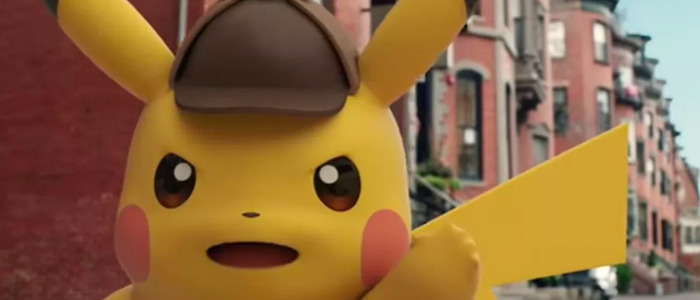 That live-action Pokémon movie, Detective Pikachu, is still happening, no matter how strange it might seem. Detective Pikachu continues to slouch its way towards existence by casting its female lead, Big Little Lies actress Kathryn Newton. There are no details on just who Newton is playing, but it's safe to assume she's not playing the eponymous pocket monster detective. More details about the Detective Pikachu movie cast await you below.
Every day, we get closer and closer to a world where a live-action Detective Pikachu movie is a thing that exists. As if to underline the point, Variety reports that Kathryn Newton, who played Reese Witherspoon's daughter on the hit HBO miniseries Big Little Lies, has joined the film as the female lead. Newton joins a cast that includes The Get Down's Justice Smith, who was recently cast as the male lead.
Detective Pikachu will not be your standard Pokémon adaptation. While many assumed that a live-action Pokémon film might have something to do with the wildly popular video game series about exploring a world and capturing monsters and competing in duels with fellow Pokémon trainers, this film will instead be an adaptation of the game Great Detective Pikachu. In the game, a boy named Tim Goodman encounters a Pikachu who claims to be a detective. Tim can understand what this Detective Pikachu is saying, and thus decides to team up with the mystery solving monster to help solve mysteries involving other Pokémon all over the city.
Detective Pikachu will be helmed by Goosebumps director Rob Letterman, with a script by Nicole Perlman (Guardians of the Galaxy) and Alex Hirsch (Gravity Falls). Universal Pictures will handle distribution of the film outside Japan, with The Pokémon Company's frequent collaborator, Toho – of Godzilla movies fame – will tackle distribution in Japan.
There's no word on who Kathryn Newton will be playing in the film, and at this point one would assume that Justice Smith is playing the Tim Goodman role. Now I suppose they just need to cast Pikachu. I know Daniel Day-Lewis said he was retiring, but I bet he'd make one hell of a Detective Pikachu. They should consider offering him the part – he might like the challenge. Think of how method he would go to play the character! He might literally turn into a monster! Or, if he says no, I suppose they can just create the character through CGI. In all seriousness, there have been rumors in the past that Dwayne "The Rock" Johnson was being considered as the voice of Detective Pikachu, which would be...kind of weird. But then again, everything about this movie seems weird.